Heart Healthy Recipe: Greens and Grains Spring Salad
Kale, edamame and quinoa salad tastes good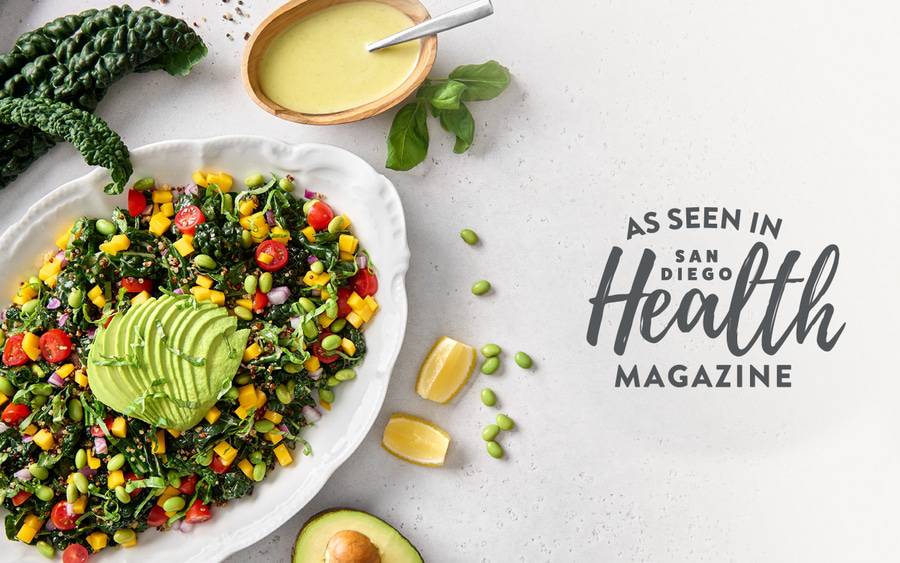 Kale, edamame and quinoa salad tastes good
Few dishes are as versatile as a hearty salad full of veggies and whole grains. In smaller portions, salads such as this kale, edamame and quinoa salad from Scripps Center for Integrative Medicine can add a healthy dose of fiber to your dinner table — or double the portion for a filling and flavorful main course that can be prepared ahead of time.
Why green veggies, whole grains are better
When it comes to greens, the darker the better, and whole grains are always a better choice than their refined counterparts, says Christopher Suhar, MD, integrative cardiologist, Scripps Clinic, and director of Scripps Center for Integrative Medicine.
"This recipe combines green vegetables with a whole grain that has a fair amount of fiber and protein," he says. "When you fill your plate with complete proteins — like those found in quinoa — and lots of veggies, it fills you up and you'll feel satisfied."
Don't be afraid of fats. Monounsaturated fats and polyunsaturated fats, found in olive oil, avocado, nuts and seeds, and fatty fish, can lower LDL cholesterol levels and reduce the risk of heart disease.
"Some fats have gotten a bad rap," Dr. Suhar says. "A number of fats can be quite nutritious."
Kale, edamame and quinoa salad
Serves four as an entrée or eight as a side (with nutritional info halved).
Ingredients:
¾ cup uncooked quinoa
1 ½ cups water
1 bunch kale, stems removed, very finely diced
1 ½ cup frozen edamame, thawed
⅓ cup diced red onion
1 cup sliced grape tomatoes
1 large mango, pitted and diced
1 avocado, sliced
4 large basil leaves, thinly sliced, chiffonade, to garnish
Ingredients:
¼ cup extra virgin olive oil
1¼ cup freshly squeezed lemon juice
1 clove garlic, minced
1 teaspoon Dijon mustard
1 teaspoon honey
4 large basil leaves, very finely diced
Freshly ground black pepper, to taste (optional)
Directions:
Add the quinoa and water to a medium pot, place over high heat and bring to a boil. Cover, reduce heat to low and cook for 15 minutes. After 15 minutes, remove the pot from heat, fluff the quinoa with a fork and transfer it to a large bowl to cool.
Place all vinaigrette ingredients into a blender or food processor. Pulse for 10 to 15 seconds to make the dressing, then set it aside.
In a large bowl add the kale and half of the dressing. Use clean hands to massage the kale for about three minutes or until it softens. Add the quinoa, edamame, onion, and remaining vinaigrette. Gently toss until the salad is fully coated. Add the tomatoes, mango and avocado and gently toss again.
Garnish with the basil and serve.
Calories: 419.6
Total fat: 23.4 g
Saturated fat: 2.9 g
Trans fat: 0 g
Cholesterol: 0 mg
Sodium: 44.1 mg
Total carbohydrate: 45.7 g
Dietary fiber: 9.1 g
Total sugars: 18.4 g
Added sugars: 1.4 g
Protein: 11.7 g
Vitamin D: 0 mcg
Calcium: 80.9 mg
Iron: 3.1 mg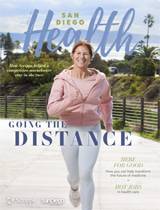 This content appeared in San Diego Health, a publication in partnership between Scripps and San Diego Magazine that celebrates the healthy spirit of San Diego.