Painter Uses Art to Help Beat Tonsil Cancer
Decorates rocks for Scripps garden with positive messages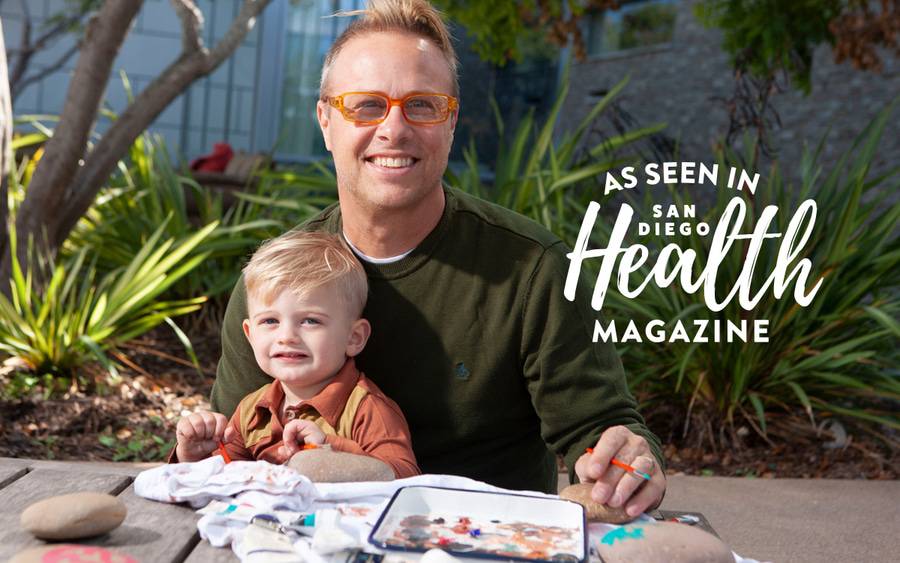 Decorates rocks for Scripps garden with positive messages
In the early days of the pandemic, painter and father of two, Mark DeSalvo, 55, used the time at home to refocus on his art and finally complete all the commissions his friends had requested over the years. He painted numerous copies of vinyl record covers, custom jobs and skateboard art, often completing a piece a day. 
One day Mark was sitting at his desk, resting his chin in his hands, and felt a lump in the left side of his throat. 
At the urging of his wife, Domenica, Mark got it checked out. He was referred to Perminder Parmar, MD, a head and neck surgeon at Scripps Cancer Center and Scripps Clinic, who did a biopsy and found squamous cell cancer in Mark's tonsil and lymph nodes. 
Mark was then introduced to Prabhakar Tripuraneni, MD, radiation oncologist at Scripps Cancer Center and Scripps Clinic, and Aditya Sarvaria, MD, medical oncologist at Scripps Cancer Center and Scripps Clinic, who immediately developed a treatment plan. 
Multidisciplinary approach
Many patients at the multidisciplinary clinic initially see all three specialists the same day so they can hear recommendations from each, ask questions and feel secure knowing the physicians and care team are working together to come up with the best course of action. 
"Initially it is a lot of information for people and it's a bit overwhelming — that's just natural for anybody who gets a diagnosis like this — so we try to get rolling as quickly as we can," says Dr. Sarvaria. 
"The treatment for this type of cancer requires coordination between the medical oncologist and the radiation oncologist, so our offices work together in terms of timing and making sure everything's able to get set up." 
Treating an HPV-related cancer
Mark had oropharyngeal cancer that is thought to be caused by human papillomavirus — or HPV. When caught early, it is highly curable with a combination of chemotherapy and radiation, which work in tandem to weaken and destroy cancer cells. For most patients with this type of cancer in the lymph nodes, surgery is not a viable option. 
"We are seeing an increased incidence of head and neck cancers that are HPV-associated, but they have very high cure rates," says Dr. Sarvaria. "Whenever we see a head and neck cancer like this — where it's moved to the lymph nodes in the neck but hasn't moved farther out in the body — our goal is always to cure it."
The doctors prescribed an aggressive six-and-a-half-week course of chemotherapy and radiation. Mark received radiation therapy five days a week for a total of 33 days and chemo once a week. 
The team at Scripps provided Mark with support through his treatments. As a result of the radiation therapy, he had what looked like a "sunburn" that stretched from the middle of his tongue to the back of his throat, lost sensation in his taste buds and was dehydrated. 
"Within our department, that's one of the toughest treatments, but Mark was a trooper," says Dr. Tripuraneni. 
Mark recalls months without any stamina, strength or vitality. Even taking his 4-year-old daughter, Bluma, and newborn son, Wiley, to the park was overwhelming. 
"You're just so drained," he says. "I love Facebook memories, especially with kids, but lately they're of me lying in bed, reading books to the kids. I thought, 'My God, I was in bed that much?'" 
Though Mark was undergoing a rigorous treatment plan, he kept his spirits high — for himself and his family. 
"I've always been a pretty positive person," he says. "I don't want to dwell on the fact that I might not be around to give my daughter away on her wedding day or things like that. I want to be young and healthy and do everything I can to stay that way. Bluma and Wiley are the reasons I want to stay young and healthy forever." 
Being in a bad mood doesn't do anyone any good, Mark says. 
"Just show up with a smile on your face and everyone else seems to smile along with you," he continues. "I definitely think positive energy helps you through it — it's contagious and helps others as well."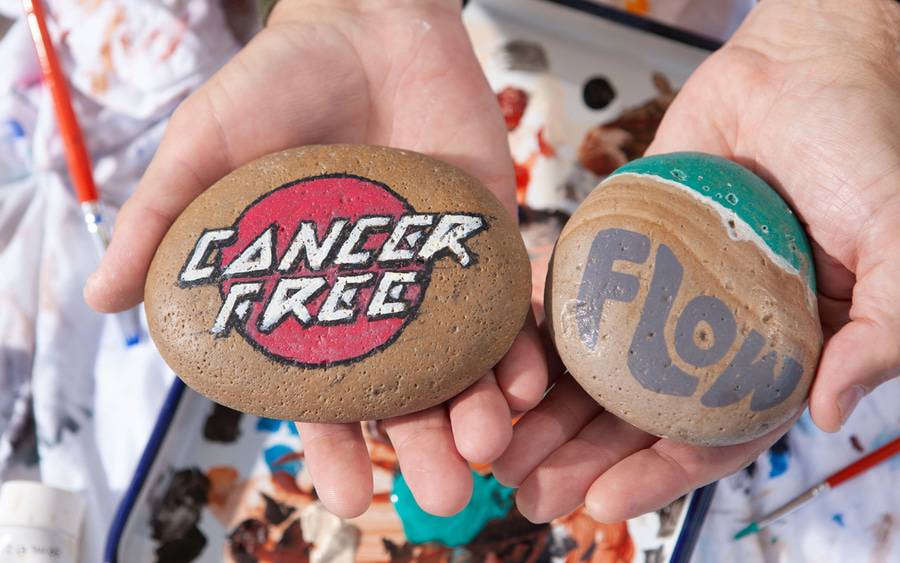 His creativity could not be dampened, either. During his frequent visits to Scripps Cancer Center, he noticed a few painted rocks in the landscape beds out front and thought adding a few more would be a fun way to get Bluma to be a more active part of his treatment. Each day, he would take three rocks for him, his wife and Bluma to paint, then bring them back the next day and add them to the garden. 
"It was special painting with my daughter. I brought her to the center with me one day and showed her the rock garden. We walked around so she could see that it wasn't a big, scary place that I went to," he says. "She saw where all the rocks that we painted were placed and it was a positive way to involve her." 
"Mark's creativity really elevated the quality of the rocks in the garden," says Dr. Tripuraneni, whose office faces the rock garden. "Lots of patients walk by, take pictures and read all of them. It's probably one of the most visible, inspiring support measures that we have at this location. Mark really made a difference." 
Mark is now on the road to recovery and has regular check-ins with his physicians. "We follow patients, like Mark, for life," says Dr. Tripuraneni. "The risk of cancer recurrence is somewhat higher in the first two years, but it does decrease through the years." 
Mark is also working to get his strength back. He started out walking, then taking short runs, which built into longer, faster runs. To celebrate his 55th birthday in September, he kicked it up a few notches, running five miles in under 50 minutes. He also got the family involved with a fun run. He, his wife and daughter ran, while Wiley went along for the ride in his stroller. 
"I'm definitely glad to be active and feeling healthy again," he says.
Grateful for care at Scripps
Mark says he is taking it one day at a time but is optimistic about reaching his five-year post-cancer milestone to be considered cancer free. Though he's ready to put cancer in the past, he's grateful for the excellent care he receives at Scripps. 
"The team is amazing — I can't say enough good things about every single person along my journey from my diagnosis and treatment to my follow-up care," he says. "It is pretty awesome how well I am cared for at Scripps." 

This content appeared in San Diego Health, a publication in partnership between Scripps and San Diego Magazine that celebrates the healthy spirit of San Diego.