On the Horizon: Rotator Cuff Repairs with Lab-grown Tissue
Scripps orthopedic researchers studying new way to fix tears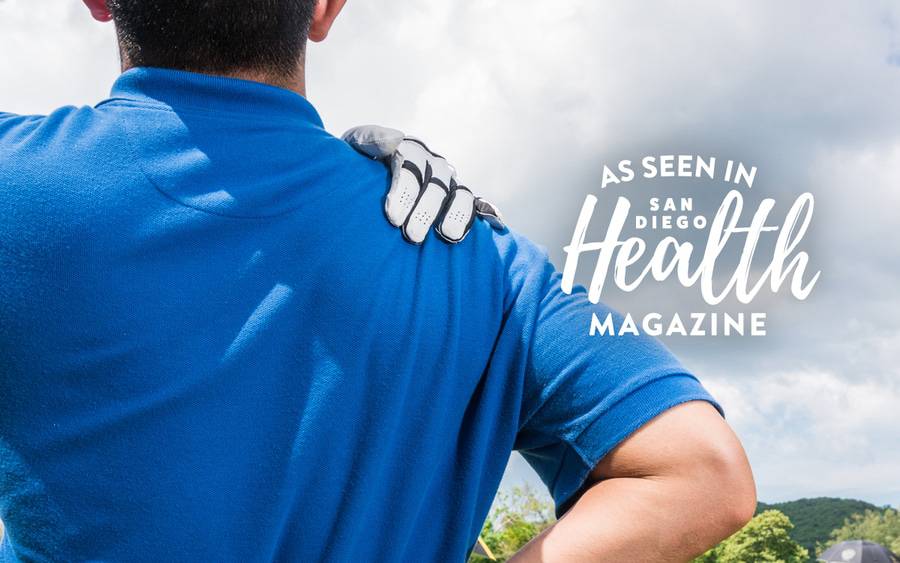 Scripps orthopedic researchers studying new way to fix tears
Golf, tennis, getting dressed or even brushing your hair. A rotator cuff injury can make these routines uncomfortable, if not impossible. But, for some, hope may be on the horizon. Scripps researchers are exploring the gamut of rotator cuff treatment options, including the use of stem cells to grow new tendon tissue. 
The rotator cuff is a group of four muscles and their tendons that keep your shoulder in place and help you lift and move your arms. Unfortunately, it's easy to injure a rotator cuff: degeneration with age, repetitive motion and falls can cause shoulder pain and weakness that limit range of motion and ultimately, affect quality of life. 
"Even small tears give rise to chronic pain. Patients have trouble sleeping because they can't find a comfortable position and gradually give up activities," says Darryl D'Lima, MD, PhD, director of orthopedic research, Shiley Center for Orthopaedic Research and Education (SCORE) at Scripps Clinic. 
The incidence of rotator cuff tears increases with age, Dr. D'Lima says. More than 25% of people over age 70 experience a full-thickness tear, in which a tendon has torn entirely through. Additionally, the failure rate for conventional repair surgery in older patients with significant rotator cuff tears is about 40%. 
"The available surgical options are not great for older patients with large tears that have been chronic," he says. 
To find a solution, Scripps orthopedic researchers are looking beyond traditional surgical options to explore novel biological approaches to repair rotator cuff tendons. 
Dr. D'Lima is the lead investigator for a Scripps research initiative in which rotator cuff tendons will be biologically engineered from pluripotent stem cells. "Pluripotent" means the cells have the potential to develop into many different types of cells or tissues in the body. 
The discovery phase of the research is supported by a recent $2.7 million grant from the state-funded California Institute for Regenerative Medicine. During the next three years, Dr. D'Lima and his team will develop tendon material in the lab, then test their concept on animal models in hopes of growing tissue that mimics the stretch and pull of healthy human tendons. 
"We've reached our limit on how much we can improve things mechanically and through surgical technique, so now we need to explore novel biological approaches," he says. "Rotator cuff tears are a common injury, and as our population ages, there's a pressing need to find new solutions." 
Depending on the success of the research and future clinical phases, it could be a decade before the biologically engineered tendons are ready for use in patients. 
The Shiley Center for Orthopaedic Research and Education's clinical trials are privately and publicly sponsored. The pre-discovery phase of the lab-grown tendon initiative was funded through philanthropy. 

This content appeared in San Diego Health, a publication in partnership between Scripps and San Diego Magazine that celebrates the healthy spirit of San Diego.