What Are Routine Medical Exams Men Should Not Skip?
Tests can check for heart disease, cancer, diabetes and more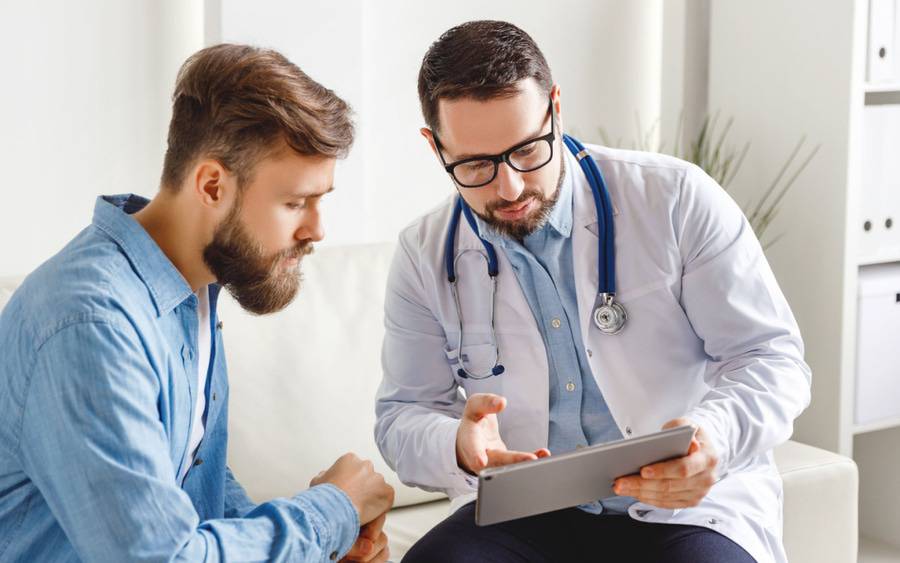 Tests can check for heart disease, cancer, diabetes and more
Routine medical exams are a cornerstone of maintaining good health and preventing serious issues from developing unnoticed.
Unfortunately, many men tend to avoid or delay doctor visits unless they are sick. According to one survey, men are 24 percent less likely than women to have visited a doctor within the past year.
However, waiting until you're in pain or experiencing symptoms can be a costly mistake. Regular check-ups are vital for maintaining good health and catching potential issues early.
"Scheduling routine appointments is an investment in your long-term well-being," says Stuart Green, MD, an internal medicine physician at Scripps Clinic Mission Valley.
How often should men get checkups?
The leading causes of disease-related death for men in the U.S. are heart disease, cancer, stroke, lung disease and diabetes. Routine medical exams can help detect these issues in their early stages, increasing the chances of successful treatment.
"During these visits, we can assess your overall health, discuss lifestyle changes and recommend appropriate screenings, all aimed at keeping you healthy and active" Dr. Dr. Green says.
Talk to your doctor about how often you should have a routine checkup. Most patients benefit from a checkup annually.
"Everyone is different but if you have a chronic illness, you should see your doctor more frequently regardless of your age," Dr. Green adds.
10 medical exams and screenings men shouldn't skip
There are several illnesses and diseases that are not only treatable but also preventable with regular screenings and check-ups. 
High blood pressure, also known as hypertension, is a significant risk factor for heart disease. It usually has no symptoms.
Men should have their blood pressure checked at every doctor's visit. If it's consistently high, lifestyle changes or medication may be necessary. Blood pressure monitors are also available for home use.
High blood pressure is more common in Black adults than in other groups.
High cholesterol can lead to plaque buildup in the arteries, raising the risk for heart disease and stroke. There are no symptoms associated with high cholesterol, so it is important to schedule regular checkups and screenings.
Most healthy adults should have their cholesterol checked every four to six years, according to the Centers for Disease Control and Prevention (CDC). People who have a history of high cholesterol, heart disease, diabetes, or are 45 years or older may need to get it checked more often.
A simple blood test, called a lipid profile, can measure cholesterol levels.
High levels of LDL or bad cholesterol can lead to plaque buildup. High levels of HDL or good cholesterol protect against heart attack. High cholesterol may require dietary changes or medication.
Obesity can lead to type 2 diabetes, heart disease and some cancers. Calculating your Body Mass Index (BMI) can help identify obesity. Discuss your BMI and weight management with your healthcare provider.
Diabetes puts you at greater risk for:
Heart disease
Stroke
Vision loss
Kidney failure
Amputation of a toe, foot, or leg
Men with diabetes are three times more likely to have erectile dysfunction.
A blood test can confirm a diabetes and prediabetes diagnosis. The U.S. Preventive Services Task Force recommends this test for:
Adults 35 to 70 years of age who are overweight or obese.
Those with risk factors like a family history of diabetes
5.   Sexually transmitted infections (STIs)
For sexually active men, regular STI screenings are crucial, especially if engaging in high-risk behaviors or having multiple sexual partners. STI rates have dramatically increased in recent years.
According to the CDC, all sexually active gay, bisexual and other men who have sex with men should be tested at least once a year for syphilis, chlamydia, gonorrhea and HIV.
Mental health is just as important as physical health. Men should not ignore symptoms of depression or anxiety. If experiencing persistent sadness, lack of interest, or changes in mood, seek help from a mental health professional.
Testicular cancer is the most common type of cancer in men between the ages of 20 and 34, according to the American Cancer Society.
Men of all ages should see a doctor right away if they find a lump in a testicle. Some doctors recommend men examine their testicles monthly for any unusual lumps or changes. Early detection of testicular cancer can greatly improve outcomes.
Regular skin checks by a physician can help detect skin cancer early. Men with a history of excessive sun exposure or a family history of skin cancer should be particularly vigilant.
Men are more likely than women to get basal and squamous cells cancer of the skin, according to the American Cancer Society. Men have a higher rate of melanoma than women, but this varies by age. After age 50, the risk is higher in men.
Regular self-checks are also important to monitor moles and blemishes.
Prostate cancer deaths have declined in recent decades due largely to earlier detection and advanced treatments.
The American Urological Association now recommends only that men have a discussion about prostate cancer screening with their doctor at:
Age 45
Age 40 if at higher risk, including African Americans or men with a family history of prostate cancer
Prostate cancer screenings usually include a prostate-specific antigen (PSA) blood test.
Men at average risk for colorectal cancer should get screened starting at age 45, according to the American Cancer Society. Those at increased or high risk should start screening before age 45. This includes people with a strong family history of colorectal cancer.
Screening options include colonoscopy and stool tests.