Medicare Options in San Diego
Your Medicare questions answered including how to enroll in Medicare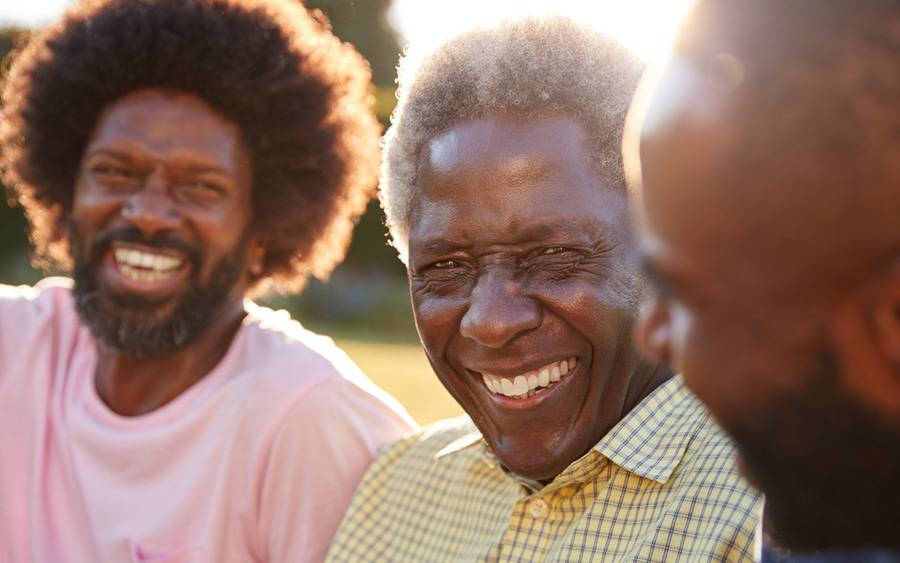 Your Medicare questions answered including how to enroll in Medicare
Choosing the best Medicare plan for yourself, or a loved one, is an important decision. Whether you're enrolling in Medicare for the first time, about to retire, or already have Medicare coverage, Scripps is here to help you understand how Medicare works, including Medicare enrollment, changing a Medicare plan or figuring out what services are covered.
To keep your preferred Scripps doctors, or make the switch to Scripps, learn about Medicare eligibility and available options, including Medicare Part A, Part B, Part D and supplemental plans. Scripps is here for you as you navigate your way through Medicare decisions, whether that is for yourself or someone else. 
Choose a Medicare plan with access to Scripps
San Diego families have trusted Scripps for their care for more than 100 years. We have physicians and locations throughout San Diego County to provide for our Medicare patients, so make sure you choose a Medicare plan that lets you see Scripps doctors and receive care at Scripps facilities. 
Scripps accepts a variety of Medicare plans. We recommend calling your insurance company to confirm your covered services and out-of-pocket costs, including co-pays and deductibles.
Frequently asked questions about Medicare
Find out more about how Medicare works. Learn who's eligible for Medicare and what Medicare covers and even when and where to apply.
Medicare is a federal health insurance program for certain populations, including:
Americans age 65 and older
People of any age with permanent end-stage kidney failure
Individuals under age 65 with certain disabilities
Medicare does not provide medical care directly. Instead, Medicare pays doctors and hospitals directly for their services or reimburses patients who have personally paid for their health care.
Who's eligible for Medicare?
Americans who are eligible to receive Social Security or Railroad Retirement benefits are eligible for Medicare once they turn 65. You may be automatically enrolled if you are already receiving your Social Security or Railroad Retirement benefits when you turn 65.
At what age can you enroll in Medicare?
You can enroll in Medicare when you turn 65, if you are not receiving Social Security or Railroad Retirement benefits. You can enroll during the Initial Enrollment Period, which is seven months long, and includes the three months before you turn 65, your birthday month and the three months after you turn 65. If you do not enroll when you are eligible, you will have to pay a penalty when you do sign up.
People with disabilities and people with End Stage Renal Disease, or ESRD (permanent kidney failure requiring dialysis or transplant), can sign up for Medicare regardless of age. 
To find out if a disability qualifies for Medicare, you'll need to speak with Social Security directly. If a disability qualifies you for Medicare, you must first sign up for Social Security benefits before being considered for Medicare.
Where to apply for Medicare?
You have several options when it's time for you to enroll in Medicare. For some, Medicare enrollment is automatic, while for others, it may depend on how and when they become eligible. 
You can sign up online at socialsecurity.gov
Visit your local Social Security office
Call Social Security at 800-772-1213, Monday through Friday, 8 am - 7 pm
Talk with a Medicare insurance broker
What does Medicare cover?
Your health insurance coverage depends on what type of Medicare plan you choose. You can get coverage through Original Medicare (Parts A and B), Medicare Advantage (Part C) or Medigap supplemental health insurance. Medicare Part D helps cover the cost of your prescriptions.
There is a monthly premium for Medicare coverage and part of the costs each time you get a covered service. 
Most people don't pay a monthly fee for Medicare Part A. There is a monthly fee for Medicare Part B based on income. Fees vary for Part C and Part D plans. Cost also varies for Medicare Supplemental insurance coverage. 
In general, Medicare Part A covers:
Hospital care
Skilled nursing care in a facility
Home health care
Hospice care
In most cases, Medicare Part A is free. 
Medicare Part B is medical insurance and helps cover preventive and medically necessary services and durable medical supplies. Medically necessary services are services or supplies that are needed to diagnose or treat your medical condition and that meet accepted standards of medical practice.
Preventive care is health care to prevent an illness or detect it at an early stage. 
What does Medicare Part B cover?
Services covered under Part B are those that diagnose, treat or prevent medical conditions, including:
Preventive services, including the Medicare Wellness Exam
Ambulance services
Doctor visits
Visits to health care providers, such as physical therapists
Mental health services
Lab tests
Qualifying clinical research studies
Medicare Part B requires a monthly premium based on income.
Does Medicare cover dental services, including dental implants?
Original Medicare doesn't cover most dental services, including preventive care, implants, dentures and fillings. Medicare Part A will cover dental procedures you receive while in the hospital. Some Medicare Advantage (Part C) plans offer extra services, such as dental, that Original Medicare doesn't cover. 
Does Medicare cover hearing aids?
Original Medicare doesn't cover hearing aids or exams for fitting hearing aids. Some Medicare Advantage (Part C) plans offer extra services, such as hearing aids, that Original Medicare doesn't cover.
Does Medicare cover cataract surgery and other vision services?
Original Medicare doesn't cover routine vision services, including eye exams for eyeglasses or contacts. However, it does include diagnosis and treatment of certain chronic eye conditions, such as cataracts. Some Medicare Advantage (Part C) plans offer extra services, such as vision. 
Does Medicare cover the shingles vaccine?
Neither Medicare Part A or Part B covers the shingles shot. Medicare prescription drug plans (Part D) usually cover all commercially available vaccines needed to prevent illness, including the shingles shot.
Medicare Part B also covers certain vaccines, including the flu shot, Hepatitis B and pneumonia. 
Does Medicare cover chiropractic services?
Medicare Part B (Medical Insurance) covers manual manipulation of the spine by a chiropractor or other qualified provider to correct a vertebral subluxation (when the spinal joints fail to move properly, but the contact between the joints remains intact).
Medicare doesn't cover other services or tests a chiropractor orders, including X-rays, massage therapy and acupuncture (unless the acupuncture is for the treatment of chronic low back pain). 
Some Medicare Advantage plans may provide additional chiropractic care. 
What is a Medicare Advantage (Part C) Plan?
Medicare Advantage (Part C) plans are offered through Medicare-approved private insurance companies. Medicare Advantage plans can be HMOs or PPOs in which you have a network of doctors and hospitals to choose for your health care. 
What does Medicare Part C cover?
Medicare Advantage (Part C) plans cover:
All benefits covered under Medicare Parts A and B
Vision, dental and hearing benefits
Prescription drug coverage, Part D, in most cases
Extra benefits and services for an added cost
Under Medicare Advantage plans, you are still in the Medicare program and must continue to pay your Part B premium. Medicare Advantage plans may offer low or $0 monthly health plan premiums beyond what you pay for Medicare Part B outpatient coverage. The pricing for each plan is different, so do your research on the plans in your area.
Medicare Part D helps cover the cost of your prescriptions. Medicare has a list of drugs (called a formulary) that it covers, and the drugs are placed in sections, or tiers, ranging from low to high. Drugs that are part of a lower tier cost less, and those in the higher tier are more expensive. 
Medicare Part A and Medicare Part B do not cover prescription medications. Most Medicare Advantage plans include prescription drug coverage. 
What is Medicare Supplement insurance?
Medicare Parts A and B do not pay for all health care services and supplies. Some of these costs may be co-insurance, co-payments and deductibles. Medicare Supplement insurance, often called Medigap, insurance can help pay for some of these costs after Medicare Parts A and B pay their share. If you have a Medicare Advantage plan, you cannot purchase a Medicare Supplement plan. You have to be enrolled in Part A and Part B to buy supplemental insurance.
Medicare Supplement insurance can help cover:
Co-payments
Deductibles
Coinsurance
Medicare Supplement insurance does not cover:
Private nursing care
Long-term care
Vision care
Dental care
Hearing aids
How does Medicare work with other health insurance?
Many people with Medicare also have health insurance from an employer, spouse or union. How Medicare and private health insurance work together depends on your unique situation, including the type of coverage you have.
Before making a decision about whether to use Medicare, or changing your non-Medicare health insurance, talk with your employer, union, insurer or an insurance broker.
Can Medicare be a secondary insurance?
Coordination of benefit rules decides which insurance plan pays first. Each type of coverage is called a payer. The primary payer pays what is owed first, and then the remaining bill is paid by the secondary payer. Whether Medicare pays first or second depends on coordination of benefits. If you have questions about who pays first, call the Benefits Coordination & Recovery Center at 855-798-2627. 
What Medicare plan is best?
Research plans and weigh your options to find the best Medicare coverage for your unique situation.
You can find additional resources to help you choose the best plan.
What should I consider when choosing a Medicare plan?
Before choosing a Medicare plan for the first time or changing your current plan, consider how it will fit your health and wellness needs, now and in the future. Research the following:
Prescription drug coverage
Costs
Plan benefits 
Access to other health insurance
Doctor and hospital choice
Quality (Medicare evaluates plans based on a 5-star rating system annually)
Additional services, such as fitness, dental, vision or travelling insurance
Is Medicare the same as Medi-Cal?
Medi-Cal is California's Medicaid health care program. Medi-Cal pays for a variety of services for children and adults with limited income and resources.
You may qualify for both Medicare and Medi-Cal, referred to as dual eligible or Medi-Medi. Medicare usually pays first for services, and Medi-Cal pays second. You can get your Medicare coverage through Medicare Part A and Part B, or a Medicare Advantage (Part C) plan.
Can a Medicare plan be cancelled?
You can choose to cancel Original Medicare Part B, a Medicare Advantage Plan (Part C), a Medicare supplemental plan or your prescription Part D plan. You can cancel Part A only if you pay a premium for it. Each plan has a different process for cancellation. 
Additional resources to help you choose the best plan
The following resources are available to help answer your questions.