How to prepare before for radiation therapy: during and after radiation therapy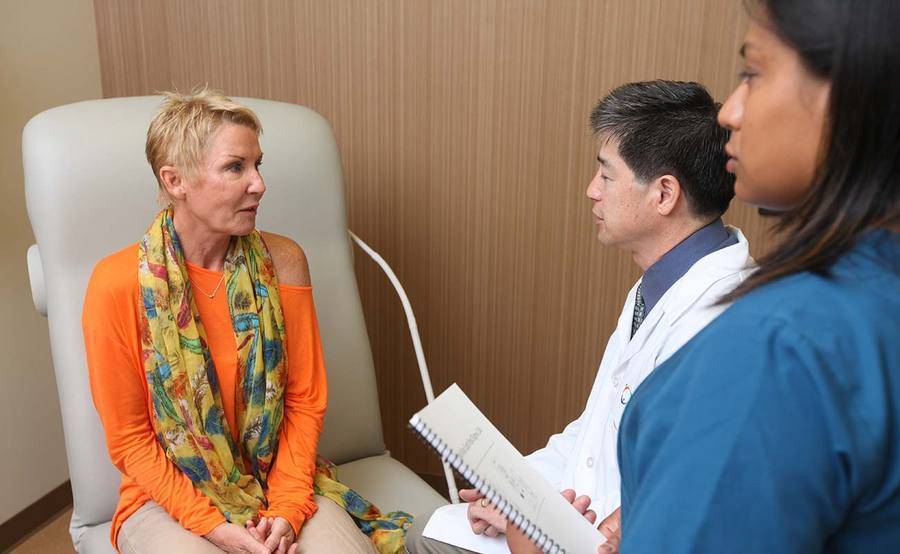 How to prepare before for radiation therapy: during and after radiation therapy
Radiation therapy is typically well tolerated by patients, and potential side effects can be minimized. Each treatment generally takes 15 minutes, and treatment courses can range from as short as one treatment to multiple treatments over multiple weeks, depending on the type of condition being treated and the type of radiation therapy technique being used.
Patients who receive radiation therapy at Scripps typically go through the following steps before, during and after treatment:
Our Scripps radiation therapy team is always here to discuss recommendations and explain the process. Our physicians can also provide second opinions.
Radiation therapy teams at Scripps
Radiation therapy at Scripps is provided by highly skilled teams of trained medical and scientific professionals who specialize in cancer care:
Radiation oncologists are board-certified physicians who work with radiation to treat cancers, as well as benign tumors or certain conditions that can benefit from radiation therapy. Scripps radiation oncologists and medical directors of Scripps facilities are among the leaders in their field. Find a Scripps radiation oncologist.
Oncology nurses are specialists in cancer care who assist patients with skin care, nutrition and the management of any potential side effects resulting from treatment.
Radiation therapists are licensed professionals who administer radiation treatments prescribed by a radiation oncologist. They also handle daily treatment schedules, monitor radiation treatment, maintain patient records and perform regular quality assurance reviews on equipment.
Medical physicists are experts in the medical application of physics who have advanced education, training and certification to collaborate with radiation oncologists, radiation therapists, neurosurgeons and dosimetrists in treatment strategy and planning.
Dosimetrists are experts with special training in the design of radiation treatment plans for all types of cancers and benign tumors.
Front office staff are support personnel who obtain authorizations, schedule patient consultation visits, follow-up visits and any other needed appointments such as additional imaging tests, including CT scans, magnetic resonance imaging (MRI) scans or X-rays.
Other Scripps health care professionals:
While each patient's situation is unique, a course of radiation therapy treatment typically includes these five steps, with the goal of eliminating cancer, shrinking tumors or providing palliative care. Here's an overview of what to expect as a radiation therapy patient at Scripps:
1. Initial consultation and medical evaluation
This takes about 1 hour and usually involves:
Completion of forms to provide medical history and necessary information
Weight and blood pressure readings
Discussion of medical history with physician
Physical examination by radiation oncologist
Explanation of diagnosis and radiation therapy (if recommended)
Appointment setting for a CT simulation (if radiation therapy is prescribed)
2. Computed tomography (CT) simulation
This takes about 30 minutes to 1 hour and usually involves:
Completion of signed medical consent form
Digital photograph for ID purposes
Creation of a custom-made immobilization device to prevent movement (if needed)
Use of contrast agent via IV in arm to provide more detail (if needed) for CT scan
CT scans
Review of CT scans by radiation oncologist
Creation of a pinpoint-sized skin marks (if needed) for daily treatment placement
The pinpoint-sized permanent marks may be placed on immobilization devices, or if that is not an option, they may be tattooed on the skin
Scheduling of treatment start date and subsequent treatment sessions
Additional CT scans as needed
3. Radiation therapy planning
This process can take up to several days and includes:
Radiation therapy physics staff receiving CT scans
Physics staff creating 3-D computerized treatment plan for area of cancer
Target treatment area(s) outline creation to minimize exposure to nearby tissues and organs
Medical physicist, dosimetrist and radiation oncologist collaboration
Design of individualized treatment plan for patient
Finalization of plan
Extensive treatment equipment calibrations for quality assurance
Beginning of treatment once calibrations are complete and radiation oncologist approves plan
4. Radiation therapy course of treatment
Generally, treatments are 15 minutes, but length of treatment varies based on the type of radiation therapy and involve:
Check-in at reception desk where patient is receiving radiation therapy at Scripps
Patient changing from street clothes into gown if required by treatment protocol
Patient positioning on treatment table
Custom-made immobilization device placement on patient
Performing imaging scans to confirm correct patient positioning
Activation of radiation delivery equipment by radiation therapist
Monitoring of patient by radiation therapist through closed-circuit monitor and intercom
Patient may hear a sound or see a red light that indicates radiation delivery
Following each treatment, patients typically may resume their daily activities. Depending on their health and condition, some patients may need a family member or friend to drive them to and from treatments. Over the course of treatment, routine blood tests may be needed to monitor white blood cell counts, red blood cell counts or platelet counts. Please allow for longer appointments on days you are scheduled to see your radiation oncologist.
5. Important follow-up appointments with your radiation oncologist
After completing a course of radiation therapy, it's important for patients to make a follow-up visit to their radiation oncologists within one to four months to evaluate the cancer's response to treatment. Regular check-ups are coordinated among specialists providing your cancer care, including surgeons, medical oncologists and radiation oncologists.
Learn more about Scripps radiation therapy facilities and locations.