Brain Injury Rehab Outpatient Program
Acquired brain injury therapy in San Diego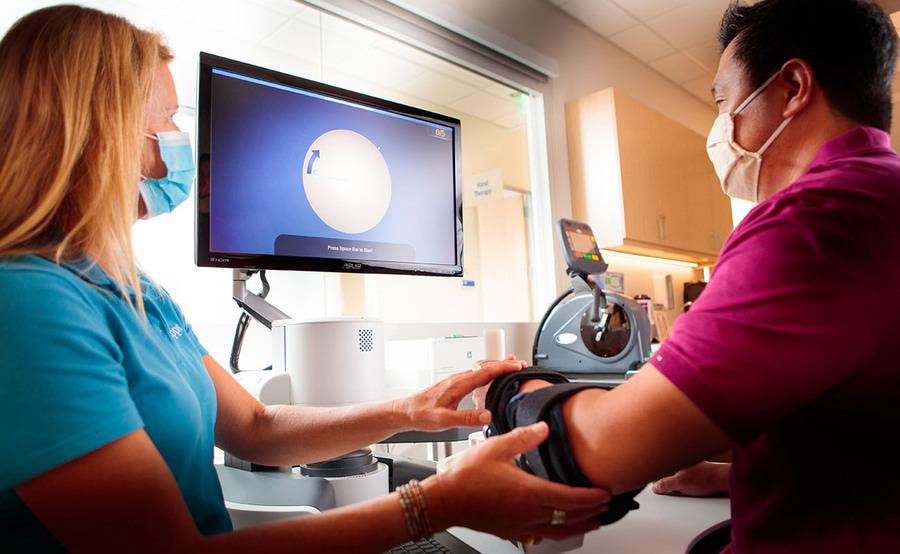 Acquired brain injury therapy in San Diego
The Scripps Brain Injury Rehabilitation Center is uniquely qualified to care for people with traumatic brain injuries (TBI), including concussion, as well as stroke and other neurological disorders. Our brain rehab center is part of Scripps Encinitas Rehabilitation Services. 
Brain injury rehabilitation services
Scripps offers a dynamic and interdisciplinary brain injury rehabilitation program that is in an outpatient setting. The brain injury program provides comprehensive brain injury rehabilitation evaluations for patients who have had an acquired brain injury. The evaluations can assist patients, their families and their medical team in determining the appropriate rehabilitation setting for the patient.
Some people who have had brain injuries may be appropriate for Scripps' brain injury day treatment program. This program helps adolescents and adults successfully return to school or work after a disabling brain injury or illness. This program may also be appropriate for people who have had mild brain injuries and are having difficulty reintegrating back into their community roles.
During your participation in the brain injury therapy program, you will work individually and in groups with a comprehensive team that includes physical therapists, occupational therapists, speech therapists, an audiologist and social services. Your therapies for head injury rehabilitation or stroke rehabilitation are tailored to your individual cognitive, physical and emotional needs. Our goal is to help you regain independent living skills and return to your community, work or school.
Patients and their loved ones can also work with other health care professionals (psychologists, psychiatrists, care managers or social workers) to help adjust to their disability.
A concussion is a mild traumatic brain injury (TBI) usually caused by a blow to the head. Concussions are common and the majority of symptoms will resolve with rest and time. Some people continue to have symptoms for weeks or months. If this is the case for you or your loved one, speak to your health care provider about treatment options.
While concussions range in severity, they are always considered a traumatic brain injury because they impact brain function, including temporary speech impairment, balance and coordination problems, and problems with memory and cognitive thinking.
Other common concussion symptoms include:
Headache or "pressure" in head
Nausea or vomiting
Dizziness
Double or blurry vision
Bothered by light
Bothered by noise
Feeling sluggish, hazy, foggy or groggy
Difficulty paying attention
Difficulty with memory 
Often, people who have sustained a concussion try to resume their usual levels of activity and performance because they believe their injury is not serious. But even seemingly mild head injuries require professional care and management to ensure optimal recovery.
Brain injury rehab center
In order to participate in the brain injury day treatment program, patients need a referral from their primary care physician or neurologist. The brain injury rehab program is offered at Scripps Encinitas Rehabilitation Services.
Classes and support groups
Brainmasters: Improvisational Speaking Group for Stroke and Brain Injury Survivors
This fun, supportive and interactive group includes improvisational games and is specifically designed for stroke and brain injury survivors. Registration is required due to limited seating. For more information and to RSVP, contact Debbie Pimstone, licensed clinical social worker, at 760-633-6709.