Investing in Our Communities
Comprehensive giving demands a targeted approach
Scripps Health touches countless lives in San Diego. We are proud of our multifaceted community efforts, which expand access to vitally needed health care services and improve the quality of life for people throughout the region. Keeping patients at the center of everything we do, Scripps collaborates with other health systems, community groups, government agencies, businesses and community clinics to serve the greatest needs and prioritize our investments in the health of our community.
In fiscal year 2021, Scripps Health devoted $538 million to community benefit programs, with over $17 million in charitable care. We offer many free and low-cost services, including supporting the work of community clinics, support groups, screenings for key health indicators, youth programs, special education for pregnant women and patient advocacy services.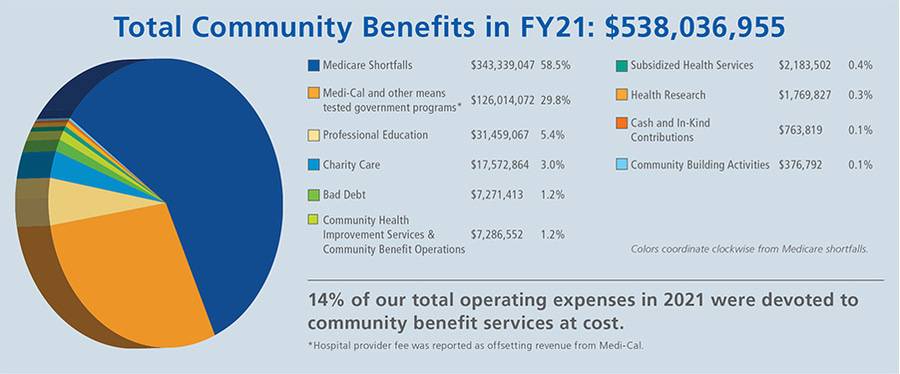 Cash and in-kind contributions 
Cash and in-kind contributions are made by Scripps to community groups and programs that provide community benefit. In-kind contributions include the cost of staff time, when activities are done by staff on the organization's payroll during working hours.
The following are some of the organizations Scripps contributed to in fiscal year 2021:
Sponsorships and cash contributions
American Heart Association
Enlisted Leadership Foundation – The Foundry
Family Health Centers of San Diego – Spirit of the Barrio
Jacob & Cushman San Diego Food Bank
La Maestra Community Health Centers
National Alliance of Mental Illness (NAMI)
San Diego Organization of Healthcare Leaders (SOHL)
San Diego Public Library Foundation
San Ysidro Health Center
Survivors of Suicide Loss - Save A Life Community Walk
The San Diego LGBT Community Center
Young Leaders in Healthcare Program
In-kind donations
Father Joe's Villages – Village Health Center
Greater La Jolla Meals on Wheels
Jacob & Cushman San Diego Food Bank
Jewish Family Services – Embrace a Family
National Alliance of Mental Illness (NAMI) Siblings Support
San Diego County Healthcare Disaster Coalition
San Diego County Ventilator Assembly
Survivors of Suicide Loss - San Diego Chapter
Grants
Consumer Center for Health Education and Advocacy (CCHEA)
Eric Paredes Saves A Life Foundation
Family Health Centers of San Diego (FHCSD)