Sustainability and Green Initiatives
Taking action to reduce our ecological footprint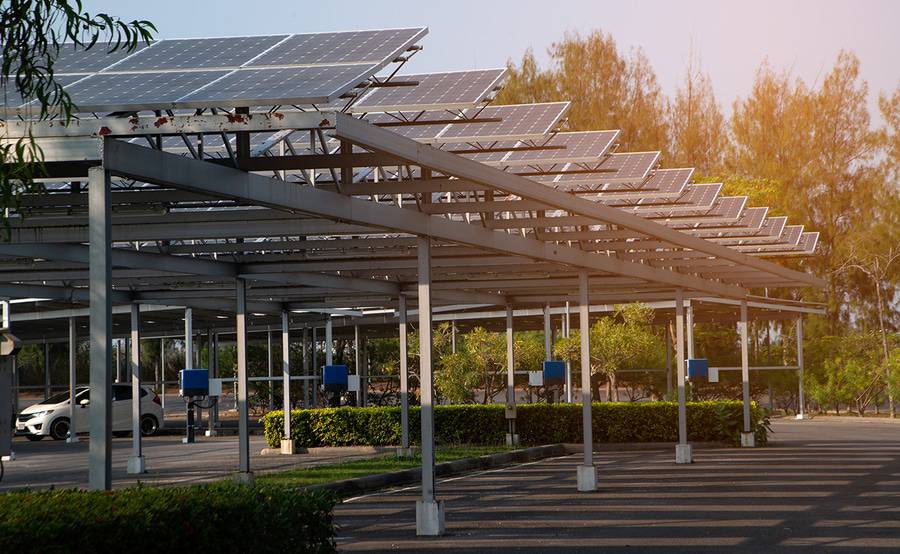 Taking action to reduce our ecological footprint
Recognizing the need to lower greenhouse gas emissions and build an eco-friendly infrastructure, Scripps is taking major steps toward our goal of environmental sustainability — including implementing a standard recycling program, upgrading lighting and investing in solar power.
Sustainability efforts focus on eight key areas
Learn more about Scripps' green initiatives in each area below.
How Scripps is helping:
Conducted energy modeling for new construction projects to meet or exceed requirements for energy conservation
Working to reduce the amount of construction waste that is incinerated or sent to landfills
Set a goal of an 80% recycling rate for major renovations and new construction 
How Scripps is helping:
Plans to install more solar panels throughout Scripps locations
Replacing fluorescent and compact fluorescent lamps with LED lighting 
Improving air conditioning units to make them more energy efficient
Installing window tint to save on cooling needs
How Scripps is helping:
Scripps developed an Eat Well Initiative to encourage healthier eating and support sustainable food practices. This initiative promotes:
Right-sizing beverages and food portions
Eliminating fried foods
Converting utensils to Earth-friendly products
Using less meat and more plant-based foods
Donating unused food to community partners 
Eliminated plastic straws
Food and nutrition staff separate food waste from other waste so it can be composted instead of sending it to a landfill, and they are working to more accurately estimate the amount of food used to reduce the amount of food waste.
Scripps is also working to increase the number of local food purchases by 5% annually with a goal of 20% locally sourced food. 
How Scripps is helping (at Scripps-owned properties):
Replaced grass with native, drought-tolerant options at new locations
Switched to reclaimed water for landscaping where available
Exchanged sprinklers for smart irrigation with drip systems at some sites
Installed mulch in landscaping to lock in moisture and reduce the need for chemical weed control
Ensured all landscaping debris is sent to composting 
Installing bioswales for new construction (which are designed to collect stormwater runoff so it can be used for irrigation)
Plans to eventually convert all gasoline-powered groundskeeping equipment to electric
How Scripps is helping:
Shredding and recycling more than 100 metric tons of paper each month
Surpassing our recycle rate goal of 25% in fiscal year 2023
Setting a goal to reduce regulated medical waste to less than 10% of total waste (less than 8 tons per operating room per year)
Clearly labeling bins to separate trash from recyclable materials
Reducing e-waste by reselling technology assets for reuse
How Scripps is helping:
The Scripps supply chain team has been working with clinical and educational staff to test products used for surgical and medical procedures. Many items have been converted or will be converted to reusable products, including: 
Blood pressure cuffs
Isolation gowns
Pressure infusion bags
Oxygen saturation finger sensors
Patient movement devices
How Scripps is helping:
Installed 39 electric vehicle (EV) chargers across the system, with plans for more
Encouraging employees to use public transportation by offering a 20% discount on bus, trolley and commuter train passes
Plans to eventually convert all Scripps-owned gasoline-powered vehicles to electric models
How Scripps is helping:
Continue to install low-flow, water-efficient fixtures and motion-activated faucets in restrooms 
Continue to improve the efficiency of cooling and heating systems 
Developed laundry practices to preserve our linens and reduce usage 
Laundry vendor switched to washing machines that use less water
Using reclaimed and recycled water wherever possible 
On our path to a more sustainable future, Scripps is proud to partner with many organizations that comply with our vendor policies and are helping us reach our sustainability objectives. 
Scripps Sustainability Council
Scripps recently established a Sustainability Council to help reach its sustainability goals. The council reviews Scripps' operations, practices and construction, looking for new sustainability opportunities. The council will help track improvements, assess their positive impact on the environment, and determine their alignment with new and changing government regulations. It will also recommend new areas of focus each year to help Scripps further meet sustainability targets.
Members of the council represent multiple areas across Scripps, including ancillary services, biomed, employee health, energy, environmental health, environmental services, finance, food service, human resources, infection control, information services, safety, supply chain, surgery, transportation and operations.