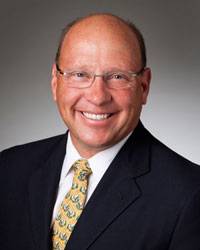 John B. Engle
Corporate Senior Vice President, Chief Development Officer
John Engle is corporate senior vice president and chief development officer for Scripps Health. In 2007, Scripps Health Foundation raised more than $70 million dollars (net) to support the health care system, which includes five hospitals, 11 clinics and a home health care agency. As chief development officer since 2004, his responsibilities include foundation operations and management, as well as donor relations and fundraising activities.
Part of the Scripps team for more than 18 years, Engle was president and CEO of The Whittier Institute for Diabetes from 1994 to 2004 and director of development from 1990 to 1994.
Named one of San Diego Magazine's "50 People to Watch in 2005," as one of San Diego's premier fundraisers, Engle continues to cultivate relationships in the community and works to raise much needed funds to support patient care, state-of-the-art technology and clinical research at Scripps.
Engle is an avid sailor and a member of the San Diego Yacht Club. Prior to joining Scripps, he was marketing director for the Stars & Stripes 1987 America's Cup Campaign. He also serves on the board of directors for the Helen Woodward Animal Center, Rotary and San Diego Private Bank.
A native San Diegan, Engle received his Bachelor of Arts in business administration from Point Loma College.