San Diego can learn from Houston's response to Hurricane Katrina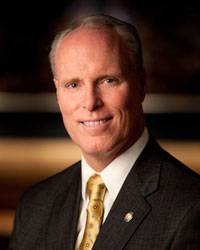 San Diego can learn from Houston's response to Hurricane Katrina
by Chris Van Gorder
California seems to have accepted the fact that our state sometime in the future will be hit by "the big one," an earthquake beyond anything we have known before. Strangely, however, we, like Louisiana and Mississippi, are not fully engaged in preparing for such a catastrophe. We are doing some retrofitting, and we have enforced building standards, but what about the human elements?
Now is the time to prepare for survivors who will need immediate help in time of disaster.
I spent nearly two weeks in Houston in mid-September with a team of medical professionals from Scripps caring for survivors of Hurricane Katrina. It was by far the most rewarding experience I've had in my health care career. The lessons we brought back can benefit not only our health system, but our community — and perhaps contribute to a national model of disaster preparedness.
Even before 9/11, all of San Diego's hospitals have planned skillfully for local disasters. With able leadership headed by Sheriff Bill Kolender, Police Chief William Lansdowne and Fire Chief Jeff Bowman, we work collaboratively with law enforcement, firefighters and rescue personnel, and public health agencies to drill and prepare for such events. I believe that now, however, we need to do more to prepare for the worst case.
Never in our history had we seen an entire region so ravaged by disaster and so many victims – homeless, hungry, injured and ill as we did as a result of Hurricane Katrina. The world was shocked.
Scripps is fortunate to have been asked by the U.S. Public Health Service and U.S. Surgeon General Richard Carmona to deploy a mobile medical team to Houston to aid Katrina survivors who had evacuated to that city. We spent nearly two weeks in Houston between Hurricanes Katrina and Rita, and following Rita we were asked to return for a third week.
Our team operated and staffed a temporary clinic for Hurricane Katrina survivors in the George R. Brown Convention Center in Houston — which, in both size and structure, is very similar to the San Diego Convention Center. The clinic had been expertly established by the University of Texas Medical Center and could serve as a prototype for disaster relief nationally. Every detail was considered: pharmacy, eye exams and glasses, immunizations, and dentistry.
As survivors were moved from shelters to temporary community housing, we were asked to remain and start supporting community clinics. In mid-October we were asked to return to Houston to again staff community clinics. During that week, we brought three members of the San Diego County health department to Houston to give them a first-hand look at what we were doing there and, we hoped, bring back good ideas to our own community.
Our time in Houston provided us with valuable lessons, experience and insight in planning for disasters in our own community, but the next steps are to prepare major disaster plans and prepare to implement them.
Government collaboration is necessary — and it works. In Houston we saw tremendous collaboration and camaraderie between all levels and branches of government. City, county, state and federal officials worked well together for the benefit of the community and disaster survivors.
More is accomplished and more people are helped when all levels of government work together. In Houston it worked the way it is supposed to, and Mayor Bill White is to be commended for his leadership. All communities, certainly including San Diego, can learn from Houston's example.
Private resources need a structure. The private sector can be an invaluable resource in large-scale disaster relief and recovery. Pulling those resources together and using them most effectively and efficiently is the challenge.
Tax-exempt organizations such as the Red Cross, Salvation Army, churches and charities large and small, in addition to hospitals and clinics, are ready and willing to serve. And there are tremendous resources available in the for-profit sector willing to participate in just such a community-wide effort.
From my conversations with San Diego business leaders at the San Diego Regional Chamber of Commerce and San Diego Regional Economic Development Corporation since I've returned, several have told me they want to be involved in this process and we should find a role for any organization interested.
Providing a structure within which this support can be coordinated is extremely valuable. As Surgeon General Carmona told me, this disaster exceeded the capabilities of the federal government. Partnering with the private sector was a necessity.
San Diego could be a lifeboat. Disaster preparedness means not only planning for a disaster at home, but also planning to be a lifeboat to survivors of a disaster that occurs hundreds of miles away. Hurricane Katrina did not strike Houston, but Houston was greatly affected.
Imagine the impact on San Diego should a Katrina-size disaster strike Los Angeles. Where will San Diego shelter a displaced population? Who will keep these thousands safe and secure? Who will feed them? Can our schools handle an influx of displaced children? Can we absorb evacuees as permanent members of our community? Houston had to address these issues in real time. Can we learn from its lessons? We need to prepare now.
Don't forget about health care in disaster planning. The medical needs of a displaced population traditionally are not considered in our disaster plans. While the acute and emergent health care needs were being treated closer to the disaster zone, in Houston our patients needed basic primary medical care. We need to plan for both.
Those with chronic illnesses needed help managing their diseases. Many patients had left home without their medications, which meant that simply writing a prescription became a life-saving act. Replacing eyeglasses, addressing basic dental needs, or providing counseling to help the displaced cope must be part of our planning.
We found long lines of patients awaiting care. Babies were born, heart attacks were treated. The medical world cannot stop even during a disaster period.
We have a real opportunity in San Diego to begin the work necessary to ensure that we are ready should we ever face our own Katrina, or a "big one"which hits here or in neighboring counties.
A child's hand-made card found on the floor of the Houston convention center after the last families were moved out summed up why we went. The front of the card read, "Have hope," and inside were the words, "Help is on the way." This child's thoughts remind us of the purpose of our disaster planning efforts — providing hope to the survivors.
If we are called upon, let us be sure help is on its way — immediately.