What to expect at the O'Toole Breast Care Center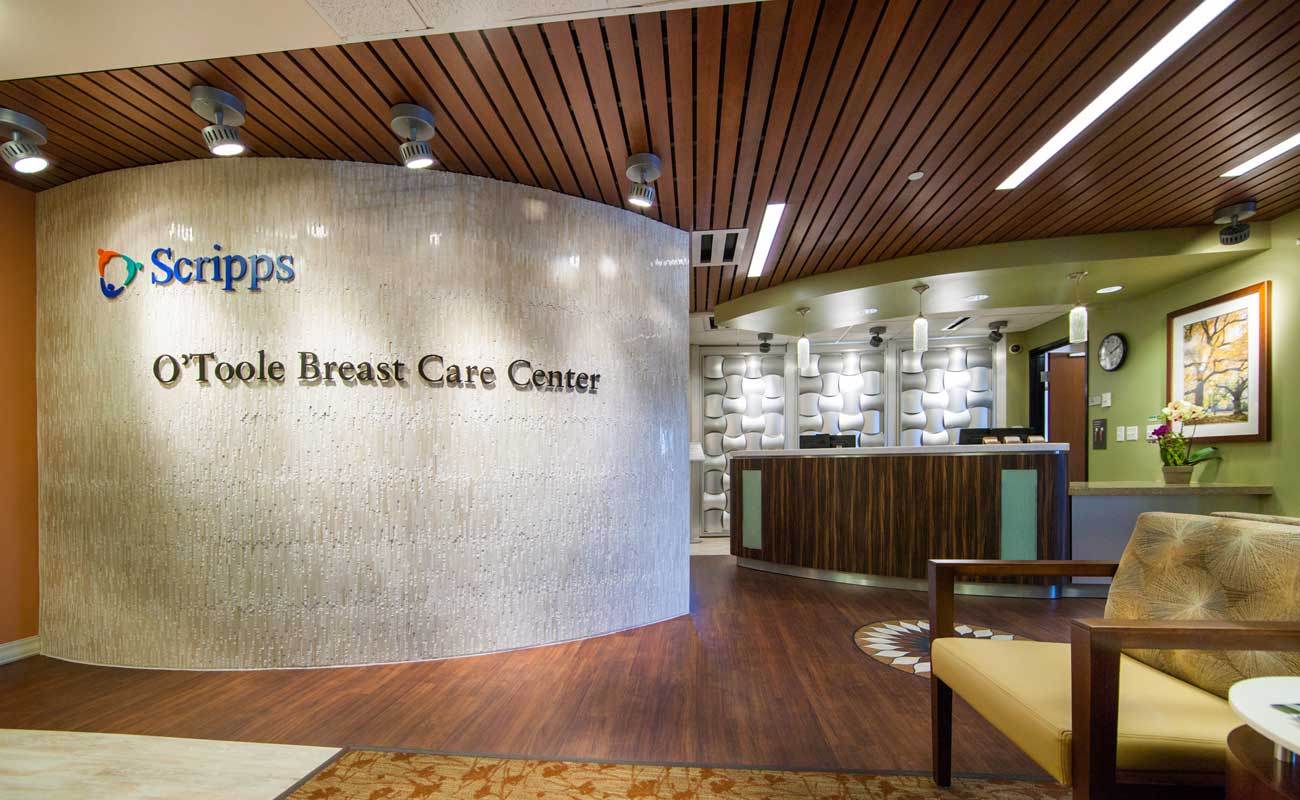 What to expect at the O'Toole Breast Care Center
When you come to the O'Toole Breast Care Center, you have full access to the integrated cancer services at Scripps Health. Our center offers comprehensive services to help women navigate all phases of care, from screening to diagnosis, treatment, recovery and survivorship.
When you arrive, you will check in at the main registration desk. Then, your technologist will personally escort you to the exam room. You can feel confident that you are receiving the most expert care available. Our radiologists have decades of experience and can determine whether a lump is a passing concern or a serious issue.
Types of breast imaging and breast care services
Our services include:
3-D digital screening and diagnostic mammography (tomosynthesis)
Ultrasound screening and diagnostic exams
Ultrasound guided core biopsy
Ultrasound guided cyst aspiration
Ultrasound needle localization
Hook wire/mammography needle localization
Stereotactic guided needle localization/stereotactic guided biopsy/core biopsy
Needle localization excision biopsy
DEXA scan bone density screening
Services available at Scripps Mercy Hospital San Diego:
MRI needle localization
MRI breast biopsy
Nuclear medicine lymphoscintigraphy (sentinel lymph node mapping)
Nurse navigators at O'Toole Breast Care Center
You are not alone on your health journey. Our patient care nurse navigator program is unique to the O'Toole Breast Care Center. Our nurse navigators provide a wide range of services for our patients:
Addressing questions, concerns and clinical issues regarding cancer diagnosis and treatment options.
Coordinating care with your oncology team.
Providing information you need to make informed decisions.
Assisting you in finding community resources and referrals.
Involving you in cancer support group meetings (offered in English and Spanish).
Teaching you how to perform a breast self-exam.
Advocating for you and serves as support system throughout cancer journey.