Our nutrition and metabolism expert offers simple suggestions to help you get slim and stay healthy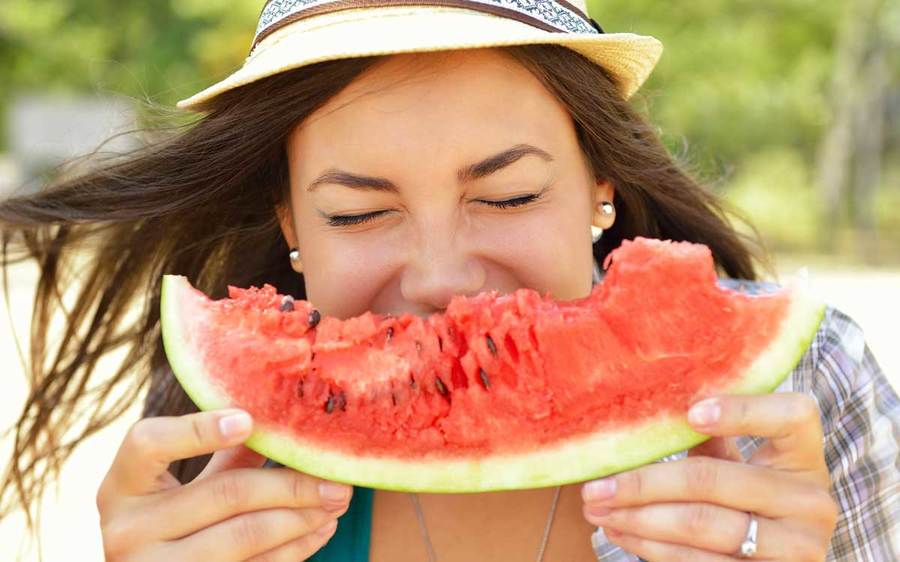 In today's fast-paced, on-the-go society, it's no wonder that people hoping to lose weight turn to quick fixes like fad diets and diet pills. Between our full-time jobs, families, errands, and extracurricular activities, most of us feel like we don't have time to prepare a healthy dinner or squeeze in a 30-minute workout.
Good nutrition contributes to both a healthy weight and good health overall, and it's a lifestyle change someone with even the busiest schedule can adopt. Better yet, the benefits of healthy food choices go beyond slimming down and having more energy. Someone who sheds just 10 percent of their total weight can cut their risk for diabetes by 50 percent.
Below are 10 simple, proven nutrition tips from Ken Fujioka, MD, medical director of Scripps Clinic's Center for Weight Management.
"Most people make the mistake of not eating enough during the day," says Dr. Fujioka. People who skip breakfast miss the chance to refuel their body and boost their metabolism. The key is to eat multiple small meals throughout the day, starting in the morning.
2. Eat more fruits and vegetables
Instead of worrying about which vegetables are "best" or how many servings of fruit you should eat each day, just start adding them into your diet any way you can. Not only do fruits and veggies contain fiber and important antioxidants, but when eaten raw (instead of consumed as juice) they have a lower glycemic index than most people realize.
People who eat a small amount (one serving size) of dark chocolate daily consume potent antioxidants that help maintain cardiovascular health. And remember, the darker the better — milk chocolate and chocolate foods that are high in fat and sugar don't contain nearly the helpful amount of antioxidants.
For people who don't have time for a leisurely, sit-down lunch, eating fast food is better than skipping a meal — as long as you choose wisely. Even a meal replacement product like a protein shake or bar is better than not eating, and is often healthier than opting for a high-calorie meal from a traditional fast food restaurant.
5. Spend five minutes in the supermarket
Similar to tip #4, fast food doesn't have to be unhealthy. In the time it takes to visit a fast food restaurant or sit in the drive-through line, you can run into your local supermarket and grab fresh, healthy, prepared meals like roasted chicken, pre-cut fruits and vegetables, and single-serving dinner entrees.
6. Watch what you add to your coffee
If you can't start the day without your morning coffee, that's okay. Coffee by itself is not unhealthy, but adding whole milk, sugar, and flavored syrups can add a couple hundred extra calories daily. Use healthier alternatives like non-fat or soy milk.
Nuts, when eaten in moderation, provide a great blend of good fat and protein. Almonds, for example, have been proven to lower cholesterol. Again, the key is portion control — eat just a single serving for the most benefit.
According to Dr. Fujioka, it's hard to find a protein that has anti-cancer benefits. But the protein found in soy has been found to contribute to better health, particularly with prostate health in men. New to soy? Try soy milk, soy flour and tofu.
9. Go ahead and eat at night
It's not the act of eating late at night that contributes to weight gain; rather, it's what you eat. Eat a nutritious snack without regret, and avoid high-calorie alcoholic beverages and fatty, comforting snacks like ice cream and potato chips.
10. Consistency is key for good nutrition
Try these easy tips for a few days, and you might be surprised to find that you're eating more and worrying less about your weight! Doing what you can to bring your weight to a healthy level, and then keeping it at that level will make an enormous impact on your overall health.
Scripps Clinic's Center for Weight Management offers a comprehensive array of services whose breadth and diversity is unmatched in the United States. From nutrition counseling, to custom weight loss programs, to gastric bypass and gastric banding procedures, our physicians provide medical and surgical services for children and adults who are underweight, overweight and morbidly obese.