Scripps Health President & CEO Chris Van Gorder Receives Visionary Award for Regional Stewardship from LEAD San Diego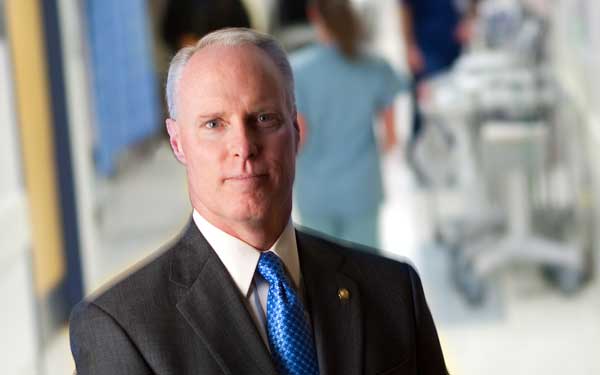 SAN DIEGO – LEAD San Diego has honored Scripps Health President & CEO Chris Van Gorder, FACHE, with the inaugural Ronald H. Kendrick Regional Stewardship Award for his efforts to balance individual community interests with the needs of the greater region. Specifically, Van Gorder was recognized for his volunteer work as an EMT and as reserve commander of the San Diego County Sheriff's Department Search & Rescue Unit.
The award, which was presented March 25 at the sixth annual Visionary Awards celebration, salutes those who have demonstrated visionary leadership and have made a significant impact on the community. True visionaries find solutions and go above and beyond to help others lead more productive and meaningful lives.
"This is truly an inspirational group of individuals who exemplify leadership in San Diego and help inspire it in others," according to LEAD Chairman Kristy Gregg.
Van Gorder, volunteered more than 1,000 hours to search and rescue efforts in San Diego County, and he assisted in 26 out of the 33 total recorded rescues. He also assists the search and rescue team with training new volunteers. In addition, as an instructor for the American Red Cross he certifies Scripps employees in CPR, first aid and emergency response.
In 2005, Van Gorder formed the Scripps Medical Response Team and led 70 Scripps physicians, nurses and support staff to Houston at the request of the U.S. Public Health Service to provide medical aid to displaced survivors of Hurricane Katrina. He also has established a Scripps office of disaster preparedness to commit the organization to sustained emergency planning. He began his career as a police officer in Los Angeles County.
ABOUT LEAD SAN DIEGO
LEAD San Diego, Inc., founded in 1981, is recognized as one of the country's foremost leadership development programs. LEAD's vision is to advance the prosperity of the San Diego region through growing a network of connected, knowledgeable and active community leaders.