Innovative Implant Measures Impact on Knees
Scripps patients contribute to ongoing research related to artificial, electronic joints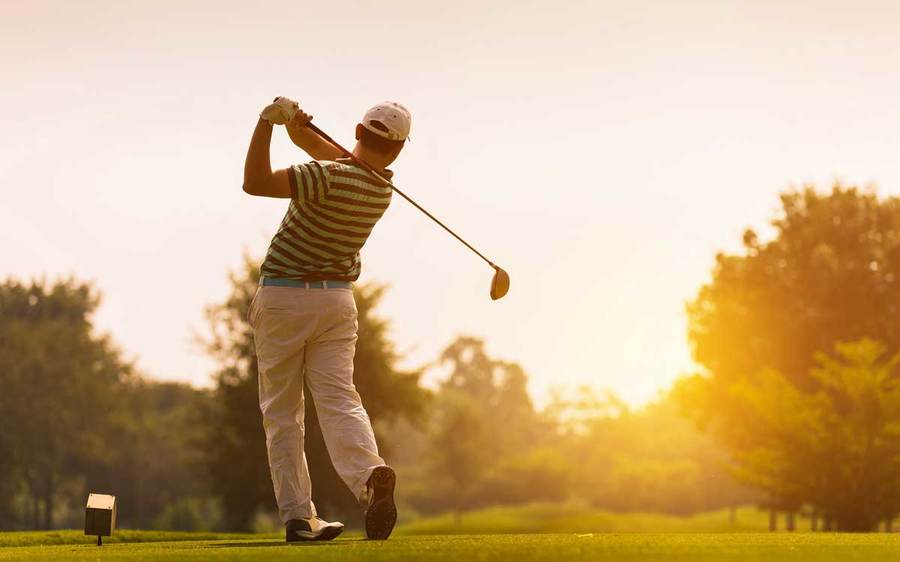 After more than a decade of practice, Donald MacDonald of Encinitas, Calif. still considers himself a mediocre golfer.
"I'm just not that good," he says.
Since having total knee arthroplasty (TKA) a few years ago, his game, he asserts, is getting better.
"I can see the improvements," Donald MacDonald says. No matter how he performs on the links, the 79-year-old may be making a contribution to the game — through science.
Clinical research and artificial, electronic joints
MacDonald is one of four people in the country with an electronic knee, or e-knee.
Pioneered by the scientists at the Shiley Center for Orthopaedic Research and Education (SCORE) at Scripps Clinic in San Diego, Calif., the specially designed artificial joint can measure forces inside the knee and transmit data in real time to researchers.
Recently, researchers at SCORE studied MacDonald and his fellow e-knee recipients to measure how their replaced knees held up during various activities. In 2008, four years after the e-knee was first implanted in a live patient, they presented their findings at the annual meeting of the American Academy of Orthopaedic Surgeons.
As anticipated, walking on a treadmill and biking put the least amount of pressure on the new knees. High impact exercises like jogging and tennis generated the highest forces. Surprisingly, so did golf swings — especially on the forward knee.
"Until now, the evidence we had about the amount of force generated by various activities came from untested mathematical formulas," says Darryl D'Lima, MD, PhD, director of research at SCORE. "We now have data and proof that estimates are different from the actual forces that occur inside the body."
Applying research to the range
Dr. D'Lima thinks evidence from the e-knee could one day be used to change the way in which people move while they exercise — and play golf.
"We could show people how to swing without putting so much force on the knee. We could teach them how to adjust," he says. "The modifications could keep people in the game longer, and professional golfers who need knee replacements may be able to stave off surgery for longer periods of time."
Even the world's number one golfer, Tiger Woods, knows what it's like to be knocked out of the game, albeit temporarily, because of knee problems. In April, after years of torque-producing swings, he had arthroscopic surgery on his left knee to repair cartilage damage, the second procedure in five years on the same knee.
He's returning to play in mid-June at the U.S Open at Torrey Pines in La Jolla, Calif. As Woods tries to trump Jack Nicklaus' 18 majors, there is speculation that a modification to his high horsepower swing might keep his knee stronger, longer.
Research leads to improved orthotics and rehabilitation regimens
Even though the e-knee could lead to smarter golf swings, the game wasn't the driving force behind the development of this innovative prosthesis.
"It could one day lead to better implant designs, improved orthotics and enhanced rehabilitation regimens following joint replacement surgery," asserts Dr. D'Lima. "We hope to one day create a smart knee — one that can monitor wear, detect infection and generate an alarm if there is a problem."
Smart knees could be big business. An estimated 478,000 total knee arthroplasty surgeries are performed each year. As baby boomers age, that number is predicted to steadily increase.
Contributing to biomechanical research
Donald MacDonald wasn't thinking about advancing medicine when he sought medical care for his sore knee. He simply wanted to alleviate the gnawing pain in his right leg. Years prior, he had an accident while skiing.
"I did the slow splits and hurt my knee. It was absolutely agonizing," he says. "The next year, I tried to ski again but had trouble turning."
MacDonald's knee pain persisted.
"It got to the point where it was slowing me down and affecting my quality of life," he says. "I decided to do something about it."
His surgeon, Clifford Colwell, MD, is also director of SCORE. When asked to participate in the e-knee study, MacDonald saw it as an opportunity.
"I thought I might be able to provide some information, through my electronic knee, that could make someone else's life better later on," Dr. Colwell says. "I really felt this was an altruistic thing to do."
MacDonald's heart was in the right place, but he didn't expect to become such a hot commodity among biomechanical engineers.
"I was surprised at how many researchers out there are interested in the data coming from my knee," Don MacDonald says.
Solutions for degenerative joint disease
Fellow e-knee recipient, Sue Carpenter of Binghamton, New York, expected the attention. The 66-year-old retired physical therapist is married to an orthopedic surgeon. As a former clinician, she's completely engaged in the scientific process.
"This research holds so much potential," Carpenter says. "I am so excited to be a part of it because there are so many possible applications."
Carpenter had degenerative joint disease. Before her knee pain became unbearable, she was an avid golfer, tennis player and skier.
"My lifestyle had gone downhill," she says. "I couldn't even work in my garden."
Today, Carpenter is working on her golf game, and trying to shed the pounds she put on during years of inactivity. As she slims down, all eyes will be on her knee — or rather, the data streaming from it.
"Right now, we can only estimate how much force excess weight puts on a new knee," Dr. D'Lima says. "Carpenter's dieting efforts could give us hard data that could be used to alter weight loss recommendations for joint replacement patients."
Measuring the success of electronic implants
Carpenter and MacDonald are now celebrities of sorts among biomechanical engineers. They've graciously traveled around the country with the SCORE team, and collaborated with researchers on both coasts who are eager to gather data from their electronic implants.
MacDonald says the only time he really finds himself inconvenienced by his e-knee occurs at the airport.
"It sets off the metal detector," he says. "The guards come and shuttle me off and I have to tell them my story."
It is a story SCORE researchers are writing, and a lot of scientists, clinicians — and now, golf enthusiasts — are eager to read.