High School Students Study Career Options at Scripps
Teens explore health care professions in unique program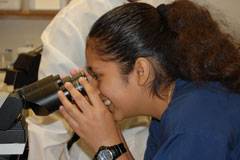 Teens explore health care professions in unique program
Twelve San Diego high school students are returning to class this fall with some unforgettable memories of their unique summer internship.
For eight weeks, the teens worked at Scripps Green Hospital in La Jolla or Scripps Mercy Hospital in Hillcrest participating in the High School Exploration Program. While some of their peers enjoyed lazy days at the beach or punched the clock flipping burgers, they donned scrubs and delved into the health care delivery system.
Launched by Scripps Health this year, the program is designed to reach out to young people and pique their interest in health care careers. From the emergency room to marketing, the students rotated through dozens of departments, exploring career options and learning life lessons about health and healing along the way.
"At first, I thought it was all about the doctors. Then, I saw how everyone works together," says Ana Bravo-Rodriguez, a junior at San Diego High School. The 16-year-old is interested in pharmacy, and her internship offered perspective of the field. "I realized that there is no magic pill for healing."
Volunteering with a medical career in mind
At Scripps Green Hospital, students viewed several surgeries, trailed nurses, lunched with health care leadership and worked with the rehabilitation team. During the latter rotation, Katie Thornber, a former senior at Patrick Henry High School and an aspiring physical therapist, became more confident about her career goals.
"I was worried that I would pursue this profession and not like it," the 18-year-old says. "This experience helped me see what it was really all about."
After spending time at the Scripps Center for Integrative Medicine, 15-year-old Nicole de la Pena learned how healing can occur beyond traditional methods.
"I never knew things like music and meditation could help someone get better," says the sophomore from Patrick Henry High School. "I learned a lot — and it helped me grow."
"We were able to introduce career options to some of the kids and refine career goals for others," said Maryam Aftahi, one of the program's coordinators at Scripps Green Hospital. "This was great exposure for the kids."
Cooperating with clinicians for quality patient care
On August 15, the young interns drew a crowd at Scripps Memorial Hospital's Schaetzel Center in La Jolla, Calif. During a graduation ceremony attended by their family members, Scripps leadership and the program's coordinators, the students delivered a presentation.
Many recounted profound experiences they had during their internship at Scripps — experiences that not only exemplified the complicated components involved in health care delivery; but also the sorrow and joy that can occur inside a hospital's walls.
At Scripps Mercy Hospital Chase Dobbins, a junior at San Diego High School, helped clinicians transport the body of a deceased patient.
Linda Ochoa, a student from Crawford High School, saw a patient die from a gang-related gunshot wound.
"Within a minute or two of his death, I heard a lullaby over the intercom, signaling the birth of a baby in a nearby ward," said the teenager. "I experienced life and death up-close within minutes."
Despite the real-life trauma and drama they witnessed, most of the students walked away with a greater appreciation for and interest in health care occupations, which are in dire need of new recruits.
"It was one of the most awesome things I've ever done," said 17-year-old Zack King, a junior at San Diego High School. "I thought medicine would be my career choice, but now I know for sure. My heart is three times the size. I've walked away a completely different person."
Investing in future health care and local communities
King and his young colleagues will find a welcome workforce waiting after college. Ten of the 20 fastest growing occupations in the nation are in health services, according to the U.S. Bureau of Labor Statistics.
Expanding the pipeline of youth interested in the industry is an attempt to counter the projected shortages. Scripps is doing its part, developing plans to double the size of the High School Exploration Program next year.
"By expanding our program, we will be giving more San Diego high school students a chance to experience this unique opportunity," said Joelle Yglesia, manager of academic programs at Scripps. "It's an investment in our health care system, our community and our kids."
The graduating students will have an opportunity to apply for next year's program. After one summer in scrubs, they already have one prospective employer engaged — and impressed.
"If this is our future workforce in health care, I feel reassured," said Scripps Senior Vice President of Human Resources, Vic Buzachero. "I am so inspired by this group of young people. I'll be looking for them."
The High School Exploration Program is a partnership between the Regional Allied Health and Science Initiative (RAHSI), which works with local schools to expand health care education curriculum.