Scripps Coastal Medical Center now in Carlsbad
The center offers expanded access to specialty services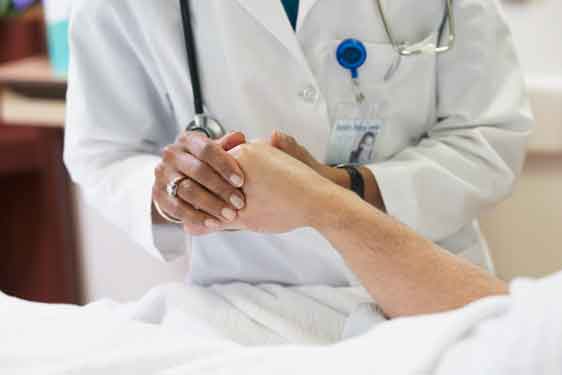 The center offers expanded access to specialty services
Carlsbad – Leaders from Scripps Health, H.G. Fenton Company and the city of Carlsbad gathered Oct. 13, 2008 to formally commemorate Scripps Coastal Medical Center, the new home of Scripps Health's first medical offices in Carlsbad.
Located at 2176 Salk Ave., the new 40,000-square-foot Carlsbad medical site was developed by H.G. Fenton Company and will open its doors to the public Oct. 20 [ Note: the facility is now open ]. It will be home to eight family and internal medicine physicians and one nurse practitioner, with plans to add pediatricians later this year. Scripps Coastal Medical Center offers Carlsbad residents a nearby, convenient location with expanded access to specialty services, including laboratory and radiology services with advanced digital equipment.
Photo tour of the facililty
(Click on images to see captions.)
The opening of the medical offices in Carlsbad is the latest in Scripps Health's efforts to accommodate North County's growing population and increasing health care needs. The center is one of two new Scripps medical locations to open in North County the past two months, with Scripps Clinic Rancho Bernardo having opened a 150,000-square-foot facility in September. The new centers represent part of almost $2 billion Scripps is investing in improving and expanding its health care facilities in the coming decade.
"We are fortunate to have the support of a great many people, both those who trust Scripps with their health care needs and those who provide the outstanding care and service that has allowed us to become so successful," said Chris Van Gorder, Scripps Health president and CEO. "This new clinic was built for everyone living in and around Carlsbad, and we are honored to have the opportunity to serve them for many years to come."
About Scripps Coastal Medical Center
Scripps Coastal Medical Center is consistently rated one of California's best physician groups for quality care. With more than 100 physicians in nine locations throughout the San Diego region, Scripps Coastal Medical Center specializes in internal medicine, family medicine and pediatrics, operates an urgent care center in Vista and in October 2008, opened its newest location in Carlsbad.
Scripps Coastal Medical Center is part of Scripps Health, a $2.2 billion nonprofit community health system based in San Diego, Calif. Scripps treats a half-million patients annually through the dedication of 2,600 affiliated physicians and 12,300 employees among its five acute-care hospital campuses, home health care services, and an ambulatory care network of clinics, physician offices and outpatient centers.
Scripps is committed to contributing to the future of medicine, offering more than 250 clinical research trials and three graduate medical education programs. More information can be found at www.scripps.org.
About H.G. Fenton Company
Founded in San Diego in 1906, H.G. Fenton Company enters its second century of service providing quality places to live and work. H.G. Fenton Company manages an active development pipeline of land and commercial projects, over 3 million square feet of office and industrial space, and 11 apartment communities totaling 2,800 homes to meet its customers' current and future needs. H.G. Fenton Company is headquartered in San Diego at 7577 Mission Valley Road, San Diego, Calif., 92108. The company website is www.hgfenton.com.
Contact Holly Kennedy
Phone 858-678-7138
E-mail kennedy.holly@scrippshealth.org