Scripps Mercy First in California to Receive Security Designation
Team helps ensure a more optimal healing environment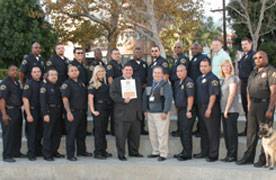 San Diego – Scripps Mercy is the first hospital in the state and the 10th in the nation to receive the International Association for Healthcare Security and Safety (IAHSS) Program of Distinction. Initiated in June 2006, the Program of Distinction recognizes health care security and safety departments that have achieved and maintained a designated percentage of IAHSS-certified security personnel.
To be eligible, security departments must complete the Level I Security Department Accreditation, and meet these key criteria:
A minimum of 80 percent of the security team must be certified through the IAHSS's Progressive Certification Program. All members of Scripps Mercy's security team have attained this certification.
The security director must be a certified health care protection administrator (C.H.P.A.)
"We are very proud of this certification, which is further recognition of the high level of service we provide to our patients, visitors, employees and physicians," said Anthony Roman, C.H.P.A., manager of security services at Scripps Mercy Hospital. "We are ahead of the curve in health care security and are very proud of the work that we do."
Individual certification of officers and directors is granted to those who have successfully passed one of several certification examinations offered by IAHSS. Certified personnel must maintain active certification either through renewal, or progress to the next level.
San Diego's only hospital-based canine unit
Scripps Mercy Hospital security services is also home to San Diego's only hospital-based K9 security unit. The K9 officers train every week with the Carlsbad Police Department and serve as an integral part of the security team.
Ensuring a more optimal healing environment
Security services makes sure that Scripps Mercy facilities remain safe for patients, visitors and staff. The team secures:
Parking structures and all grounds around the hospital
Hospital rooms
Waiting rooms
Emergency room
About Scripps Mercy Hospital
Established in 1890 by the Sisters of Mercy, Scripps Mercy Hospital serves the San Diego and Chula Vista communities. With 700 licensed beds, more than 3,000 employees and 1,300 physicians, Scripps Mercy Hospital is San Diego's longest established and only Catholic hospital. With two campuses, it is the largest hospital in San Diego County and one of the 10 largest in California.
Scripps Mercy is part of the Scripps Health network of providers.
Contact: Kristin Reinhardt