Scripps Mercy Appoints Dr. Theodore Thomas as New Chief of Medical Staff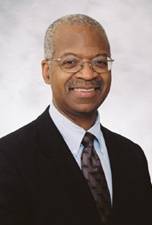 SAN DIEGO – Scripps Mercy Hospital is pleased to announce the appointment of Theodore Thomas, MD, as the hospital's new chief of staff. Dr. Thomas was officially welcomed to his new role at the hospital's annual medical staff dinner on Jan. 31, 2009.
As chief of staff for Scripps Mercy Hospital's two campuses, Dr. Thomas will serve as the medical staff liaison to Scripps Mercy's administrative staff and its medical staff members. During his two-year term, Dr. Thomas also will play a key role in the continuous quality improvements for delivering health care services for more than 202,000 patient visits annually, as well as provide medical staff input for all major expansion and renovation projects at the hospital.
"Dr. Thomas' commitment to Scripps Mercy Hospital and his continued perseverance to deliver expert care to our community make him an excellent representative for our medical staff," said Tom Gammiere, FACHE, chief executive of Scripps Mercy Hospital. "The level of expertise that he brings into this position will serve him well, and we are pleased to welcome him to this new role."
Dr. Thomas has been practicing at Scripps Mercy Hospital since 1987 and is board certified in internal medicine and nephrology. He received his medical degree from the University of Colorado Medical School in 1980 and completed a medical internship at the U.S. Public Health Services Hospital in Staten Island, NY. He worked as a general medical officer at the Robert F. Kennedy Federal Correctional Institution in Morgantown, WV for two years before completing an internal medicine residency at West Virginia University Hospital. He completed a nephrology fellowship at the Cleveland Clinic Foundation in Cleveland, OH.
Dr. Thomas was born in Tacoma, Washington and later moved with his family to Denver, CO. He graduated from Regis High School in Denver and earned his undergraduate degree from the University of Denver. He is married to Inez, and the couple has two daughters attending college, both of whom were born at Scripps Mercy Hospital.
About Scripps Mercy Hospital
Established in 1890 by the Sisters of Mercy, Scripps Mercy Hospital serves the San Diego and Chula Vista communities. With 700 licensed beds, more than 3,000 employees and 1,300 physicians, Scripps Mercy Hospital is San Diego's longest established and only Catholic hospital. With two campuses, it is the largest hospital in San Diego County and one of the 10 largest in California.
Scripps Mercy is part of the Scripps Health network of providers.
Contact: Kristin Reinhardt
Phone: 619-686-3787