New Chief of Staff Takes Over at Scripps Memorial Hospital La Jolla
Dr. Marc Sedwitz Heads up 900-Member Physician Staff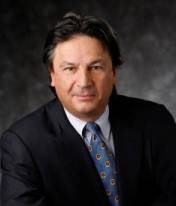 The physicians at Scripps Memorial Hospital La Jolla have elected Marc Sedwitz, MD, as the new chief of staff of the 372-bed facility. Dr. Sedwitz will take over as head of the 900-member physician team on Jan. 1, 2010.
During his two-year term, Dr. Sedwitz will serve as medical staff liaison to Scripps La Jolla's administrative staff and its board of directors. Dr. Sedwitz will play a key role in driving continuous quality improvement in the delivery of health care services to the more than 130,000 patients cared for annually at Scripps La Jolla.
"Dr. Sedwitz' expertise, experience, dedication to excellence and commitment to Scripps Memorial Hospital not only make him the ideal individual for this role, but also a central figure in the hospital's future growth and pursuit of world-class status," says Gary G. Fybel, chief executive of Scripps La Jolla.
As chief of staff, Dr. Sedwitz plans to continue working on the numerous patient care enhancement and physician communication initiatives that were started by outgoing chief of staff John Spinosa, MD, during his tenure. He will also provide medical staff input into the major expansion and renovation projects underway on the hospital's campus.
"It is an honor to serve as chief of staff at Scripps Memorial Hospital La Jolla," says Dr. Sedwitz. "I will strive to maintain the hospital's commitment to excellence in providing the highest standard in quality care. I know that this role will also provide opportunities to further our partnerships with the community by providing ongoing patient education and advocacy.
As a practicing vascular and trauma surgeon, Dr. Sedwitz has been a member of the medical staffs at Scripps La Jolla and Scripps Memorial Hospital Encinitas since 1985 and has held numerous medical staff leadership positions. He served as the section chief of general surgery, was chairman of the Quality Council, and has been a member of the Executive Medical Committee and the Physician Leadership Cabinet.
Dr. Sedwitz received his MD from Boston University, following a bachelor's of science degree from Haverford College in Haverford, Pennsylvania. He also completed a fellowship in vascular surgery at the University of California San Francisco. Dr. Sedwitz completed his general surgical residency at the New York Hospital / Cornell Medical Center, and began his career on staff at UCSD Medical Center. He is certified by the American Board of Surgery with a special qualification in vascular surgery.
In his spare time, Dr. Sedwitz enjoys snowboarding and reading. He also works part-time for Mammoth Hospital. Dr. Sedwitz lives in Rancho Bernardo, with his wife, Irene, who is a consultant. His son Brian recently graduated from Georgetown University and works in finance. His son Tim is a junior at Princeton University, and his son Mekenna attends Rancho Bernardo High School and plans to start college in the fall.
Scripps Memorial Hospital La Jolla, one of the county's six designated trauma centers, offers a wide range of clinical and surgical services including 24-hour emergency services; intensive care; interventional cardiology and radiology; radiation oncology; cardiothoracic and orthopedic services; neurology; ophthalmology; and mental health and psychology services. Scripps Memorial Hospital La Jolla is also San Diego's first Magnet Hospital as designated by the American Nurses Association for quality patient care.
Media Contact: Lisa Ohmstede
Phone: 858-626-7142
E-mail: ohmstede.lisa@scrippshealth.org