Carlsbad Author Recovers from Paralyzing Bike Injury
Scripps patient celebrates life with cycling ride from La Jolla to Encinitas after surviving accident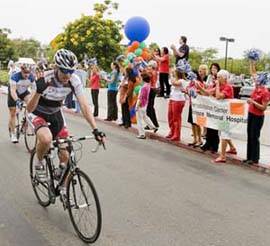 One year ago, Carlsbad resident John Miksa, an author and avid cyclist, was paralyzed from the neck down in a cycling accident. Paramedics transferred him by helicopter to Scripps Memorial Hospital La Jolla, where emergency surgery saved his life.
Twenty-one days later, he walked out of Scripps Memorial Hospital Encinitas Rehabilitation Center without assistance.
On Friday Miksa celebrated his amazing recovery by cycling from Scripps Memorial Hospital La Jolla to Scripps Memorial Hospital Encinitas.
He was joined on the celebratory ride by several members of his Scripps care team, along with Rory Sutherland, a former San Diego resident and current star of the UnitedHealthcare Pro Cycling Team.
Several senior executives from UnitedHealthcare also participated in the ride.
"I feel so fortunate to be able to ride again after such a traumatic injury," said Miksa. "I am so grateful for the support from Scripps, UnitedHealthcare and the health care professionals who played an instrumental role in my recovery. I am blessed to be back on my bike."
The last time Miksa traveled the route from Scripps La Jolla to Scripps Encinitas, it was by ambulance, on his way to begin rehabilitation. His life changed a year ago, when the 55-year-old cycling enthusiast was enjoying a 22-mile bike ride along the Pacific Coast.
Suddenly, Miksa was hit head-on by a car turning into his lane. The impact catapulted him into the air and onto his back, causing paralyzing trauma to his C-5 and C-6 vertebrae. Five hours later, Dr. Scott Leary, a Scripps Health neurosurgeon, was conducting emergency spinal surgery.
"The trauma to his spinal cord was devastating," said Dr. Leary. "He was in spinal shock, and he had a massive herniated disk. But when we pulled the disk off the spinal cord, you could immediately see normal pulsations. I knew he might have a chance to recover."
Within hours of surgery, Miksa miraculously showed movement in his hands and feet.
However, spinal cord damage requires extensive rehab to help traumatized tissues heal or other tissues compensate for those that are no longer viable.
"My prognosis was a less than 1 percent chance of making a full recovery," said Miksa, who lives in Carlsbad with his wife, Sheri. "But, within hours after surgery, I showed signs of movement in my hands and feet. By the fourth day, I was able to stand with a lot of assistance."
After one week at Scripps La Jolla, he was then transferred to Scripps Memorial Hospital Encinitas Rehabilitation Center, where he continued intensive therapy. He was discharged 14 days later, walking out of the Rehabilitation Center on his own.
"It was truly an honor and a privilege to participate in this celebratory ride. John Miksa's amazing recovery is truly a testament to the power of the human spirit and his commitment to his health and well-being," said Steve Nelson, CEO, UnitedHealthcare's West Region.
Read here for more information about Miksa's full recovery and to learn about more stories like his.
Founded in 1924 by philanthropist Ellen Browning Scripps, Scripps Health is a $2.2 billion, private not-for-profit community health system based in San Diego, Calif. Scripps treats a half-million patients annually through the dedication of 2,500 affiliated physicians and 13,000 employees among its five acute-care hospital campuses, home health care services, and ambulatory care network of physician offices and 19 outpatient centers and clinics.
Scripps is recognized as a leader in the prevention, diagnosis and treatment of disease, and is at the forefront of clinical research and graduate medical education. More information can be found at www.scripps.org.
UnitedHealthcare (www.unitedhealthcare.com) provides a full spectrum of consumer-oriented health benefit plans and services to individuals, public sector employers and businesses of all sizes, including more than half of the Fortune 100 companies. The company organizes access to quality, affordable health care services on behalf of approximately 25 million individual consumers, contracting directly with more than 600,000 physicians and care professionals and 5,000 hospitals to offer them broad, convenient access to services nationwide. UnitedHealthcare is one of the businesses of UnitedHealth Group, a diversified Fortune 50 health and well-being company.
Author John Miksa began his 30 plus year career selling menswear in a department store while in college. Upon graduation, he completed a two-year management program with General Electric. Additional assignments took him into technology management and eventually business development. After 16 years with GE, he held leadership positions within large and small organizations, and was most recently CEO of Ocentrix. From these diverse experiences, he collected learnings on how to achieve the highest level of customer satisfaction. Miksa has since become an author, avid cyclist, volunteer, and consultant, and he recently completed his first book – "The Robot Syndrome: How to Overcome It and Provide Uniquely Human Customer Service."