Scripps Begins Construction of $43.9 Million Regional Cancer Treatment Center in La Jolla
Note to Patients: The following news is posted for archival purposes only. Scripps is no longer accepting new patients for proton therapy.
Center will offer latest technology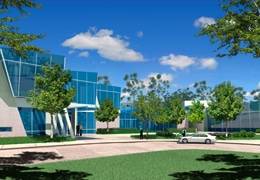 San Diego – In a move that signals further expansion of its cancer services, Scripps Health today held a groundbreaking celebration for a $43.9 million radiation therapy center that will feature one of the most advanced technologies of its kind in the world for treating cancer.
Located on the Torrey Pines Mesa in La Jolla, the Scripps Radiation Therapy Center will serve Scripps patients from across the region who require radiation therapies and will offer patients access to clinical trials. The American Society for Therapeutic Radiation and Oncology (ASTRO) estimates that nearly two-thirds of all cancer patients will receive radiation therapy as part of their treatment.
"The Scripps Radiation Therapy Center will help improve the quality of patient care by providing the very latest technology and a full offering of treatment options," said Chris Van Gorder, president and CEO of Scripps Health. "Our technology will help provide greater patient comfort by significantly shortening treatment times, and will improve precision by leaving less time for tumor and patient movement during treatment. This will be the premier radiation therapy center in the region."
The new center is just the latest development in Scripps' expanding capabilities in cancer care. In August 2010, construction began on the Scripps Proton Therapy Center in Mira Mesa, which will be San Diego County's first facility to offer advanced proton therapy to cancer patients. The $200 million proton treatment center is expected to be open for patient care by spring 2013.
The 41,000-square-foot Scripps Radiation Therapy Center will be built on an 8-acre parcel at 10670 John Jay Hopkins Drive in La Jolla, Calif. Grading is now under way and construction is expected to start by June. The center is scheduled to open for patient care by the third quarter of 2012.
The Scripps Radiation Therapy Center will be equipped with highly sophisticated technology that is powerful, fast and flexible, allowing physicians to treat patients with greater precision, and in less time than traditional approaches. The facility will include three new, state-of-the art linear accelerators: one TrueBeam STx linear accelerator — which will be the first of its kind in San Diego — and two Clinac linear accelerators, each manufactured by Varian Medical Systems of Palo Alto, Calif.
TrueBeam STx technology choreographs various high-tech systems — 3-D tumor imaging, beam delivery and motion management — to deliver external beam radiation therapy to the patient with unprecedented safety and accuracy. This holds true even if the tumor is on the lung and moving as the patient breathes.
The technology's precision is measured in increments of less than a millimeter, which helps protect nearby healthy tissue and critical organs. And it shortens treatment time significantly, cutting a typical 30-minute treatment down to five minutes or less for some tumor sites. It can also generate 3-D tumor images using a 25 percent lower X-ray dose than is necessary with earlier generations of technology. Together, these advances translate to improved comfort, accuracy and safety for patients.
The FDA-approved technology can treat cancers anywhere in the body where radiation treatment is indicated. It is particularly well suited to treat especially challenging cases in the brain, spine, lung, liver and prostate, which are surrounded by critical structures.
TrueBeam STx technology is highly adaptable, allowing all patients to receive individualized radiotherapy treatment that is best suited for their specific clinical circumstances. It can be used for advanced treatment techniques, including image-guided radiotherapy (IGRT) and intensity-modulated radiotherapy (IMRT). The technology also accommodates Rapid Arc therapy, which delivers a precisely sculpted 3-D dose to the entire tumor during a single rotation around the patient, rather than by overlapping slices or concentric arcs that take longer to deliver.
There are currently fewer than 20 TrueBeam STx units in use worldwide. The closest unit currently in use is in Palo Alto, Calif., and most of the others are on the East Coast or overseas. Introduced in 2010, TrueBeam STx is manufactured by Varian in partnership with Brainlab of Feldkirchen, Germany.
A radiation oncology treatment usually involves two main parts once the patient is positioned for therapy. The first step involves using low-doses of X-rays to create images of the tumor to guide the treatment. The second part involves the use of higher-dose X-ray beams to kill fast-growing cancer cells.
The Scripps Radiation Therapy Center will also include a 16-slice CT simulator with 4-D imaging capability, which will enable radiation oncologists to more accurately treat tumors that move, while minimizing the impact on surrounding critical structures. Additionally, the center will offer a patient education resource library; patient locker and gowning areas; physician offices; and clinical research space. The center is designed with the ability to add two more linear accelerators.
When complete, the Scripps Radiation Therapy Center will have the capacity to treat approximately 1,200 patients annually. The center is expected to draw patients primarily from Scripps' 22 outpatient centers and five hospital campuses. Most patients will receive care on an outpatient basis.
Costs to build and equip the radiation therapy center will be funded through a combination of income from operations, debt financing and philanthropy.
The new center will consolidate Scripps' two existing radiation oncology centers, which are now housed at Scripps Memorial Hospital La Jolla and Scripps Green Hospital. "Combining our two outstanding programs under one roof with the best available technology allows us to make the best use of our staff resources and equipment," Van Gorder said. "It will also help with standardizing our care protocols and IT systems, which are areas that are in step with health care reform efforts."
In 2011 Scripps Green Hospital earned accreditation in radiation oncology from the American College of Radiology (ACR) and ASTRO. Scripps Green is the only civilian hospital in San Diego to earn this distinction, and the accreditation will apply to the new facility. Approximately 10 percent of the nation's radiation treatment sites have received this accreditation.
Scripps has long been a leader in providing cancer care in San Diego. It opened the county's first blood and marrow transplantation program in 1980, and during the past 30 years the program's patient survival rate has doubled. Scripps' robotic surgery program currently offers patients the widest range of options in San Diego. And Scripps is the only cancer care provider in San Diego to earn network accreditation from the American College of Surgeons' Commission on Cancer.
With more than 300 affiliated physicians, Scripps Cancer Center is a nationally recognized leader in cancer care, providing comprehensive care at its five hospital campuses and various outpatient locations. Scripps Cancer Center seeks to provide the best possible treatment and cutting-edge research trials for patients by coordinating medical expertise in the areas of clinical cancer care, community outreach and clinical, translational and basic research. Scripps is the only cancer care provider in San Diego to earn network accreditation from the American College of Surgeons' Commission on Cancer.