Community Service Maven Maureen King to Co-Chair 39th Annual Mercy Ball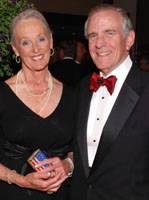 From dedicated community service to philanthropic leadership, Maureen King exemplifies the phrase "simply elegant," the theme of this year's 39th Annual Mercy Ball, for which she is generously serving as co-chairman, along with her husband, Charlie.
Born at a Mercy hospital in Oxnard, California, Maureen strongly believes in the values and promise of a Catholic health care system. In 2002, she combined compassionate spirit with her fundraising expertise to support Mercy Hospital Foundation's board of directors. Her commitment continues as she now serves as chairman of the board.
As a community leader, volunteer and philanthropic supporter, her impact is widespread. Having served as a fundraising and management consultant for numerous nonprofit organizations, Maureen brings a unique perspective and wealth of knowledge to Mercy Hospital Foundation's board.
"It is a privilege to support the exemplary patient care and premier health services offered at Scripps Mercy Hospital," says Maureen. "Now, more than ever, philanthropy is vital to continuing the hospital's success. Events, such as Mercy Ball, offer the community an opportunity to help sustain and improve the lifesaving care that is provided at Scripps Mercy Hospital."