FDA Approves First Artificial Aortic Heart Valve Placed Without Open-Heart Surgery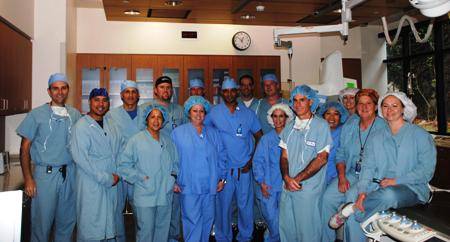 The U.S. Food and Drug Administration on Wednesday approved the first catheter-based aortic heart valve replacement without the need for open-heart surgery in the U.S. — and Scripps Health was one of the 26 sites in the nation for this revolutionary clinical trial.
Transcatheter aortic valve replacement (TAVR) enables multi-disciplinary heart teams to replace a patient's diseased aortic valve without traditional open-heart surgery and while the heart continues to beat — avoiding the need for cardiopulmonary bypass.
"I believe the transcatheter heart valve will revolutionize heart valve surgery by giving patients who are at high risk for open heart surgery a much less complicated way to replace their diseased and poorly functioning aortic valve," said Scripps interventional cardiologist Paul Teirstein, MD. "This new technique has been proven to extend patients' lives and enhances their day-to-day life activities. In my experience, patients feel like they have turned the clock back 10 years."
Annually, about 300,000 people in the United States need a heart valve replacement, but nearly half of them do not receive one because they're too sick to tolerate conventional open heart surgery. Transcatheter aortic heart valve surgery uses a small, collapsible heart valve, packaged within a balloon-expandable stent, similar to what is used routinely to open and reinforce coronary blood vessels. Using advanced imaging techniques and only small incisions, the new valve is guided and placed through an artery in the leg or the chest wall. These techniques obviate the need for a major open heart surgery.
"This procedure represents a new treatment option for heart valve replacement that is less invasive, safer and more cost effective compared to open heart surgery," said Dr. Teirstein. "It can potentially improve the quality of life for hundreds of thousands of heart patients suffering with severe aortic stenosis."
One individual who has shown great promise of benefitting from a TAVR is Ruth Bradshaw, an 87-year-old retired elementary school teacher. Bradshaw was diagnosed with a serious aortic valve problem several years ago. With increasing shortness of breath and multiple fainting episodes, the El Cajon resident was in dire need of valve replacement surgery. Her health history combined with her age made traditional open heart surgery significantly more risky.
Dr. Teirstein and cardiothoracic surgeon Scot Brewster, MD, performed Bradshaw's percutaneous heart valve replacement on March 15, 2011, at Scripps Green Hospital. Using advanced imaging techniques and only small incisions, the physicians guided a small, collapsible heart valve up to Bradshaw's heart through an artery in her leg. The procedure is similar to what is used routinely to open and reinforce coronary blood vessels.
Within 48 hours, she was walking around, eating solid food, and feeling "pretty good." She was discharged from the hospital just three days after her procedure.
Now on a speedy road to recovery, Bradshaw is busy making lunch date plans with her friends, and has returned to her Jazzercise classes and is playing golf again.
About Scripps Health
Learn more about Scripps Health, a nonprofit integrated health system based in San Diego, Calif.