A fitness expert offers tips to help you reach your goals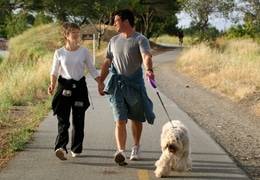 A fitness expert offers tips to help you reach your goals
If you're determined to make this your year for better health and fitness, Scripps can make it easier, providing tips and tools to help you create a plan and get started on the road to success.
"Don't center your fitness goals on a number on the scale," says Lisa Carpenter, fitness manager, Scripps Center for Integrative Medicine. "Instead of focusing on weight loss, focus on healthy living. If you do, weight loss will come."
Set personal goals
"We recommend SMART goals (see below), which are specific, measurable, achievable and timely," says Carpenter. For example, set a goal that 6 weeks from now, you'll be able to swim 10 laps without stopping.
Focus on fun
Concentrate on activities you like or something new you'd like to try. Carpenter calls these "exciting" goals. If you like to hike, aim to hike a certain mountain or distance. "If you enjoy it, you'll be successful," she says. "Success breeds more success."
Find a workout partner and get family and friends involved
"When you find like-minded people and incorporate a social component, you're more committed," Carpenter points out.
Schedule fitness like any other appointment
"Put it on your calendar, work your schedule around it and ask others to respect that," she says.
Keep a fitness diary
Recording progress can be especially helpful when starting a new fitness plan and it discourages you from making excuses.
Start a fitness plan and get guidance to reach your goals
Download (PDF, 710 KB) our SMART goals worksheet, fitness diary and sample fitness calendar.