San Diego sports medicine at Scripps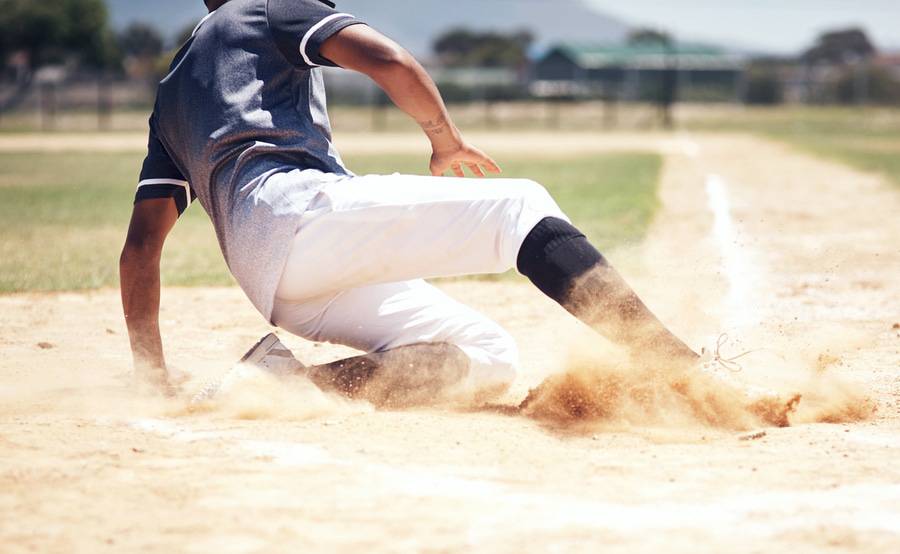 San Diego sports medicine at Scripps
Scripps is San Diego's winning team for orthopedic sports medicine.
No matter what type of sports injury you've suffered, Scripps sports medicine physicians in San Diego can help, thanks to an unmatched level of experience and team strength. Scripps is consistently recognized by U.S. News & World Report as having one of the top orthopedic programs in the country — a distinction that sets us apart from other health care systems. This national, local and regional recognition is based on key metrics that include quality, patient outcomes, and system capabilities and facilities.
Our physicians' experience in treating sports injuries for elite athletes, combined with access to the newest technologies and treatments, translates into innovative care — including options for outpatient surgery — for all of our sports medicine patients.
Our approach to sports medicine
Scripps orthopedic teams diagnose and treat all parts of the musculoskeletal system that can be injured through sports activities — from traumatic knee injuries to worn shoulders to painful feet.
Our expert physicians coordinate with athletic teams, clinicians, trainers and others to provide comprehensive sports medicine care, including sports physical therapy and rehabilitation services.
The sports medicine specialists at Scripps diagnose and treat a variety of sports injuries and conditions in San Diego.
Meniscus tears (also known as cartilage tears) — when soft tissue between joints (most often the knee) is suddenly damaged as the result of a twisting motion or sudden hit, such as a tackle.
Dislocations — when two bones that meet at a joint completely come apart, such as a dislocated shoulder or dislocated knee.
Fractures — breaks in bones and can occur in varying degrees of seriousness anywhere in the body.
Sprains, strains and bruises — affect ligaments, tendons and muscles, such as sprained ankles, sprained wrists and strained muscles in shoulders, arms, back, groin, legs and other parts of the body.
Stress fractures — small cracks or severe bruising of bones, such as foot and ankle bones like the metatarsals, tibia (shin) and fibula.
Tendinitis — painful inflammation that can affect tendons in the arms, legs, ankles and other parts of the body.
Shoulder and elbow injuries
Dislocated shoulder — a shoulder injury occurring when two bones are moved out of their normal position and come apart.
Shoulder separation (acromioclavicular joint separation or AC joint separation) — when the top of the collarbone (clavicle) is separated from the top of the shoulder blade (scapula).
Rotator cuff injuries — such as a rotator cuff tear, which involve a tear of one or more of the tendons that connect four muscles in the shoulder to the upper arm bone (humerus).
Tennis elbow or golfer's elbow — characterized by pain on the outside of the elbow (tennis) or inside of the elbow (golf).
Ulnar collateral ligament injury (also known as UCL injury) — when the ligament inside the elbow connecting the upper arm (humerus) with the forearm (ulna) is partially or completely torn.
Anterior cruciate ligament (ACL) injury (also known as ACL tear) — when one of the main ligaments that helps stabilize and support the knee is partially or completely torn.
Iliotibial band syndrome or IT band syndrome — an inflammation of the tendon that connects the knee to the hip and causes pain on the outside of the knee.
Medial collateral ligament (MCL) injury (also known as MCL tear) — when the ligament located along the inner knee is strained or torn.
Osgood-Schlatter disease — an overuse injury of the tendon below the kneecap seen in growing adolescents before entering their mid-to-late teens.
Runner's knee (also known as patellofemoral knee syndrome) — occurs in adults and is characterized by pain just below the kneecap that usually intensifies during activity.
Patellar tendinitis (also called tendinitis in the knee) — an injury or inflammation to the tendon that connects the kneecap to the shin bone.
Foot, ankle and lower leg injuries
Achilles tendinitis — an inflammation of the Achilles tendon at the back of the ankle above the heel.
Ankle sprain — an injury that occurs when the ankle rolls, twists or turns.
Plantar fasciitis— inflammation in the bottom of the foot with stabbing heel pain, usually originating at the base of the heel.
Heel spur — a calcium deposit that develops around the heel bone, causing a bump on the underside of the heel.
Peroneal tendonitis — an injury to the tendons that connect the calf muscle to the foot.
Sesamoiditis of the foot — inflammation of two small bones in the forefoot that produces pain under the big toe.
Shin splints — pain in the lower front leg caused by inflamed muscles or the possible onset of stress fractures in the tibia (shin).
Turf toe — when the main joint of the big toe is sprained due to hyperextension.
Injury diagnosis and testing
Scripps orthopedic specialists use advanced imaging technologies to ensure patients can receive the most appropriate diagnostic evaluations and treatments. Our sports medicine doctors diagnose athletic injuries based on comprehensive physical exams and imaging, such as magnetic resonance imaging (MRI), CT scan and X-rays. Learn more about different types of imaging in our orthopedic glossary.
Our team provides exceptional care to athletes of all levels, from professional and collegiate athletes to weekend warriors. Sports medicine treatments available at Scripps include:
Nonsurgical methods — focus on managing pain through alternative options including anti-inflammatory injections and other less invasive treatments.
Osteochondral allograft transplantation — a procedure when cartilage from a donor is implanted to help restore stability in a patient's knee, ankle or shoulder.
Sport physical therapy — provided either as a primary treatment or following a surgical procedure with the goal of helping patients regain strength and full range of motion.
Surgery — procedures utilized to repair or replace a joint, tendon or ligament.
Surgery for arm, shoulder, hand or wrist injuries
Hip arthroscopy may be an option for hip pain caused by impingement. This minimally invasive type of hip replacement surgery helps correct the bony abnormality that is causing the impingement.
Hip resurfacing — a procedure where the head of the femur is trimmed and capped with a smooth metal covering, while the hip socket is removed and replaced with a metal socket.
Minimally invasive hip replacement — a procedure where a smaller surgical incision is made than in traditional total hip replacement surgery.
Total hip replacement (hip arthroplasty) — a procedure where the head of the femur (thigh bone) is removed and replaced with a metal stem and a metal or ceramic ball, while the worn hip socket (acetabulum) is removed and replaced with a metal socket.
Surgery for knee injuries
ACL reconstruction — a procedure where a torn anterior cruciate ligament is rebuilt using tissue, most commonly the kneecap tendon or hamstring tendon, from a donor or the patient's body. This includes the BEAR implant (Bridge Enhanced ACL Restoration), which acts as a bridge to help the torn ends of the patient's ACL heal back together. Surgeons inject the implant with the patient's own blood and arthroscopically insert the device between the torn ACL segments, through a small surgical incision.
Knee arthroscopy— a minimally invasive surgery that is performed through small incisions to trim or repair torn cartilage in the knee.
MCL reconstruction — a procedure where a torn medial collateral ligament is rebuilt using tissue from a donor or the patient's body to restore stability to the inner knee.
Partial knee replacement — a procedure where damaged tissue and bone in the inner knee or the outer knee is replaced with a metal and plastic part.
Total knee replacement (knee arthroplasty) — a procedure where the ends of the femur (thigh bone) and tibia (shin bone) at the knee joint are removed and replaced with metal and strong plastic parts.
Surgery for foot and ankle injuries
Ankle surgery — includes repairs of torn Achilles tendon, ankle fractures and dislocations.
Ankle replacement (ankle arthroplasty) — a procedure where damaged bone and cartilage are replaced with metal and plastic parts
Foot surgery — includes complex procedures to repair fractures and torn ligaments
Scripps offers sports and physical therapy in San Diego with facilities in North County, South Bay, Central San Diego and La Jolla. Sports and physical therapy services are provided at multiple locations by a team of experts using the latest techniques and technologies to help patients regain strength and mobility to get back in the game.
Your doctor can help you determine the most appropriate course of therapy for your condition, and provide a referral to a specially trained Scripps rehabilitation.
Personal trainers and injury prevention
Personal trainers and exercise physiologists at Shiley Sports and Fitness Center work closely with patients and others to develop individualized programs focused on injury prevention, injury recovery and improved fitness. With state-of-the-art workout equipment, including cardiovascular, circuit training, flexibility and free weights, we are committed to determining the most beneficial program to promote a timely return to work, sports, leisure and other activities. 
Scripps Clinic orthopedic doctors are nationally recognized for pioneering work that can benefit sports medicine patients. Cartilage-tissue engineering, stem cell research and genomics are among the focus areas of physicians and scientists at Shiley Center for Orthopaedic Research and Education (SCORE) at Scripps Clinic.
Sports medicine locations
Scripps Health offers sports medicine at the following locations in San Diego County:
Support services and resources
As leaders in orthopedic care, we know what it takes to keep joints healthy. That's why we equip our patients with support services and resources to help them achieve their best possible outcome. From connecting you with rehab services to empowering you with educational resources, Scripps offers a comprehensive lineup to help you along every step of your journey.
We are here for you — not only as your orthopedic surgeons, but as a team of experts who understands that your joint health is about much more than your medical treatment. Specifically, Scripps offers a variety of patient support services to ensure your physical and emotional well-being, as well as resources for dealing with the logistical aspects of your care.
Our services include:
For more offerings, please visit our patient resources section.
Glossary and other resources
Patient education is an important part of understanding your joint condition and treatment plan. To stay informed, we encourage our orthopedic patients to:
Bookmark the Scripps glossary of orthopedic terms for easy referencing.
Watch the pre- and post-surgery videos your doctor recommends.
Consult your orthopedic team for educational materials and a list of trusted online sources beyond the Scripps site. 
Always check with your orthopedic surgeon first to ensure that you have the most accurate information for your particular medical condition or need.