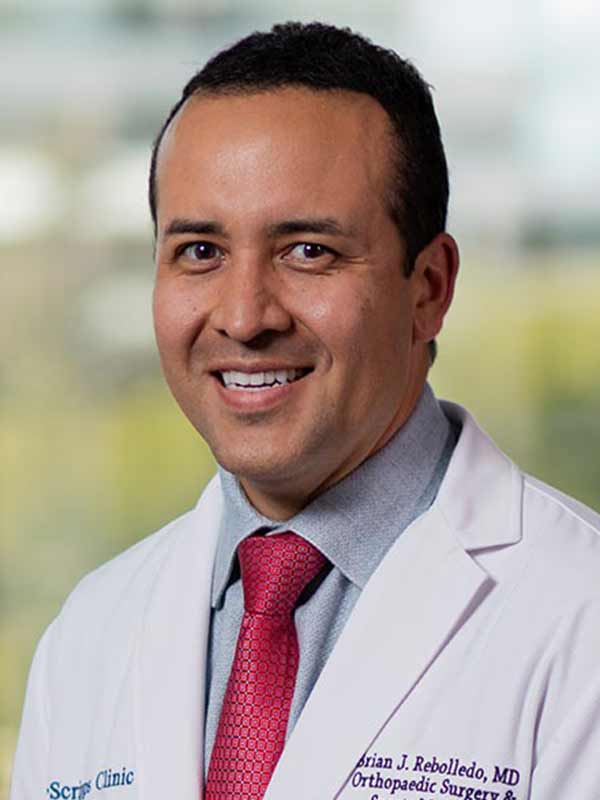 Specialties
Orthopaedic Surgery, Sports Medicine
Orthopaedic Surgery
Expertise
Orthopaedic Sports Medicine
Orthopaedic Surgery
Specialties
Orthopaedic Surgery, Sports Medicine
Orthopaedic Surgery
Brian J. Rebolledo, MD, specializes in sports-related injuries of the hip, knee, shoulder and elbow. He has clinical expertise in minimally invasive arthroscopic surgery, as well as complex reconstruction of these joints. His advanced training includes a focus on hip preservation/femoroacetabular impingement aimed at correcting developmental disorders and athletic injuries of the hip in active patients.
Seeking to provide the highest quality care to his patients in the San Diego community, Dr. Rebolledo offers his patients a highly individualized and comprehensive treatment approach tailored to each person, with the goal of restoring mobility and function.
Dr. Rebolledo has worked with numerous elite-level athletes and served as an assistant team physician for the San Francisco 49ers professional football team during his fellowship. He has a strong commitment to research that helps advance orthopedics. He has authored more than 25 published articles.
He is an active member of the American Academy of Orthopedic Surgeons, American Orthopedic Society for Sports Medicine, International Society for Hip Arthroscopy, and Arthroscopy Association of North America. He is a journal reviewer for the American Journal of Sports Medicine, Orthopedic Journal of Sports Medicine and HSS Journal.
Dr. Rebolledo received the T. Campbell Thompson Award for Excellence in Orthopedic Surgery from Weill Cornell Medical College. He was also awarded the Thomas P. Sculco, MD Award upon completing his medical residency at top-ranked Hospital for Special Surgery in New York City. The award is given by hospital staff to the medical resident demonstrating the highest level of patient care, compassion and professionalism.
Board Certifications
American Board of Orthopaedic Surgery, Orthopaedic Surgery, 2019
Medical Education
Weill Cornell Medical College, MD, 2011
Residencies
Hospital for Special Surgery, Orthopaedic Surgery, 2016
Fellowships
Stanford University Hospital, Sports Medicine/Orthopaedic Surgery, 2017
Publications
See a listing of Brian Rebolledo's publications on PubMed, a service of the National Library of Medicine.
PubMed is a third-party website with no affiliation with Scripps Health.