Cancer Journey Helps Scripps Provider Raise Game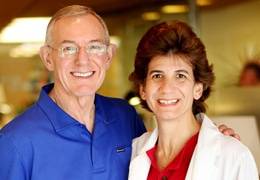 Bruce Buttermore is no stranger to cancer. As a longtime manager of radiation therapy for Scripps Health, Buttermore has helped provide compassionate care to thousands of cancer patients over the years.
But in July 2010, life took an unexpected turn for Buttermore when the care provider suddenly became the care recipient.
After a routine checkup, Buttermore's blood test showed an elevated prostate-specific antigen (PSA). Such results are common and can be attributed to age, minor infections or even excessive bike riding—a favorite pastime for the Scripps Ranch resident.
So Buttermore didn't think much about it until the results of a second PSA and then a biopsy confirmed he had prostate cancer.
Even with decades of experience working with cancer patients, Buttermore was overwhelmed with concerns of how this diagnosis would affect him physically and psychologically.
"Would I be able to walk the talk I had been giving others?" Buttermore asked himself.
Buttermore consulted with three different specialists. Each physician outlined the pros and cons of the multiple prostate cancer treatment options available to him: surgery, radiation, hormone therapy, or just wait and watch to see what happens.
Buttermore struggled with his treatment options. But in the end, he opted for surgery with Dr. Carol Salem at Scripps Mercy Hospital San Diego, where he underwent a radical prostatectomy—the surgical removal of his prostate gland.
"Fortunately for Bruce, he was able to undergo a robotic prostatectomy which was much less invasive than a traditional open prostatectomy," said Dr. Salem. "Because of this technology, Bruce's scarring was minimal, he experienced less blood loss, and had a faster recovery with minimal side effects."
The procedure lasted four hours and Buttermore was able to go home the next day.
Now cancer-free and back at work, Buttermore is using his newfound perspective to help others fight cancer. With experience and empathy, he guides patients through the decision-making process and shares the knowledge he has acquired through his own personal journey.
"Getting this diagnosis was a gift. I have a greater appreciation for my life, my family and my friends," said Buttermore. "Also, I am better equipped to help others get through the emotional ups and downs that they will be facing as they come to grips with the reality of having to deal with a life-changing diagnosis."
Buttermore and Dr. Salem will be honored during pregame ceremonies April 19 at Petco Park. To find a Scripps physician, call 1-800-SCRIPPS 800-727-4777).