Jack and Eileen Anderson Donate $25 Million to Scripps Health to Honor Son's Memory
New Scripps Clinic facility to be named John R. Anderson V Medical Pavilion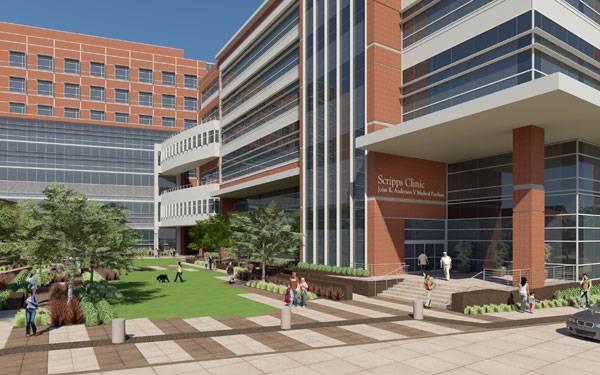 Eileen and John "Jack" R. Anderson IV have donated $25 million to support innovative care and long-term growth at Scripps Health for construction of a new Scripps Clinic facility on the campus of Scripps Memorial Hospital La Jolla.
In honor of the couple's generosity, the 175,000-square-foot facility will be named the John R. Anderson V Medical Pavilion as a tribute to their son, who passed away from cancer in 2004. Construction on the building is planned to begin winter 2013 and is projected to be completed in 2016.
"We are extremely grateful for the long-standing philanthropic support of the Anderson family, and are thrilled by this most recent contribution," said Chris Van Gorder, Scripps Health president and CEO. "The John R. Anderson V Medical Pavilion will serve as an integral part of the 25-year master plan to rebuild Scripps Memorial Hospital La Jolla and will help serve the community's health care needs well into the 21st Century."
Once completed, the six-story medical office building/ambulatory care facility will house a variety of specialty services, including cardiology, gastroenterology, pulmonology, neurology, nephrology and endocrinology. The building will also include four cardiac catheterization labs that will allow physicians to perform certain cardiac procedures in an outpatient setting.
In addition to their $25 million gift, the Anderson family has been a long-time supporter of Scripps. Dating back to 1985, the Andersons' donations have helped support programs and services related to cardiology, orthopedics, internal medicine and urgent care at Scripps Clinic and Scripps Green Hospital.
"We felt this donation would be an appropriate way to pay tribute to our son John and give others the opportunity to benefit from the medical expertise that our family has trusted over the past three decades," said Mr. Anderson. "John had a lot of things in common with Scripps – he was very smart, innovative and could fix just about anything."
Planning for the Future
Over the next two decades, Scripps plans on replacing Scripps La Jolla with three new hospital towers to meet state earthquake safety mandates, while taking advantage of the opportunity to build the most comprehensive medical campus in the region.
Patients will have all their health care needs met in one location, from wellness, prevention and advanced diagnostics in the John R. Anderson V Medical Pavilion, to the latest medical and surgical treatments at the new hospital. The regional campus will allow Scripps to provide greater collaboration and efficiency between its two La Jolla campuses — Scripps Memorial Hospital La Jolla and Scripps Green Hospital, located on Torrey Pines Mesa.
Annually, more than 55,000 patients receive their cardiovascular care from Scripps, making it San Diego County's largest heart care provider. Scripps is the region's only cardiovascular program consistently recognized by U.S. News & World Report as one of the best in the country.
History of Community Support
Philanthropy has continued to play an important role in Scripps La Jolla's growth. The hospital expansion will be financed by operating revenues, borrowing and community support. Including the Andersons' donation, more than $100 million in philanthropic gifts have been raised toward the $175 million fundraising goal.
"We are grateful to Eileen and Jack Anderson for their extremely generous donation that will help transform health care in San Diego. This gift will create a lasting legacy for generations to come," said Robert Sarnoff, MD, president of Scripps Clinic Medical Group.
The John R. Anderson V Medical Pavilion and the overall Scripps Memorial Hospital La Jolla expansion, including the Prebys Cardiovascular Institute, are part of improvements being made throughout the Scripps Health system. Projects include a new emergency department and critical care building, medical office building and parking structure at Scripps Memorial Hospital Encinitas; the new Conrad Prebys Emergency and Trauma Center, a new parking structure and central energy plant at Scripps Mercy Hospital San Diego; the new Scripps Proton Therapy Center and the Scripps Radiation Therapy Center. Other facility improvements include seismic upgrades and investment in new information technology.
"Scripps was founded through philanthropy," said John Engle, Scripps corporate senior vice president and chief development officer. "That legacy of community support continues today through the generosity of Jack and Eileen Anderson. Their contributions will help countless others for years to come."
Learn more about Scripps Health, a nonprofit integrated health system in San Diego, Calif.