North County Patients Benefit From New Lower Radiation CT Scanner
Part of full range of radiological technology at Scripps Coastal Medical Center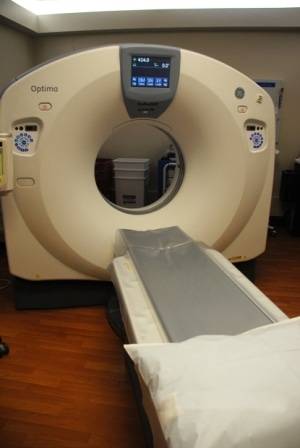 VISTA – Patients visiting Scripps Coastal Medical Center now have access to a full array of radiological technology, including a newly installed GE Optima CT660 that reduces radiation doses by as much as 40 percent, and is one of the first of its kind to be used on the West Coast.
The new computed tomography (CT) scanner is part of the full-service digital radiology department at the Cedar Road site, which includes the Vista Urgent Care Center and serves patients from Scripps Coastal and other Scripps Health affiliated physicians. Other services include MRI, ultrasound, mammography and X-ray. The new scanner has received full accreditation from the American College of Radiology, confirming the commitment of the center's staff and Scripps to provide the best patient care with the lowest possible radiation dose.
"The main benefit of the new CT scanner is a reduction in the radiation dose received by the patient while still generating diagnostic-quality images," said Scripps Clinic radiologist Brandon Grusd, MD "Lowering the radiation dose is important because, based on historical studies and other studies, more radiation exposure over a lifetime increases the relative risk of developing cancer. While all scans are done because physicians think the benefits outweigh the minimal risk of radiation, it is always better to lower the radiation dose from these medically necessary examinations."
The new scanner comes in a compact size, is easy to operate, sets up quickly, uses about 60 percent less energy than other models and can image up to 20 patients a day.
Once an image is produced, it is transferred to the electronic picture archiving and communication system and is interpreted by one of the board-certified radiologists of Scripps Clinic. Images from patients of the urgent care center are identified for highest priority reading, enabling rapid reports to ordering and referring physicians to manage immediate care decisions in their patients.
"In addition to the benefits the scanner provides to our patients and physicians, the design also allows for recycling at the end of its useful life," said Michael Cragin, manager of physician relations with Scripps Medical Foundation Radiology.
Learn more about Scripps Health, a nonprofit integrated health system in San Diego, Calif.