SDSU's Coach Fisher and Scripps Take on the NCAA's Best to Win $100,000
Prostate cancer survivor Coach Fisher nominates Scripps robotic surgery as charity of choice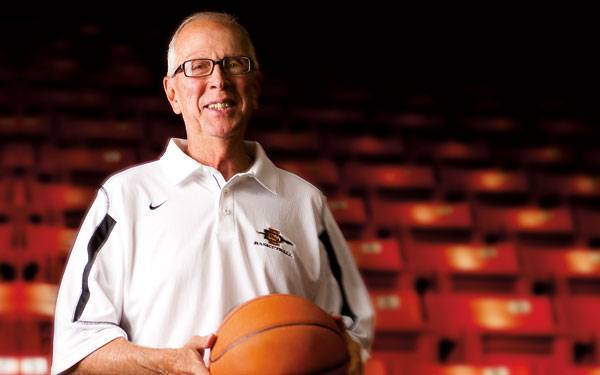 San Diego State University's men's basketball coach, Steve Fisher, has nominated Scripps Health's minimally invasive robotic surgery program as the beneficiary of the Infiniti Coaches' Challenge. The coach with the most votes through the online challenges will be given a $100,000 donation for their favorite charity from Infiniti and national recognition on ESPN.
Coach Fisher knows the importance of quality medical care. Scripps urologist, Carol Salem, MD, performed robotic prostate surgery on Fisher at Scripps Mercy Hospital in 2008. Since his successful recovery, Coach Fisher has been an advocate for Scripps' robotic surgery program and cancer care. The Infiniti Coaches' Challenge nomination is one way he is saying thank you.
"We are honored that Coach Fisher selected our minimally invasive robotic surgery program at Scripps for this challenge," said John Engle, corporate senior vice president and chief development officer at Scripps. "Coach Fisher knows how to win, on the court and off, and this is his way of showing the nation that there is hope in the fight against cancer with the right game plan."
Vote Coach Fisher and Scripps No. 1
Fans can show their support for Coach Fisher by registering and voting now at ESPN.com/Infiniti. For the first six weeks, four brackets of 12 coaches will be paired against each other, with the winners from each group moving on to the next round in week seven and the final round in week eight. Fans can vote for one coach per region per day. The winning coach will be announced March 11. All 48 coaches' charities are guaranteed at least $5,000 from Infiniti.
"Last season, Infiniti was pleased to present Ohio State University men's basketball coach Thad Matta a $100,000 check for his charity, Ronald McDonald House Charities of Central Ohio, for winning the annual "Infiniti Coaches' Charity Challenge," said Infiniti Americas Vice President Ben Poore. "We know Coach Matta will plan on defending his title, but the 47 other coaches and their fans are going to put up a great fight."
The Infiniti Coaches' Charity Challenge will be promoted each week through a wide range of media, including the ESPN Game of the Week, Facebook and other social media. Vote now and show your support for Coach Fisher, SDSU, the fight against cancer and Scripps Health.