Kathy Stroik, RN, survived cardiac arrest and then opted for a healthier lifestyle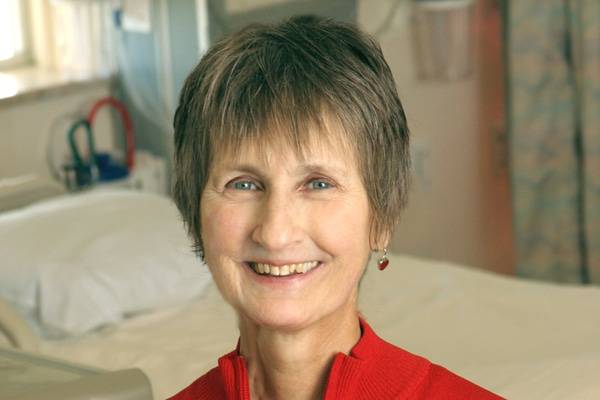 As a nurse, Kathy Stroik knew the signs and symptoms of a heart attack — but not when it happened to her.
Kathy, a registered nurse at Scripps Mercy Hospital, has worked in the cardiac field for almost two decades. But when she experienced lower back and stomach pain in July 2009, she chalked it up to "just feeling lousy."
Hidden symptoms of a heart attack
Her symptoms prompted her to the urgent care at Scripps Clinic Rancho Bernardo where she was hooked up to a heart monitor as a routine precaution. Just when she began to feel better, Kathy lost consciousness and went into cardiac arrest.
Physicians and nurses at the Urgent Care worked quickly and were able to shock her back to life.
Paramedics quickly transported her to Scripps Memorial Hospital La Jolla where the STEMI team was ready and waiting. After being assessed and finding that Kathy had a 100 percent blockage of a main artery, she was quickly taken to the cath lab where interventional cardiologist John Harrington, MD, inserted a stent in her heart to get her blood flowing properly again.
After two days in the hospital, Kathy was feeling much better and was discharged with the motivation to make some significant lifestyle changes. Now, a year and a half later, Kathy had made exercising one of her top priorities.
She works out two to three times a week in the Cardiac Treatment Center at Scripps Memorial Hospital La Jolla, where the staff helped tailor an exercise program just for her.
"I thank my lucky stars for this event because it put my life on a better track as far as exercising and I also appreciate the smaller things in life," Kathy says.
Exceptional heart care when she needed it most
So now in addition to being a wife, mother, nurse, and now heart attack survivor, the 59-year-old mother of three will soon be adding the new title of "grandma" as she awaits the birth of her first grandchild this summer — something that might not have happened if it wasn't for the well-trained and knowledgeable staff at Scripps Clinic and Scripps Memorial Hospital La Jolla.
"The staff at Scripps La Jolla was wonderful, but I really owe my life to the quick-thinking doctors and nurses at the Rancho Bernardo Urgent Care who knew just what to do," Kathy says.
Know the signs of impending heart attack