Scripps CEO Listed Among Health Care Leaders To Follow On Twitter
Magazine cites growing role of online social networks in national conversation among industry professionals and patients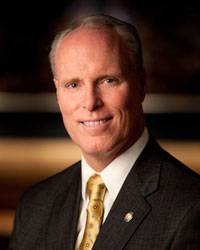 Looking for a good way to keep up with the fast-paced and ever changing world of health care?
Becker's Hospital Review recommends following Scripps Health President and CEO Chris Van Gorder and 19 other hospital and health system leaders on Twitter.
"Social media has revolutionized the way Americans share information," reporter Helen Gregg wrote in a July 15 article published on the national industry news outlet's Web site. "Sites like Twitter give healthcare leaders an unprecedented opportunity to connect with both industry professionals and patients, and shape the national healthcare conversation."
Others on the list included Mayo Clinic Arizona CEO Wyatt Decker, Cook County Health and Hospitals System CEO Ram Raju and University of Michigan Health System CEO Ora Pescovitz.
The article noted that Van Gorder "posts often about healthcare industry changes and trends" from his Twitter handle @ChrisDVanGorder.
See the full list: 20 Hospital and Health System Leaders to Follow on Twitter