Shoulder Replacement Puts Goalie Back in the Game
Orthopedic surgery helps athlete overcome osteoarthritis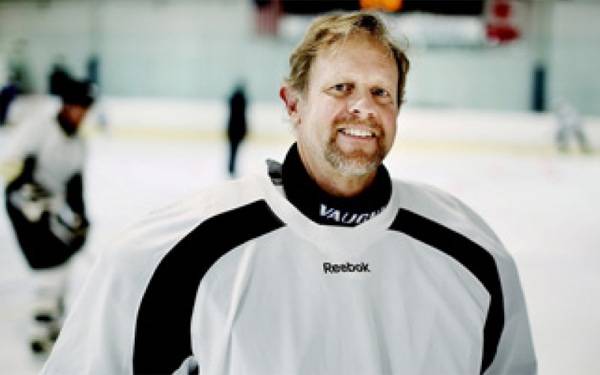 Ice hockey requires quick reflexes. Especially for a goaltender trying to defend his net.
Veteran goalie Kevin Barnard is living proof. During a recent pickup game, he instinctively swatted away a puck travelling 80 miles per hour toward his goal, launched from close range.
The fact that Barnard, 55, had shoulder replacement surgery about a year ago makes his lightning-speed reaction all the more impressive.
After decades of playing competitive hockey and tennis, Barnard developed osteoarthritis in his left shoulder. Over the years, he adjusted his posture and movements to avoid the pain. But eventually, the cartilage that previously allowed his upper arm bone to glide smoothly against his shoulder socket had completely worn away.
With the bones of his shoulder joint rubbing directly together, Barnard endured chronic pain, loss of motion, migraine headaches and difficulty sleeping. "It got to the point where I felt like I needed to crawl out of my own skin," the Escondido resident said.
Barnard was referred to Heinz Hoenecke, MD, of Scripps Clinic. Dr. Hoenecke has focused on shoulder replacement surgeries since 2000 and now performs more than 80 such procedures a year.
"The total shoulder replacement involves cutting off the head of the upper arm bone and replacing it with a titanium stem and cobalt chrome head," Dr. Hoenecke said. "The socket is then lined with a plastic implant to replace the missing cartilage."
Post-surgical physical therapy improves strength, flexibility
Following successful surgery, Barnard pushed through an aggressive regimen of strengthening and range-of-motion exercises with physical therapist Diane Fons. He was pleasantly surprised when was able to serve a tennis ball just six months after surgery. Barnard's recovery continues to progress and today he's more active than ever.
"We don't normally recommend people go back to playing impact sports after a shoulder replacement, but Kevin is a unique competitor," Dr. Hoenecke said.
Dr. Hoenecke's research has shed new light on how forces move across the shoulder, which has helped Scripps develop expertise in positioning shoulder implants. His development of the first 3-D computer-animated shoulder simulator allows him to perform "virtual surgeries" before each operation, using a CT scan of the patient's shoulder.
Barnard, a former San Diego Police Department detective, gives back as a board member of the Escondido Creek Conservancy, which has helped preserve thousands of acres of natural open space.
Barnard, Fons and Dr. Hoenecke will be honored during pregame ceremonies Aug. 19 at Petco Park. To find a Scripps physician, call 1-800-SCRIPPS.