Scripps Participates in Global Clinical Trial for Patients with Aortic Valve Disease
Retired brigadier general first patient to enroll in trial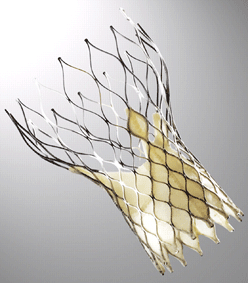 Retired Brigadier General Stanford Brown has a long and decorated history of giving back to his country.
Among his many accomplishments, he fought valiantly in the Vietnam War, served as the commander for March Air Force Base, and helped establish the Veteran Affairs National Cemetery in Riverside.
And most recently, Brown, 85, underwent an experimental heart procedure that will hopefully add more years to his remarkable life and allow him to continue giving back to his community.
On Oct. 22, the Riverside resident became the first patient at Scripps Health to take part in an investigational transcatheter aortic heart valve replacement trial called the Medtronic CoreValve Surgical Replacement and Transcatheter Aortic Valve Implantation (SURTAVI).
Largest global trial of its kind
The SURTAVI trial is the largest global, randomized, controlled trial to evaluate transcatheter aortic valve implantation in less-sick patients who today are typically treated with open-heart surgical aortic valve replacement.
"We are investigating whether the CoreValue System may be a viable treatment option for this large population of patients who are looking for an alternative treatment to open heart surgery," said Paul Teirstein, principal investigator and director of interventional cardiology, Scripps Clinic. "It can potentially improve the quality of life for hundreds of thousands of heart patients suffering with severe aortic stenosis."
Dr. Teirstein performed Brown's percutaneous heart valve replacement at Scripps Green Hospital. Using advanced imaging techniques and only small incisions, the physician guided a small, collapsible heart valve up to Brown's heart through an artery in his leg. The procedure is similar to what is used routinely to open and reinforce coronary blood vessels.
Within 24 hours, he was walking around, eating solid food, and said he felt much better. He was discharged from the hospital just four days after his procedure.
Now, just days after his procedure and on a speedy road to recovery, Brown said he is eager to return to his latest civic project – building a military heritage plaza near Riverside's convention center.
Implications of aortic stenosis
Approximately 300,000 people worldwide suffer from severe Aortic stenosis, which occurs when the heart's aortic valve is narrowed, restricting blood flow from the heart to the body. The condition primarily affects older people and typically develops in individuals between the ages of 50 and 70.
Research shows that, left untreated, as many as 50 percent of aortic stenosis patients with severe symptoms may die within one year. Brown was diagnosed with a serious aortic valve earlier this year after experiencing pain and pressure in his chest.
Scripps is the first in San Diego, and one of up to 75 clinical sites globally that will enroll approximately 2,500 patients through experienced heart teams including interventional cardiologists and cardiac surgeons. The trial will evaluate whether the CoreValve System is non-inferior to surgical valve replacement, based on the composite primary endpoint of all-cause mortality and disabling stroke at 24 months.
The CoreValve System has not been approved by the U.S. Food & Drug Administration and is currently limited to investigational use in the United States. The system met the European Union health and safety standards in 2007 and has since been implanted in more than 30,000 people in more than 60 countries outside the United States.