Scripps Study Participant Recognized at White House Student Film Fest
Video shows how Lilly Grossman uses technology to overcome condition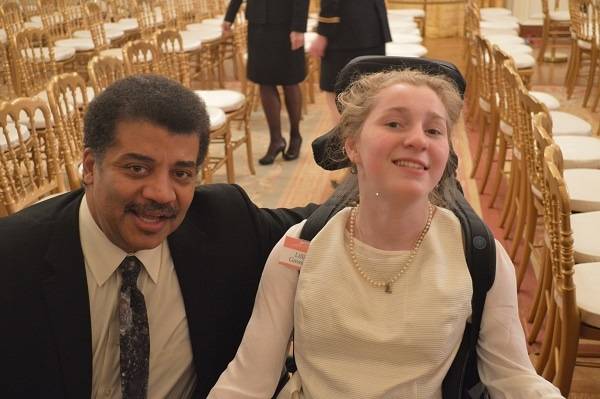 A video created by La Jolla High School junior Lilly Grossman was among 17 from across the country recognized at the first-ever White House Student Film Festival.
President Barack Obama presided over the Feb. 28 event along with celebrity astrophysicist Neil deGrasse Tyson (host of the new show "Cosmos: A Space Time Odyssey") and Bill Nye the Science Guy.
President Obama "spent 5 or 10 minutes with the kids, talking to them about how important science is for the future," said Gay Grossman, Lilly's mother who accompanied her on the trip to Washington, D.C. "Lilly said he grinned at her."
Lilly, 17, is a participant in a Scripps Translational Science Institute study that uses full-genome sequencing to search for causes and treatments of mystery diseases.
After mapping Lilly's DNA, STSI scientists discovered two rare genetic mutations that appeared related to her condition, which causes extreme muscle weakness, poor coordination and balance problems that make it difficult to walk, talk and even sleep. One of the genes has led to the use of a new drug treatment that, at times, has significantly reduced the painful muscle seizures that keep her up at night.
Lilly's remarkable story has been chronicled by the Los Angeles Times, U-T San Diego and National Geographic.
For the film festival, students created more than 2,500 entries depicting the role of technology in their classrooms. Lilly's two and a half minute long video shows how her school life is immersed in technology.
She uses a laptop computer to take notes and exams, an iPad to connect with classes when she's home sick, a van equipped with a ramp to get to and from school, a power chair to navigate the campus, publishing software to edit articles for the school newspaper, and an iPhone to stay connected with classmates.
The White House website said this about the winning videos: "They're not just really impressive films — together, they tell the story of exactly why it's so important that we make sure more classrooms have the kind of cutting-edge technology they promote."
Watch Lilly's video: