Becker's Names Scripps CEO Among '40 Smartest People in Health Care'
Chris Van Gorder recognized for innovative leadership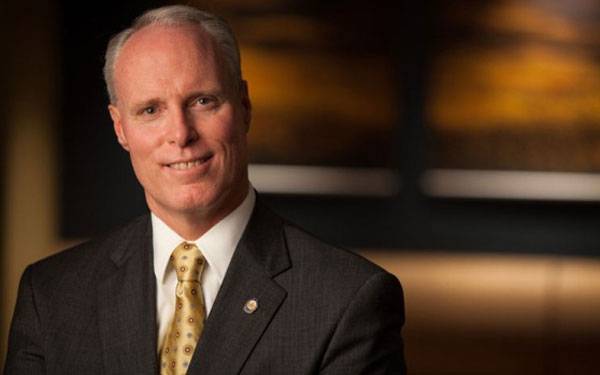 Scripps Health President and CEO Chris Van Gorder was named one of the 40 smartest people in health care by Becker's Hospital Review, a leading health care industry news outlet.
The list included best-selling author Atul Gawande, MD; former Centers for Medicare and Medicaid Services administrators Don Berwick, MD, Jonathan Blum and Mark McClellan, M.D.; Oregon Gov. John Kitzhaber, MD; and President Barack Obama.
"As providers, payers and policymakers have searched for the best way to contain costs while improving quality of care, certain individuals stand out as having the intellect and acumen needed to spearhead successful reform," Becker's reporter Helen Adamopoulos wrote in her report about the list.
Scripps was the only San Diego-based health system represented on the list, which was compiled through an editorial review process by the Becker's staff.
"I am honored to have been included among so many thoughtful and highly respected leaders in our industry," Van Gorder said. "At Scripps Health, we are focused on eliminating costs that don't add value to the patient. It's gratifying to see our efforts recognized."
Scripps a top health system and workplace
In 2013, Scripps made the Fortune magazine "100 Best Companies to Work For" list for the sixth time and was included among Becker's list of the "100 Great Places to Work in Healthcare." In 2013, Scripps was named by AARP as the No. 2 employer in the nation for workers 50 and older, and was the nation's No. 1 employer on AARP's previous list. Also in 2013, Working Mother magazine included Scripps Health on its "100 Best Companies" list for workplace excellence, marking the ninth straight year Scripps has made this list.
And earlier last year, Scripps was named one of the top five large health systems in the nation by the international business research firm Truven Health Analytics, formerly Thomson Reuters.
Van Gorder's leadership transforms Scripps
Van Gorder oversees more than 13,500 employees at five acute-care hospital campuses and 26 outpatient clinics. Since becoming president and CEO of Scripps in 2000, he has been instrumental in positioning the organization among the nation's leading health care institutions.
In January, Van Gorder was honored by the American College of Healthcare Executives with the Gold Medal Award, the organization's highest honor, which will be presented in March. Last year, Van Gorder received the Innovation Award from Press Ganey, a national firm specializing in patient experience improvement. For five consecutive years, Van Gorder was included on the "100 Most Influential People in Health Care" list, compiled by Modern Healthcare magazine.
Board-certified in health care management and an American College of Healthcare Executives Fellow, Van Gorder also served as 2010 chairman of the association – an international professional society of more than 40,000 health care executives who lead hospitals, health care systems and other health care organizations.
In October 2010, Van Gorder announced a new direction for Scripps. In anticipation of dramatic changes in health care, he "turned the organization on its side," creating a horizontally matrixed management structure to identify and significantly reduce unnecessary variation in patient care and health care operations. The new "One Scripps" approach led to $141 million in performance improvements in 2011 and 2012, and more than $79 million in performance improvements in fiscal year 2013.
Learn more about Scripps Health, a nonprofit integrated health system in San Diego, Calif.