Scripps Recognized for Wireless Health Innovation
San Diego health system honored by The Wireless Foundation at its 20th annual VITA Achievement Awards Dinner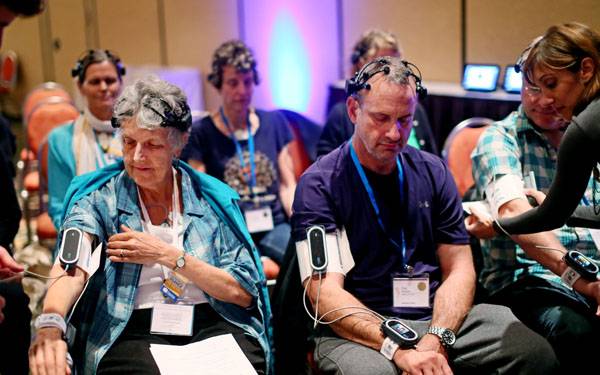 The Wireless Foundation has honored Scripps Health for its ground-breaking work in wireless health technology during the organization's 20th annual VITA Achievement Awards Dinner.
"The men and women at Scripps Health are leaders in developing and executing innovative mobile health care products and services that improve patient care and lower medical costs," said Steve Largent, president of The Wireless Foundation and president and CEO of CTIA-The Wireless Association. "I was pleased to present them with a VITA Achievement Award for being great 'disruptors' who created — and will continue to create — a positive impact with wireless technology."
The foundation is a nonprofit organization formed by CTIA and dedicated to developing and supporting initiatives that use wireless technology to help American communities.
Accepting the Achievement Award for Scripps during the May 19 Washington, D.C., dinner was Steven Steinhubl, MD, the health system's director of digital medicine.
Other award winners included Sprint, the Oregon Department of Education and the Cyberbullying Research Center and Federal Communications Commission Chairman Tom Wheeler.
As the digital and biological worlds converge in ways that promise to revolutionize medicine, Scripps is leading the way in the testing and use of innovative technologies to create more individualized therapies and diagnostic tools for patients.
Research efforts are led by the Scripps Translational Science Institute, an innovative collaboration with The Scripps Research Institute that is focused on the interdisciplinary scientific evaluation of wireless health technology and genomics for translation to the patient bedside.
On the clinical side, Scripps is testing a wireless wrist device to track the real-time vital signs of patients recovering from surgery, and the health system has deployed a "universal" medical-grade wireless architecture that can accommodate many types of devices ranging from smartphones and tablets to vital signs monitors and infusion pumps.
Read more about the VITA Achievement Awards: The Wireless Foundation's 20th Annual VITA Achievement Awards Dinner Recognizes Those Who Used Wireless for Good