Taking Care of Yourself After Having a Baby
Why postpartum health is important for new moms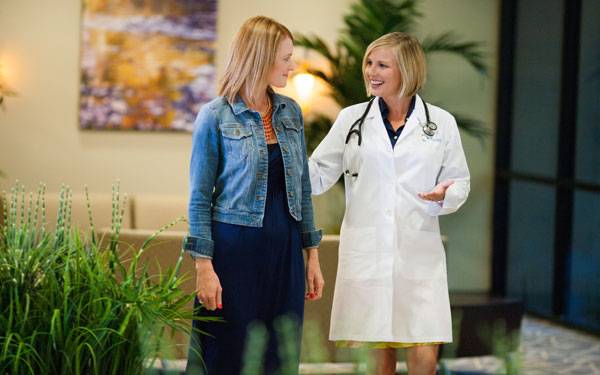 Why postpartum health is important for new moms
Having a baby is an exciting and very busy time for a new mom. In between sleepless nights, diaper changes and constant feedings, women may forget to take some time to focus on their own health.
"Many new mothers devote all of their energy to the baby and neglect their own needs," says Christen Benke, DO, a family medicine specialist with Scripps Clinic Del Mar. "They might postpone getting back into a fitness routine or snack on unhealthy foods that are readily available rather than prepare a healthy meal as they might have before children. They might not make appointments for themselves with their own doctor or dentist, and this can lead them to get behind in their preventive health."
Healthy mom, happy family
Dr. Benke warns that when a mom does not take care of herself physically and emotionally, she won't have as much energy to care for her family. "A happy mother leads to a happy baby," she says. "And a mom who neglects her health isn't very happy."
Women who aren't eating healthy balanced meals — particularly nursing mothers — can be at risk for vitamin deficiencies or anemia. Not maintaining a healthy weight can lead to obesity, and a lack of exercise and sleep could predispose a new mom to anxiety or depression.
Getting a head start on healthy eating and fitness as soon as your doctor gives you the go–ahead will help make it routine and keep you on the right track for a healthy lifestyle. Dr. Benke also notes that even healthy mothers who are trying to take care of themselves can be at risk for postpartum depression.
"If a mom has problems with postpartum depression or anxiety, she is not doing anything wrong," says Dr. Benke. "Taking care of her health is a great first step, but she should also seek help from her doctor or counselor."
Quick health tips for new moms
"By leading a healthy lifestyle, not only are you being a good role model for your baby and children, you will have more energy to get through the day," notes Dr. Benke. "The healthy 'feel-good' endorphins that come from exercise aid in coping with stress, and help new moms rebound faster from that occasional sleepless night."
With the hectic schedule of having a baby to take care of, it may be hard to know where to start when it comes to making healthy choices. Try taking these "baby steps."
Go for a walk or jog
San Diego is full of trails and sidewalks to jog with the stroller. If you enjoyed running before your baby, be sure to take it slow. Don't jog with your baby in a stroller until they are at least 7 months or older and are able to hold their head up steadily.
Join a mommy fitness group
There are many local exercise groups that are designed for moms. They offer healthy camaraderie of supportive women and other new mothers.
Find a place to exercise that offers child care
Many fitness clubs and yoga studios offer child care on site that will take babies six weeks and older.
Turn tantrum time into fresh air time
If your baby is fussy and you are unable to soothe them, try taking the opportunity to go outside for a walk. Sometimes just buckling a crying baby into the stroller and pushing them on a bumpy road will help calm them. The fresh air will also do wonders for reducing mom's stress.
Prepare healthy snacks
Stock your refrigerator with pre-packed healthy snacks such as almond butter spread on sliced apples, baby carrots dipped in hummus and frozen grapes.
Plan your menu ahead of time
Look for healthy recipes, plan and shop for your meals at the start of each week. When you have a plan and the necessary ingredients, you'll be less likely to give in to quick fixes like fast food at dinner time.
Accept help
It may be hard to accept help from friends and family, but it can do wonders for a new mom. Let someone else clean your kitchen or watch the baby for an hour while you take a nap or go for a jog. Even a little reprieve can help calm the mind and relieve stress.