Scripps Takes Possession of Prebys Cardiovascular Institute
Move-in, education, training and orientation phase begins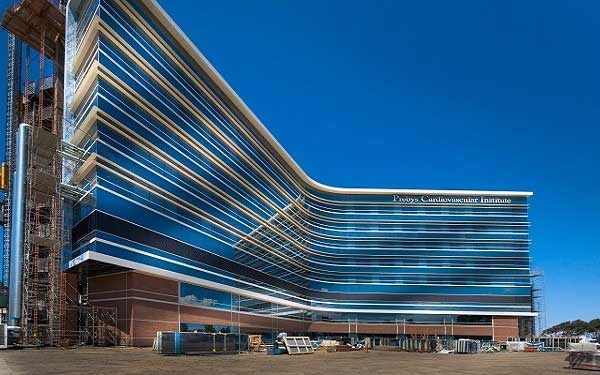 What has more than 2,200 doors, enough concrete to fill nine Olympic-sized pools, and almost 118,000 bricks? It is the new Prebys Cardiovascular Institute – San Diego's largest and most advanced hospital dedicated to heart care.
With the three-year construction phase now complete, Scripps Health officially took possession of the new hospital tower today from McCarthy Building Companies, Inc.
"This is a very exciting day for us – after years of planning, design, and construction, we finally got the 'keys' to the building," said Scripps President and CEO Chris Van Gorder. "This milestone brings us one step closer to offering the most comprehensive cardiovascular program that has ever been available in the region."
With patient care scheduled to commence in early March 2015, the next four months will be used to educate, train, orient and transition physicians and staff into the new facility. Furnishings and equipment will also be moved in.
Unique Features
The 383,000-square-foot building is located on the campus of Scripps Memorial Hospital La Jolla. Rising seven stories, the exterior of the Prebys Cardiovascular Institute is a combination of glass windows, bricks and steel – all designed to complement and blend with the architecture of the existing hospital.
"With almost 118,000 bricks used, the new hospital tower represents one of the biggest brick jobs in San Diego in the past 15 years, both the number of bricks used and the ultimate height of the structure," said Bruce Rainey, Scripps corporate vice president of construction and facilities.
More than 200 individuals — including clinicians, leadership, architects and support staff — provided guidance on what was the best practice for cardiac patients. Based on this feedback, evidence-based design and notable construction features are incorporated throughout, including:
A curved building shape to reduce the distance that staff needs to travel to care for patients. Care providers have a less than 60-foot travel path from their work stations to the patient rooms.
Floor-to-ceiling windows that incorporate natural light and views of nature. Studies show that patients' need for pain medicine was reduced by 22 percent when they are exposed to light and a view.
A three-tiered wireless infrastructure dedicated to enterprise, medical and consumer use that maintains maximum capabilities for clinicians.
All single-patient rooms designed with three distinct zones: the nursing zone with a sink, supply area and charting space; the patient's bed area; and the family zone.
Patient rooms will offer a variety of amenities, including wireless Internet access, LCD screen televisions and pullout couches so family members can stay comfortably overnight.
Located 1,600 feet away is a new central energy plant that will provide air conditioning, heating, medical gas, steam, fuel storage, waste storage, and emergency generators for the new hospital tower.
Jacobs Engineering Group, Inc. served as the construction management firm on behalf of Scripps Health. McCarthy Building Companies, Inc. was the design-assist general contractor and HOK Architects was the project architect.
Cardiovascular care at Scripps
The Prebys Cardiovascular Institute is the cornerstone of a 25-year master plan that will transform the Scripps Memorial Hospital La Jolla campus. Scripps Health is replacing the existing hospital with new facilities to meet state earthquake safety mandates.
The new facility features 108 inpatient beds in private rooms, 59 intensive care beds, six state-of-the-art operating rooms, and as many as six cardiac catheterization labs with the most advanced medical technology. It will also integrate the highly respected cardiovascular programs throughout the Scripps Health system and Kaiser Permanente.
"The Prebys Cardiovascular Institute is more than a building; it represents Scripps' commitment to providing our patients with the highest quality of cardiovascular care," Van Gorder said.
Every year, more than 76,000 patients receive their heart care from Scripps, making it the largest heart care provider in the region. And Scripps is the only cardiovascular program in the region ranked by U.S. News & World Report as one of top 20 in the country.
The Prebys Cardiovascular Institute and the overall Scripps Memorial Hospital La Jolla expansion are part of improvements being made throughout the Scripps Health system. Recent projects include the: Scripps Proton Center; Scripps Radiation Therapy Center; a new emergency department and critical care building, medical office building and parking structure at Scripps Memorial Hospital Encinitas; and the new Conrad Prebys Emergency and Trauma Center, a new parking structure and central energy plant at Scripps Mercy Hospital San Diego. Other facility improvements include seismic upgrades and investment in new information technology.