Scripps Health Awarded $7.6 Million Grant from California Institute for Regenerative Medicine
Funds will be used for stem cell research to develop treatments for osteoarthritis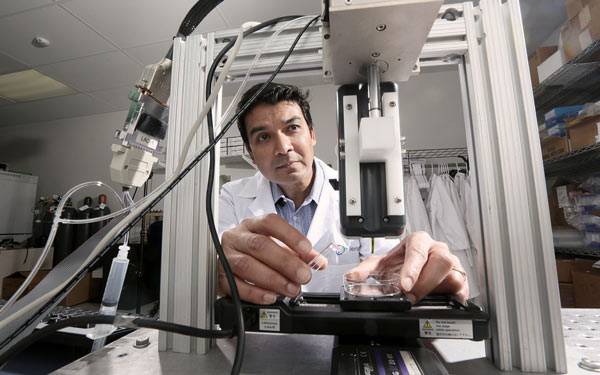 Funds will be used for stem cell research to develop treatments for osteoarthritis
Researchers at Scripps Health have been awarded a $7.6 million grant from the California Institute for Regenerative Medicine (CIRM) as a part of the agency's Preclinical Development Awards program. The funding will support ongoing stem cell research by the Shiley Center for Orthopedic Research and Education at Scripps Clinic targeting the repair and regeneration of knee cartilage, as well as the underlying bone defects and lesions caused by osteoarthritis.
The research is headed by Darryl D'Lima, MD, PhD, director of orthopedic research at Scripps Health. The funding will help advance a third-generation cell therapy that combines stem cells with a natural hydrogel scaffold to support the repair of cartilage and bone defects. These defects, if left untreated, are a major factor in contributing to early osteoarthritis in patients younger than 55. It is the only award for the surgical treatment of cartilage disorders in the CIRM portfolio currently funded.
Co-investigators working to advance the research include Clifford Colwell, MD, director of SCORE; Scripps Clinic orthopedic surgeons William Bugbee, MD, and Heinz Hoenecke, MD; Martin Lotz, MD and Jeanne Loring, PhD, from The Scripps Research Institute; and Evan Snyder, MD, PhD, from Sanford-Burnham Medical Research Institute. Shawn Grogan, PhD, is the principal scientist and tissue engineer working on the project.
"The funding provided by CIRM is essential to the development and support of the research we are doing with regard to tissue regeneration at Scripps," said Dr. D'Lima. "With this grant we plan to continue our progress in this field and move toward clinical trials within the next three years."
Current treatment for osteoarthritis
Caused by the deterioration of cartilage between joints, osteoarthritis affects more than 27 million people in the United States, according to the Centers for Disease Control and Prevention.
Almost all current strategies to repair knee cartilage involve the removal of healthy cartilage and tissue around the lesion and the creation of artificial defects in the joint to facilitate further treatment or implantation. However, for younger patients with severe arthritis or impending arthritis, there is no treatment that can prevent, cure or even slow the progression of this disease.
CIRM was established in November 2004 with the passage of Proposition 71, the California Stem Cell Research and Cures Act. The statewide ballot measure, which provided $3 billion in funding for stem cell research at California universities and research institutions, was overwhelmingly approved by voters, and called for the establishment of an entity to make grants and provide loans for stem cell research, research facilities and other vital research.
About Shiley Center for Orthopaedic Research and Education
Established in 1983 by Clifford Colwell, MD, Shiley Center for Orthopaedic Research and Education at Scripps Clinic in San Diego, Calif. is committed to improving patient care and quality of life. Through scientific investigation and scholarship, SCORE has advanced the field of orthopedics and developed innovative programs to share best practices.