Scripps Cardiac Care: The Numbers Speak Volumes
Experience and expertise in heart care make Scripps San Diego's first choice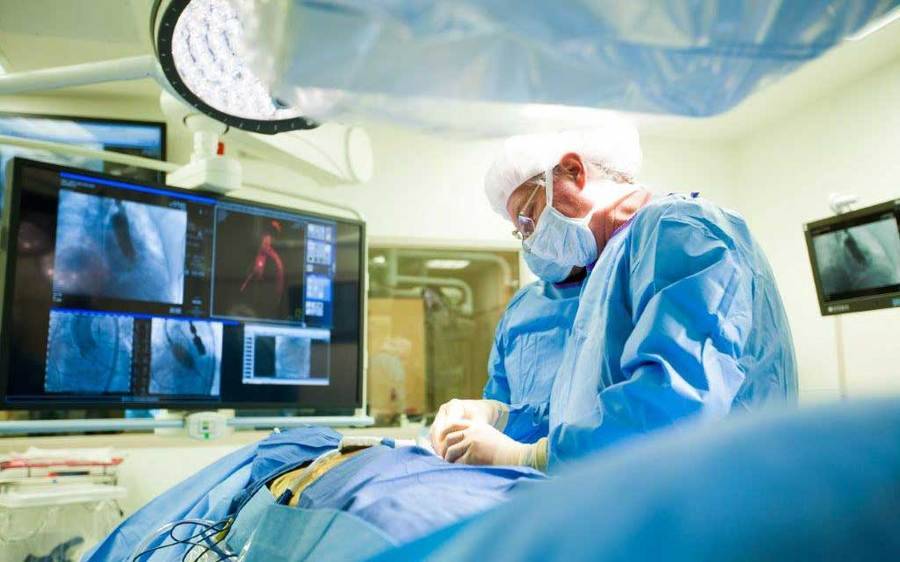 Recognized as a heart leader for our innovative care, expansive scope of services and unparalleled commitment to quality, Scripps has been consistently named as one of America's Best Hospitals for cardiology and heart surgery by U.S. News & World Report for more than a decade. Every year, more than 76,000 patients receive their heart care from Scripps — making it the largest heart care program in the region. Our nationally recognized cardiologists and cardiovascular surgeons have earned reputations for excellence by combining their expertise with advanced technology and innovative cardiac treatments—many of which were pioneered at Scripps.
Scripps heart care services
With nearly 200 cardiovascular specialists, Scripps cardiovascular programs offer patients a comprehensive range of screening tests, diagnostic exams and treatment options. While the newly opened Prebys Cardiovascular Institute serves as the hub for advanced cardiac procedures and research in San Diego, Scripps continues to provide excellence in cardiovascular care in the communities served by the four other Scripps hospital campuses. Outpatient care is delivered at Scripps Clinic locations and in private physician offices located near all Scripps hospitals.
With four emergency departments that have been certified by the American Heart Association as ST-elevation myocardial infarction (STEMI) receiving centers, Scripps is uniquely designed to care for heart attack patients. As STEMI receiving centers, our emergency departments work closely with first responders to ensure that heart attack patients receive the fastest and most effective heart care.
Faster, safer and less invasive heart care
The goal of our cardiovascular specialists is to provide the highest quality care with the least invasive techniques possible for each patient's case. Together, Scripps and Kaiser Permanente interventional cardiologists are nationally recognized for groundbreaking work in stent placement, valve repair/replacement and minimally invasive heart surgery. Other minimally invasive services include:
Angioplasty
Stent placement
Atrial septal defect repair
Valve replacement and repair
Robotic-assisted heart surgery
Changing the rhythm of heart disease
An international leader in managing and treating heart rhythm disorders, Scripps is a leader in electrophysiology research for the treatment of cardiac arrhythmia. We were the first San Diego health system to use catheter ablation to cure arrhythmias (PDF, 1.8 MB), the first in the U.S. to implant dual-chamber defibrillators for the treatment of arrhythmias and the first in Southern California to perform open heart surgery to cure arrhythmias. Scripps has the busiest electrophysiology labs in San Diego County, offering:
Electrophysiology study
Catheter ablation
Electric cardioversion
Pacemaker insertion
Implantable defibrillators
Advances in cardiovascular surgery
As leaders in cardiac surgery for the Southern California region, Scripps surgeons perform more heart surgeries than any other surgical group in San Diego. With more than 1,100 surgeries performed annually, these physicians perform some of the most innovative and advanced cardiovascular surgery options available. These include:
Coronary artery bypass surgery (CABG)
Valve repair and replacement
Robotic–assisted surgery for coronaries and valves
Atrial and ventricular septal defect repairs
Aneurysm surgery
Cardiac arrhythmia surgery, including the maze procedure
Left Ventricular Assist Device (LVAD) procedure for advanced and end-stage heart failure
Next Generation Cardiovascular Excellence
Scripps has partnered with the Scripps Translational Science Institute and The Scripps Research Institute to discover tomorrow's heart treatments and therapies, using genomics, wireless technology and minimally invasive procedures. Our physicians have helped set the pace of global biomedical design and innovation through collaborative work — not only with research and science, but also by reviewing and evaluating new ways to provide heart care. Scripps cardiac specialists and surgeons are participating in multiple clinical trials and testing new procedures, therapies and devices.
Where your heart is concerned, experience matters —Scripps cardiac specialists perform more procedures than any other heart care program in California. When you or your loved ones need heart care, count on Scripps for exceptional cardiac care provided with compassion and a personal touch. We're here for you.