World-class Athlete to Start Cross-country Bike Race After Getting Wireless Implantable Defibrillator at Scripps
Device will alert cardiologist of any problems during Philippe May's 3,000-mile competition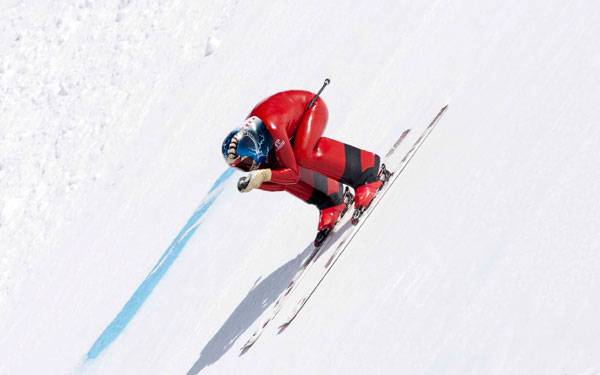 A year after Philippe May was forced to withdraw from one of the world's toughest endurance bicycle races because of a newly discovered and potentially deadly heart condition, the world champion athlete has returned to San Diego to give the race a second try and to raise money for Scripps Health's new Prebys Cardiovascular Institute. All of that is possible because of a potentially life-saving procedure at Scripps and wireless monitoring by Scripps physicians.
"Scripps is amazing," said May, who was diagnosed and treated by Scripps Clinic cardiologist John Rogers, MD, "I feel I was blessed to arrive in San Diego and have Dr. Rogers caring for me. I had an immediate connection with him and trusted him and his team completely."
May, 44, is from Switzerland and his main sport is speed skiing. He won his 13th Swiss speed skiing championship earlier this year. In 2007 he won the Pro World Championship and in 2002 he was crowned the sport's World Cup Champion by the International Ski Federation. He is one of only five skiers to have exceeded 156 mph down the slopes.
As part of his offseason training, May competes in endurance cycling events. That's what brought him to San Diego in June 2014. He was set to participate for the first time in the Race Across America (RAAM), a grueling 3,000-mile cycling trek that starts in Oceanside, Calif., and ends in Annapolis, Maryland six days later.
Heart condition discovered at Scripps
But when he landed in San Diego feeling weak and lightheaded, May went to Scripps Clinic Torrey Pines Urgent Care in La Jolla. He was referred to Dr. Rogers, who diagnosed arrhythmogenic right ventricular dysplasia/cardiomyopathy.
Also known as ARVD/C, the condition is present at birth and can progressively replace heart muscle in the right ventricle with fat and excess fibrous tissue, causing abnormal heart rhythms. Estimated to affect one in 5,000 people, the disease accounts for up to one-fifth of sudden cardiac death in people under 35.
Scripps doctors ran more tests on May and learned he had a family history of sudden cardiac death: May's father died suddenly at age 39, and his father's brother died suddenly a few days later. He was in his early 40s.
On June 13, 2014, Dr. Rogers, who is a specialist in heart arrhythmias and their treatment, implanted a cardioverter defibrillator in May's chest to ensure his heart wouldn't stop if he went into cardiac arrest, a risk related to ARVD/C and strenuous activity.
"Philippe had no prior symptoms despite his very active lifestyle, which is typical of this type of heart abnormality," the doctor said. "That is why it is so important to be screened for heart disease. It can prevent sudden cardiac arrest, which is almost always fatal in these cases."
Wireless device will transmit heart rate to doctor
Over the past year, Dr. Rogers has been able to remotely monitor May's heart through the defibrillator, which sends the patient's heart rhythm data to a bedside monitor. As May continued to train and complete, his doctor was able to track his cardiovascular performance to make sure there were no troubling changes.
Now that May is back in San Diego, Dr. Rogers will examine him again and review results of a recent electrocardiogram (EKG) performed in Switzerland to ensure there are no signs of disease progression. If everything looks good, May will make the decision to start the Race Across America, which begins on June 20 at noon at the Oceanside Pier.
The doctor said he feels a mix of nervousness, awe and pride about May's determination to continue competing at such an extreme level. He will be at the starting line to cheer on his patient's cycling team, the Twisted Swissters. And he will be able to track May's heart performance during the competition through data sent from the implanted wireless defibrillator.
Doctor, Scripps care inspires fundraising effort
May said he has chosen to continue receiving care from Dr. Rogers for two reasons even though his home is more than 5,000 miles away in Switzerland: the world-class treatment he has received at Scripps and the knowledge and compassion shown by his physician.
"I need to compete, to push my body. That is who I am," said May. "Dr. Rogers understands this, and I am lucky to find a doctor who can show me it is possible to still do the things I love."
May and his wife, Tracie Sachs, said they were impressed and moved by Dr. Rogers' charitable work to help diagnose children who may also unknowingly have life-threatening heart conditions.
Dr. Rogers is co-founder of the Eric Paredes Save a Life Foundation, a nonprofit organization that offers free EKG screening to children around San Diego County. The foundation is named for a teen who had an undetected heart abnormality and died unexpectedly from sudden cardiac arrest, the No. 2 killer of youth under 25. The cardiac electrical system abnormality that triggered Eric's death can be detected by EKG, but the test isn't part of normal childhood physicals.
To show their appreciation to Dr. Rogers and May's other care givers at Scripps, May, Sachs, and their cycling teammates have committed to raise at least $25,000 to name an exam room after the physician in the new Prebys Cardiovascular Institute on the campus of Scripps Memorial Hospital La Jolla.
"Everyone we met here at Scripps has been so caring and generous with their time," Sachs said. "We think the care here is just top-notch."
Scripps is the largest heart care provider in the region, caring for more than 76,000 cardiovascular patients every year. With the top-ranked heart program in San Diego County, Scripps is consistently recognized among the top 20 cardiovascular programs in the country by U.S. News and World Report. Its newly opened Prebys Cardiovascular Institute brings together leading researchers, physicians, staff and technologies in the most advanced center dedicated to heart care on the West Coast.
Donations in support of the cycling team's fund-raising effort can be made by visiting www.scripps.org/heartrace.
Learn more about Scripps Health, a nonprofit integrated health system in San Diego, Calif.