Prebys Cardiovascular Institute Wins National Design Award
Modern Healthcare awards Scripps bronze prize for efficient, stunning design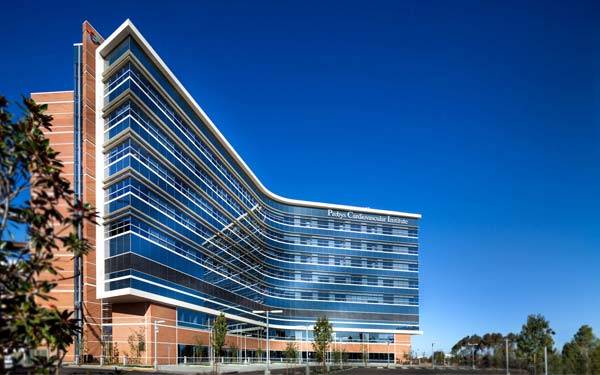 Prebys Cardiovascular Institute, which opened in March on the campus of Scripps Memorial Hospital La Jolla, is the recipient of Modern Healthcare's 2015 Bronze Design Award.
The 330,000-square-foot cardiovascular institute was described by one judge as having a "visually stunning exterior," as well as a "convenient" interior whose layouts promote staff efficiency. "California is a decade ahead of everyone in requiring value," he said
Prebys Cardiovascular Institute – home to the largest heart program in the San Diego region — was designed to be expandable and flexible to accommodate changes in technology, which the judges also noted. HOK Architects of Los Angeles designed the seven-story, 167-bed hospital tower, which is named for local philanthropist Conrad Prebys, in honor of his $45 million donation.
Healing environment cited
Scripps was the lone award winner from California in Modern Healthcare's 30th annual Design Awards. Memorial Sloan Kettering Cancer Center in West Harrison, N.Y., and St. Charles Cancer Center in Bend, Ore., won the gold and silver design awards, respectively.
In all, 58 entries were evaluated for overall design, environmental sustainability and energy efficiency, flexibility, functional utility and response to family and patient needs.
In the story announcing the winners, Modern Healthcare reported, "There was general agreement that the winning entries succeeded in melding the healing environment and value-based design concepts into projects that achieved smooth workflows, patient-centered amenities and stunning visuals."
Modern Healthcare is a national weekly publication that covers health care and is widely recognized as the industry's leading source of health care business and policy news, research and information.
Learn more about Scripps Health, a nonprofit integrated health system in San Diego, Calif.