Fortune Names Scripps to '100 Best Companies to Work For' List
Fortune cites Scripps for maximizing workforce potential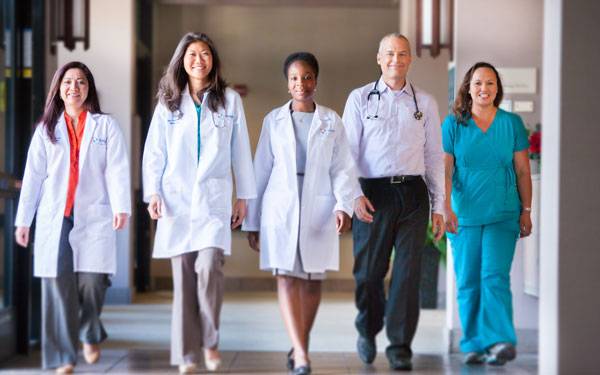 Fortune cites Scripps for maximizing workforce potential
For the ninth consecutive year, Scripps Health has been named among the top employers in the nation by Fortune magazine. Fortune's 19th annual list of America's "100 Best Companies to Work For" ranked Scripps at No. 42. Scripps is the only San Diego-based company on the list this year.
Scripps is recognized for creating a high-performing, diverse workforce by accommodating the needs of its employees at the beginning, middle and later stages of their careers.
"We are honored to be named to Fortune's list and to be recognized as a career-destination organization that provides employees with many opportunities to learn, grow and develop their skills," said Chris Van Gorder, president and CEO of Scripps. "This approach supports Scripps' mission to provide superior health services to patients in a caring environment."
Ninety-two percent of Scripps employees say they feel their work has special meaning and that it is not "just a job," according to a survey by Great Place to Work®, Fortune's partner.
Fortune recognized Scripps for developing its workforce through programs that engage and encourage contributions from all employees.
As part of its career-destination philosophy, Scripps has developed several innovative practices. These include daily "huddles" where workers can offer input and affect decisions, which is something prized by many Millennial employees. In another program, seasoned nurses are trained to mentor recent nursing graduates to better prepare them for their roles caring for Scripps patients.
"Our focus is on practices that engage people and encourage a higher contribution by each person," said Vic Buzachero, corporate senior vice president for innovation, human resources and performance management at Scripps Health. "This is important because as patients ask for more and more from us, we need a workforce with an all-encompassing view and innovative approach. But we can only build a highly skilled, diverse workforce if we satisfy the many career needs of that workforce."
Supports, encourages movement
Scripps offers programs that encourage movement across the organization, which mid-career employees appreciate since it allows them to chart their career paths with organizational support.
Scripps also supports the academic development of its employees by administering scholarships, tuition reimbursement and discounts for courses offered by universities that have partnerships with Scripps. Scripps provides more than $1.3 million in annual tuition reimbursement and scholarships.
Offers flexible scheduling, staged retirement
Scripps offers staged retirement to eligible, experienced employees who want to retire gradually. These employees are able to reduce their current work schedule while maintaining their health benefits.
Scripps encourages experienced employees to stay on in other ways. While traditional retirement packages that max out at age 60 encourage many employees to leave, Scripps lets retirement plans continue to grow past age 65. Older employees enjoy this benefit because it allows them to continue working without feeling a financial pressure to retire.
Second national accolade in week
Scripps' ranking in Fortune's "100 Best Companies to Work For" list comes on the heels of Scripps being named one of the "Top 10 Non-Profit Companies for Executive Women" for 2016 by the National Association for Female Executives (NAFE) for the fourth straight year. Fortune last year named Scripps one of the nation's "50 Best Workplaces for Diversity" and one of the "Top 10 Best Workplaces for Hispanics." Working Mother magazine also named Scripps to its annual "100 Best Companies" in the nation.
Fortune partners annually with Great Place to Work® to conduct the most extensive employee survey in corporate America to identify the 100 Best Companies to Work For ®. Two-thirds of a company's survey score is based on the results of the Trust Index © Employee Survey, which is sent to a random sample of employees from each company. This survey asks questions related to employees' attitudes about management's credibility, overall job satisfaction, and camaraderie. The other third is based on responses to the Culture Audit ©, which includes detailed questionnaires about pay and benefit programs and a series of open-ended questions about hiring practices, methods of internal communication, training, recognition programs and diversity efforts.
Learn more about Scripps Health, a nonprofit integrated health system in San Diego, Calif.