A New Perspective on Caring After Scripps Physician Beats Breast Cancer
Scripps doctor becomes Scripps patient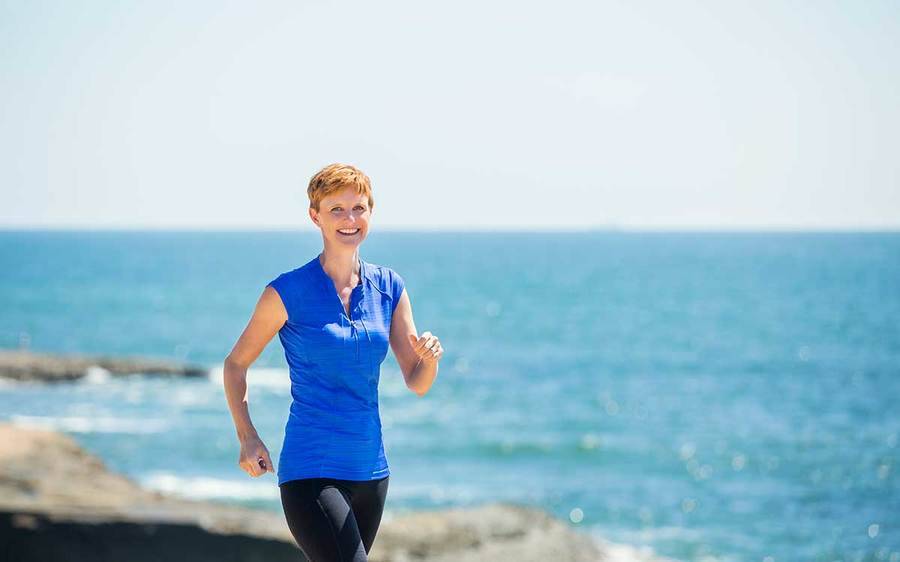 Scripps doctor becomes Scripps patient
As a trauma surgeon at Scripps Mercy Hospital in San Diego, Kim Peck, MD, never knows what each day may bring. From emergency surgery to traumatic injury, she understands that life can change in an instant – but she never imagined that her own life would suddenly be turned upside down by breast cancer.
In January of 2015, Dr. Peck learned she had an invasive and especially aggressive form of breast cancer. Without warning, the doctor became the patient.
"I remember just being overwhelmed by fear," she recalls. "Your life is turned inside out in a heartbeat. Everything gets put on the shelf and you become a full-time patient." 
A network of cancer expertise
Fortunately, she was able to take advantage of the expertise of the entire Scripps cancer care network.  One of only two Integrated Network Cancer Programs in California as designated by the American College of Surgeons, Scripps offers patients a broad network of cancer care specialists, cancer services on five hospital campuses, and renowned Scripps research professionals.
"Kim had a breast cancer team in place across the Scripps system that was going to take care of her cancer," says Scripps radiation oncologist Ray Lin, MD. "The patient is always at the center of the team, and we would meet and talk and keep each other updated as to what was happening with Kim. We're all just part of the team trying to help the patient go through treatment as smoothly as possible with minimal side effects."
In addition to Dr. Lin, Kim's Scripps care team included medical oncologist Marin Xavier, MD, and surgeons Cheryl Olson, MD, and Scott Barttelbort, MD. Dr. Peck found it incredibly reassuring to know that each was bringing their expertise to her treatment.
"I really did feel like my physicians collaborated and decided together," she says. "They really worked together and were talking to one another about what the right treatment course was for me. I was 100-percent confident in my treatment plan."
An amateur triathlete, Kim calls her cancer journey the "ultimate triathlon" of cancer therapy. She first had chemotherapy at Scripps Mercy Hospital, San Diego, followed by surgery six weeks later at Scripps Memorial Hospital La Jolla, and then radiation therapy at Scripps Radiation Therapy Center.
"It's similar to a triathlon where you're looking for the end of the swim, the end of the bike, then the run," she says. "You just click into survival mode. Just taking it each stage at a time."
Kim took advantage of other Scripps cancer services, including attending a breast cancer survivor's support group at Scripps Polster Breast Care Center.
"The treatment available through Scripps network is top-notch," Kim says. "I had access to absolutely everything I needed within the system. There was never a point where I felt I needed something that wasn't available."
Kim's experience has changed her approach to caring for her patients. "I enjoy spending more time just talking to patients. How someone is doing mentally really affects how they are doing physically, and vice versa," she says. "I have a greater appreciation for the patient as a whole and how there's so much more of the mind-body connection than I think we understand. I think it has made me a better physician."
Kim calls her journey "crazy, but incredibly rewarding" and is deeply grateful to her care team.
"I had a life-threatening illness and I don't think I had a true appreciation of it until I was finished with treatment," says Kim. "I want my care team to know just how much I truly appreciate what they did for me. My Scripps team saved my life."
Scripps Health cares for more breast cancer patients than any other San Diego healthcare provider. Learn more about breast cancer prevention and early detection, treatments and support services at Scripps.