Robotic Knee Replacement Surgery Liberates Woman from Years of Pain
After decades, Lynn Sago is finally living without knee pain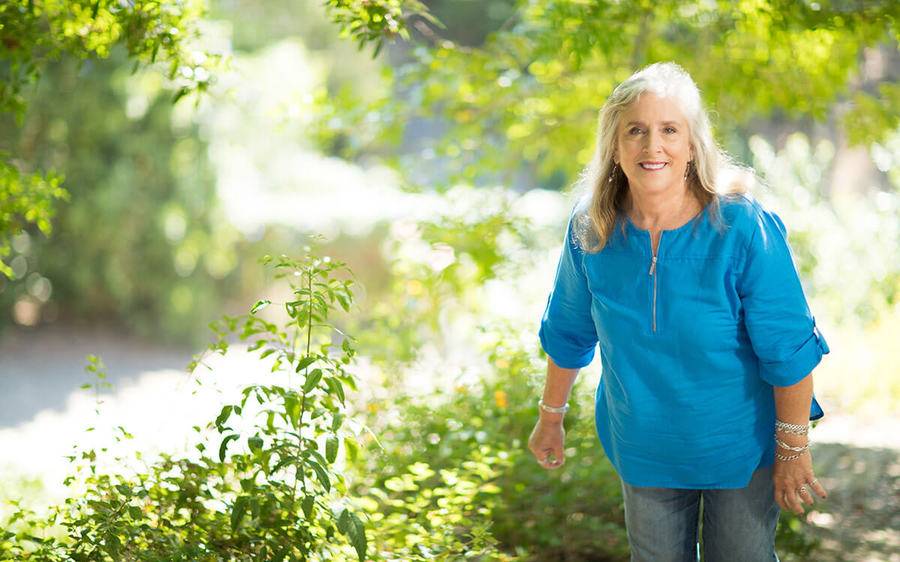 After decades, Lynn Sago is finally living without knee pain
Since before her daughter was born, Lynn Sago, 59, had been living with chronic and often debilitating knee pain. Lynn first injured her right knee as a high school senior in 1975—so long ago that she doesn't even remember how it happened. What she does remember is her doctor telling her that "girls have bad knees" and she'd just have to live with it.
"They didn't have MRIs and CAT scans back then," Lynn says. "They injected dye into my knee and took an X-ray, but they couldn't see the tear in the cartilage."
Lynn followed her doctor's advice and went about her activities, which included jogging, high-impact aerobics, racquetball and competitive softball through her church league. When the pain became too much, she sat out for a while. But nearly 20 years later, when her knee gave out while she was holding her year-old daughter, Lynn decided she had to take action.
She had arthroscopic right knee surgery in 1993. It showed that her meniscus, the cartilage that cushions the knee, was gone.
"They went in and there was nothing left. It was shredded," she recalls. "So they drilled up into my thigh bone to make it bleed and seep and create a meniscus. I was non-weight-bearing for six weeks with a one-year-old, working full-time, running a home."
It gave Lynn relief for a while, but eventually the pain returned. She had another arthroscopic procedure, and doctors told her she needed a knee replacement.
"I said thank you but no thanks," she says. "Knee replacement 20 years ago was not what it is today. The implants only lasted 15 years, and I knew I would have to have it done again. I knew the technology would improve, so I waited, and I prayed. Whether it's rooster combs or sea urchin things or whatever, I knew there would be something better."
For the next 23 years, Lynn lived with aching, throbbing pain, and was unable to walk without a pronounced limp. 
"It's one of those things you deal with it because you don't have a choice," Lynn says. "After 16 years of marriage, I became a single mom of three teens working full time, and you do what you have to do. You have to take care of your family."
Better technology and the right surgeon
Five or six years ago, she learned about robotic-assisted knee replacement surgery.
"I wanted to let them work out the kinks," says Lynn. "And then one of my best friends had a hip replacement done by Dr. Rina Jain a couple of years ago, and I decided that was who I needed." 
She made an appointment with Rina Jain, MD, a Scripps orthopedic surgeon who specializes in robotic-assisted hip and knee replacement, and finally had her right knee replaced in March of 2016. 
While the surgery was successful, two decades of walking with an impaired gait limp had affected the mechanics of her left knee as well. That knee also was painful, and Lynn still walked with a limp. 
In May of 2017, Dr. Jain performed robotic partial knee replacement surgery on Lynn's left leg. She spent one night in the hospital and her recovery was amazingly fast; she called the procedure barely a "speed bump" in her life. 
New knees and a new lease on life
It may have been just a speed bump, but Lynn is now pain-free and says the second knee replacement was life-changing. 
"I just felt so freed. It was like the world was my oyster and I could do whatever I wanted," she says. "I could walk; I could go upstairs. My life was not based on where I could get a handicapped spot or if I had stairs to navigate. None of that matters anymore. It has given me my life back." 
Recently, her daughter mentioned that she had never before seen her mother walk without a limp. "My kids are like, 'Whoa, who is this person? We don't know this woman,'" she says. 
Mother to two adult daughters and a son, Lynn is not yet a grandmother, but she "borrows" her friends' grandchildren and takes them on outings. 
"We go to the beach and things. But now, 'Nana Lynn' can do a whole lot more. Before, I couldn't hoof around the zoo. We were sitting and reading, or going to a movie," she says. "Now I can walk for 45 minutes and not even blink. I can get out and not have to worry about stairs or walking or things like that."
Dr. Jain advised against running, but Lynn enjoys other forms of exercise, including low-impact aerobics, riding a stationary cycle and walking on the treadmill. She also walks her Lab/Husky, Soka, for 45 minutes every morning.
Now that her brain no longer needs to manage pain, Lynn also has started creating and selling greeting cards. "You don't realize what your brain is doing to compensate, to deal with all that pain, all that energy that was going to that joint to just make it function," she says. "My brain can do other things now. It's free to create!"
Lynn can't say enough about Dr. Jain and Scripps. "She is such a spitfire and she is an amazing surgeon. I would never do any surgery without her. I would not let anybody else touch me," she says. "And the hospital staff were amazing, helpful, pleasant. A positive experience both times."
Lynn advises other women living with knee pain to take care of themselves now. "Don't wait. Don't make yourself suffer in pain. Do not miss life." 
Thanks to advanced technology, Lynn's new knee is projected to last 30 years. "I'm good to go for the rest of my life," she says. "I'm back, better than ever. Watch out world!"
Orthopedics care at Scripps
Ranked by U.S. News & World Report as one of the best in the nation, the Scripps orthopedics program has more doctors than any other health system in the San Diego region. Scripps doctors are recognized for their clinical experience in multiple orthopedic specialties, including knees, hips, hands, wrists, ankles and feet. Treatment options include the latest FDA-approved technologies, devices and procedures at multiple locations throughout San Diego.