Scripps Heart Care Team Saves Mother and Daughter
Pat Egan and her mother survived heart attacks with care from Scripps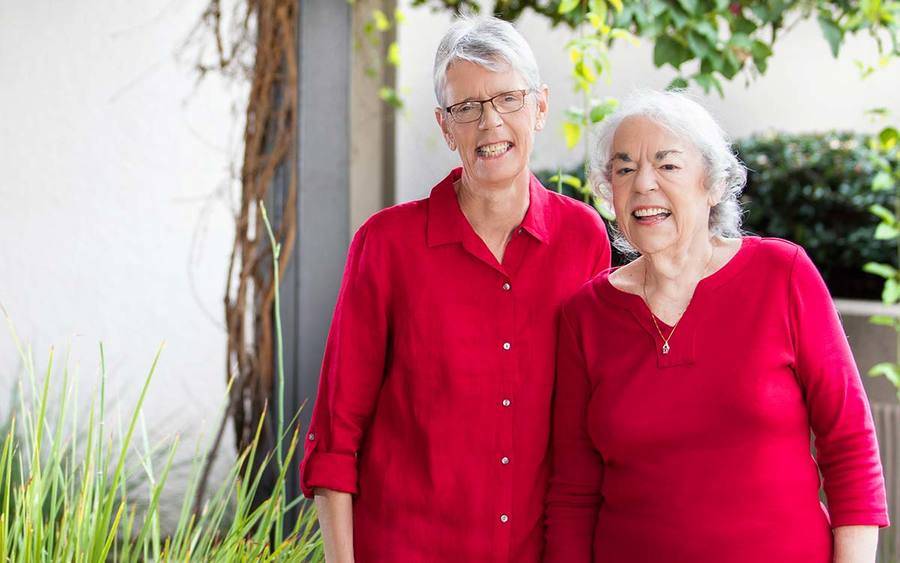 Pat Egan and her mother survived heart attacks with care from Scripps
August 19, 2015 started out like any other day for Pat Egan — until she sat down for lunch. Suddenly, she felt alarmingly ill. 
"I was sweating profusely, my arms were numb, my hands became gnarled, my skin was yellow," recalls Pat, 60. "I was very nauseated and seeing spots. I managed to grab my phone and crawl into my bed."
She called both her neighbor and her partner, but neither answered, so she dialed 911. When the paramedics arrived, they initially suspected Pat was drunk. But she didn't drink alcohol — she was having a heart attack.
It took just 45 minutes to get Pat from Coronado to the cath lab at Scripps Mercy Hospital San Diego. There, doctors found the problem.
"Pat's right coronary artery was 100 percent blocked, and her left anterior descending artery was severely occluded as well, with a 70 percent blockage," says Ali Salami, MD, an interventional cardiologist at Scripps. "She did the right thing by calling 911. Fortunately, she did not suffer any damage to her heart muscle."
Dr. Salami placed three stents in Pat's right coronary artery. She spent the night at Scripps Mercy Hospital and went home the next day.
No signs of heart disease
Pat, who was 58 at the time of her heart attack, had never had any indications of heart disease. Tall and thin, she was never overweight. However, she didn't have a healthy diet, rarely exercised, smoked and had a stressful job as a supervisor with the Census Bureau. Moreover, she had lost her father to a heart attack at age 45. Still, she had no physical signs of heart problems.
"Nothing. I had a stress test maybe ten years before my heart attack, and everything was fine. I think I complained once of chest pain and it turned out to be gas," she says. "But I should have suspected something because of my dad."
"Women have different heart attack symptoms than men," says Dr. Salami. "That's why it is so important for women to get a baseline exam with a cardiologist, even if they think their hearts are healthy, and especially if they have a family history of heart disease."
Pat says she experienced an emotional roller coaster in the days following her heart attack, and realized how lucky she was to be alive. Several weeks later, she began the cardiac rehabilitation program at Scripps Mercy Hospital, exercising three days a week. She also quit smoking and began to pay more attention to her diet and nutrition labels.
In November 2015, Dr. Salami inserted a stent in her left anterior descending artery. 
"I was a tad concerned because when he went in for that procedure, he noticed scar tissue already building up on my three stents on the right side," she says. "Thankfully when I went back in for a six-month check-up, and subsequently after, all my tests showed no scar tissue or any further damage. He advised me to keep doing whatever I was doing because it works!"
After the left anterior descending artery stent was inserted, Pat increased her cardiac rehab to five days a week – a schedule she maintains to this day. 
Pat often does rehab with her mother, Caroline, who had a heart attack almost a year to the day after Pat's. Though she smoked, had diabetes, and lost both parents to heart disease, Caroline didn't think she was having a heart attack; like Pat, she just felt gravely ill.
Paramedics took her to Scripps Mercy Hospital as well, where doctors found her right coronary artery was 100 percent blocked, and her left main artery was nearly as bad. After receiving a stent in both arteries, Caroline, 81, started exercising with Pat three days a week. 
"She gets to exercise and get out of the house and talk to people," Pat says. "She loves the social aspect of it. We're known as the mother-daughter team."
Caroline experienced a second heart attack on September 11, 2017. She was again rushed to Scripps Mercy Hospital and Dr. Salami placed a third stent. After a brief recuperation Caroline was back at cardiac rehab clinic performing her normal exercise program. 
"We believe that because she had been doing a regular exercise routine, that it helped her recover quite well from this second heart attack," said Pat.
Pat now spends time each week volunteering in the cardiac rehab and cardiac care units at Scripps Mercy Hospital, and volunteers through Mended Hearts, a national non-profit organization that offers peer-to-peer heart patient support.
"I really feel like I'm still giving back," she says." Those people saved my life. I'm grateful I'm alive."
Recently, Pat was invited to become a Champion with WomenHeart. The non-profit organization has more than 750 Champions, who tell their stories, share vital heart health information and help save the lives of women across the country. Pat is looking forward to getting the word out to women about heart disease.
"Women having heart attacks is not what you'd typically see on TV. It's not grasping your chest and falling to your knees," she says, noting that women may have nausea, jaw pain, fatigue, indigestion and other vague symptoms.
"If you feel anything wrong, call 911. Time is of the essence, and you may save your own life. And by all means go see a cardiologist and get a baseline. You have to take control of your own health."