Trevor Hoffman's Dream Team
How top orthopedic surgeons at Scripps helped Padres pitcher stay in the game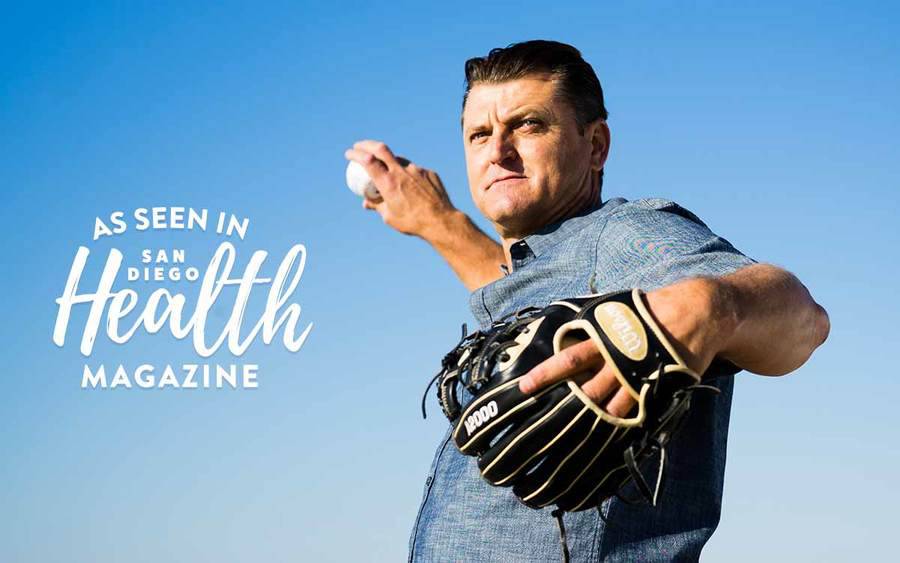 How top orthopedic surgeons at Scripps helped Padres pitcher stay in the game
Top athletes know better than anyone that it's teamwork that makes the dream work. For legendary relief pitcher Trevor Hoffman, a San Diego Padres Hall of Famer, a critical part of his team off the field is orthopedic surgeon Heinz Hoenecke Jr, MD, of Scripps Clinic. Hoffman's 2007 offseason surgery to remove bone chips from the back of his throwing elbow helped him return stronger and log 77 more saves in the next few seasons.
"Scripps Clinic doctors were always looking out for the players' best interests and cared about each person individually," he says.
That dedication to individual attention and putting the patient's best interest first extends to everyone Dr. Hoenecke sees, from elite athletes to weekend warriors. The toughest cases are when the team faces a replacement: implanting a new shoulder. These procedures require incredible precision — a millimeter in the wrong direction could generate discomfort and make the implant wear faster.
High-tech shoulder replacement
Dr. Hoenecke is an elite surgeon who has helped thousands regain function, but he doesn't go it alone. To help him prepare for surgery, he turns to colleagues at the Shiley Center for Orthopaedic Research and Education (SCORE). Using software developed 15 years ago by SCORE engineers and Scripps Clinic surgeons, they convert the patient's shoulder CT scan into a virtual operating room.
"Using a 3-D model of their shoulder bones, I can virtually fit the implant in the night before on my laptop and get a very good picture in my mind of what's going to fit and where," Dr. Hoenecke says. "We also print out a plastic drill guide that allows me to position my hands exactly where I need them to put in that first pin. The whole rest of the procedures drives off that."
The extra work pays off. Dr. Hoenecke executes the challenging procedure, personalized to the patient's anatomy, and the patient gets a perfectly fitted implant. His collaborative approach underscores how Scripps Clinic orthopedists do business, incorporating education, research and advanced techniques to provide the best possible care.
The attention to detail pays off for patients.
"To wear out, rather than rust out — I think it's a credit to my doctors."
Trevor Hoffman
Dr. Hoenecke had repaired Hoffman's shoulder once before, in 2003, working closely with Scripps Clinic orthopedic team physicians Drs. Jan Fronek and Steven Copp — the latter a former pro athlete as well. Of course, most surgeries come with heightened pressure for the patients involved, but in this case, it was especially acute.
"The stakes are higher for a professional athlete, because their livelihood depends on it," says Dr. Fronek. "But we try to do as perfect a job as possible to reach our goals for everybody."
Pro athlete patients and their surgeons must also weigh several issues that may not come up for the average community league softball player. "We consider their needs," says Dr. Hoenecke. "Are they trying to return this season or next? We discuss their options.
There are some subtleties that come into play that wouldn't be there for a recreational athlete who doesn't necessarily have a time consideration."
In 2003, Hoffman's surgeons began cautiously, cleaning out his rotator cuff. They ultimately determined his clavicle needed more work, which delayed his return to the mound, but also provided a more complete fix.
"It worked out great," Hoffman says. "I was able to come back for the last month of the season. It kind of felt like normal bumps in the road."
During his 18-year career, Hoffman averaged 68 appearances per season. So it wasn't surprising that, in the closing months of the 2007 campaign, he noticed a difference in his throwing elbow. "I didn't ever feel like I was restricted when I was throwing the baseball," he says. "It was more like a little cranky, a little stiff to get going at the beginning of the day." Hoffman credits the Padres training staff with helping him work through the stiffness and getting him ready for those all-important ninth-inning appearances.
Still, he needed a permanent solution. During the off-season, Drs. Hoenecke and Fronek removed bone chips that were causing the problem, and on April 1, 2008, the second game of the season, Hoffman closed out a 2-1 victory. Problem solved.
He retired after the 2010 season having amassed 601 saves, the second most in major league history. Notably, 249 of those came after the 2003 shoulder repairs.
"To wear out, rather than rust out — I think it's a credit to my doctors," he says. "They gave me every opportunity to pitch into my 40s."
The future of shoulder injury treatment
One of the current overriding trends in medical care is minimally invasive procedures. This is especially true in orthopedics, allowing surgeons to successfully intervene with only quarter-inch incisions.
"During the last 20 years, the arthroscopic techniques have really matured," says Dr. Fronek. "Now we're doing ACL reconstructions, rotator cuff repairs, and instability operations for shoulders that dislocate. We do virtually all of those procedures arthroscopically now."
Scripps Clinic orthopedists are working with researchers at SCORE and elsewhere to find even more advanced ways to help patients overcome their injuries. A lot of work is being done with platelet-rich plasma for elbow injuries and stem cell injections in other joints.
Maintaining high performance means constantly monitoring the horizon to find the most advanced techniques. These insights come from medical literature and conferences, ongoing research and training young physicians in Scripps Clinic's post-residency orthopedic sports medicine fellowship program. "When you teach people, not only do you have to keep up and stay current," Dr. Fronek says, "but also be organized and really have good knowledge of that material."
As leading-edge as treatment becomes, it all circles back to patient care.
"Dr. Fronek is very meticulous about what he does," Hoffman says. "When he comes in, it's like his game time. You could play Hells Bells before he walks into the operating room. And Dr. Hoenecke is such an astute person. I was lucky to have two really special doctors."
This content appeared in San Diego Health, a publication in partnership between Scripps and San Diego Magazine that celebrates the healthy spirit of San Diego.