Powerful Cancer Care Partnership Taking Shape at Scripps
Scripps and MD Anderson come together to enhance San Diego cancer care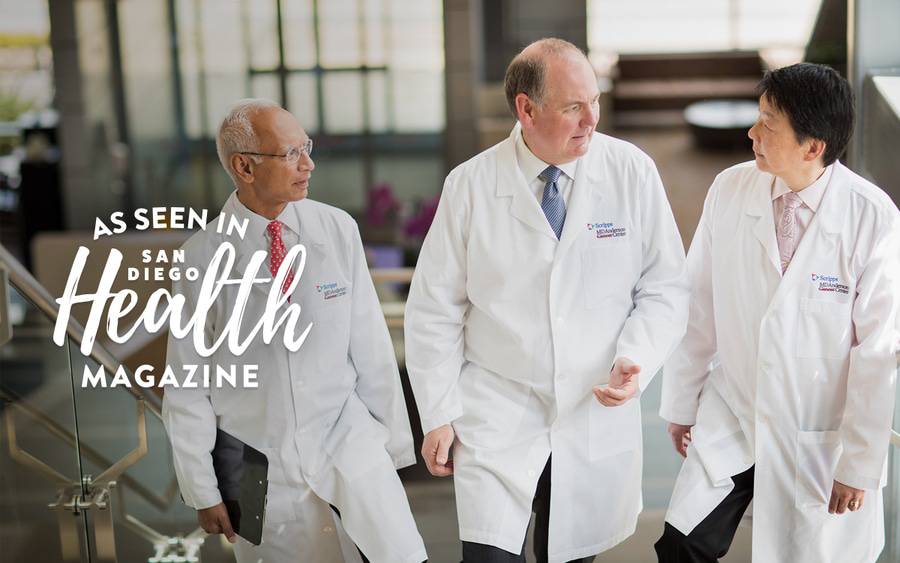 Scripps and MD Anderson come together to enhance San Diego cancer care
When Scripps invited The University of Texas MD Anderson Cancer Center to bring its advanced care approaches to San Diego, Scripps leaders envisioned patient-centric, research-based strategies that offer the best possible care. For MD Anderson, partnering with Scripps advanced its mission to end cancer, as well as providing greater access to its specialized expertise.
It's a potent combination. MD Anderson has been ranked the nation's top hospital for cancer care by U.S. News & World Report for 13 of the past 16 years. Scripps has been the leading hospital system in San Diego for nearly 95 years, and cares for around a third of all cancer patients in the region. MD Anderson's relentless focus on cancer and Scripps' multispecialty expertise make it an excellent fit.
"No matter how good we are, when it comes to cancer care, we can always be better," says Scripps president and CEO Chris Van Gorder. "This exciting alliance gives Southern Californians easy access to MD Anderson's proven approaches to cancer care right here in San Diego. Our partnership builds on Scripps' history of providing exceptional cancer care to our region and will enable us to offer the best cancer treatment available anywhere, here at Scripps."
Building Scripps MD Anderson Cancer Center is a labor of love for hundreds of clinicians and administrators in San Diego and Houston alike. MD Anderson is eager to share their expertise with communities around the country, and that means collaborating with other hospitals and health systems.
"Cancer is a team sport," says radiation oncologist Thomas Buchholz, MD. "No one practitioner, no matter how outstanding their skills, can win the war against cancer by themselves. You need a multidisciplinary team that includes surgeons, medical oncologists, radiation oncologists, pathology, supportive care, nursing, rehabilitation, plastic surgery. That integration is critical."
After 20 years at MD Anderson in Houston in various leadership positions, including provost, executive vice president and physician-in-chief, Dr. Buchholz has come to San Diego to be Scripps MD Anderson's first medical director.
Dr. Buchholz brings extensive experience and high-level expertise. In Houston, he oversaw medical education and basic and translational research, and conducted his own investigations, in addition to seeing patients. Dr. Buchholz has contributed to more than 350 journal articles, as well as dozens of editorials and book chapters. His ongoing efforts to improve patient care have received national recognition.
Jenee Bobbora gives Dr. Buchholz her highest recommendation. She was 32 and had a 2-year-old daughter when she was diagnosed with inflammatory breast cancer. At the time, the survival rates for this cancer were not great, but Bobbora was undeterred. She went to MD Anderson for aggressive treatment and met Dr. Buchholz.
"I really liked his demeanor," says Bobbora. "You tend not to be too happy a camper when you've gone through chemotherapy and a double mastectomy. I really liked this man, I trusted him. He explained a lot to me."
Dr. Buchholz told her that MD Anderson recommended a more aggressive radiation protocol than was standard. Because inflammatory breast cancer can be quite aggressive, he wanted to schedule twice-daily radiation for six weeks. His logic won her over.
"If you asked Dr. B to explain the most complicated physical theory in the world," says Bobbora, "he would put it into terms where you'd walk away thinking, 'Okay, I kind of get that.'" 
"The elements are all in place to do something major for cancer patients in Southern California," says Dr. Buchholz. "We believe this is the partnership to get it done."
One of the refinements Dr. Buchholz and MD Anderson are bringing to San Diego is multidisciplinary clinics. Traditionally, cancer patients set up appointments with medical, surgical and radiation oncologists separately. Now, through the clinics, they make one appointment with all three specialists. The approach is more efficient, gentler on patients and enables better communication between specialists.
"It's one-stop for our patients," says Ray Lin, MD, medical director at Scripps Radiation Therapy Center. "For instance, on Tuesdays and Thursdays, we have the breast multidisciplinary clinic. The patients don't travel to the doctors, the doctors go to them."
In addition to breast cancer, the center has established clinics for prostate, lung and gastrointestinal cancers. More are being developed.
The center has also expanded its oncology nurse navigator program. Breast cancer patients receive personalized assistance from oncology nurses to help guide them through information and appointments.
The partnership between Scripps and MD Anderson has been a win for both sides. Scripps patients have improved access to cutting-edge treatment protocols. Plans are also in place to expand access to clinical trials and basic research. Ultimately, the partnership will enhance the ability to conduct new studies — many available in San Diego. In addition, Scripps oncologists see some cancers more often than MD Anderson does, such as skin cancers, giving them expertise to share.
"The partnership strengthens our focus," notes Scripps radiation oncologist Prabhakar Tripuraneni, MD. "Through our multidisciplinary approach to caring for our patients, we emphasize prevention, early detection resulting in high cure rates, and the most advanced technologies and latest drug therapies to treat cancer."
The advantages of specialization
New approaches, like immunotherapy and genomic testing, are making great headway in the fight against cancer. But as a result, there's been an explosion of information, making it difficult for general oncologists to keep pace.
"Cancer care is becoming increasingly complex," says Dr. Buchholz. "With all the genetic variation between tumors, what used to be called non-small-cell lung cancer is now 50 diseases."
To overcome this, MD Anderson is built on subspecialization. Oncologists focus on breast or prostate or lung cancer, but not necessarily all three. This makes it easier for each specialist to follow and contribute to new research and treatment protocols, giving them in-depth expertise.
This enhanced access to subspecialists really comes into play when cancer recurs. In some cases, there are no clear-cut treatment options, and consulting an expert oncologist or lab scientist can make a big difference.
"We have a big discovery platform in Houston, and Scripps will be able to integrate into that," says Dr. Buchholz. "If the standard of care is no longer working, they will be able to send tumor specimens for complete genomic profiling to see if those patients are candidates for targeted therapies."
Fifteen years to the day after being diagnosed, Bobbora brought her 17-year-old daughter to Southern California to visit USC. This was one of the many personal milestones she did not want to miss.
And that's the ultimate measure of success for Scripps MD Anderson: patients overcoming their disease to live long, full lives.
"The elements are all in place to do something major for cancer patients in Southern California," says Dr. Buchholz. "We believe this is the partnership to get it done."
This content appeared in San Diego Health, a publication in partnership between Scripps and San Diego Magazine that celebrates the healthy spirit of San Diego.